Air Passenger Duty for private jet travellers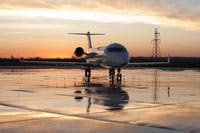 In his autumn statement this month, Chancellor George Osborne revealed more information about how forthcoming changes to Air Passenger Duty (APD) will affect private jet travellers.
This follows the announcement in 2011's budget that APD would be extended to private jets – up until that point, this tax applied only to airline flights. A consultation period followed to work out how the tax would be calculated for private jet flights.
Following the autumn statement it is now clear is that passengers on private jet flights weighing 5.7 tonnes or more will be subject to APD at the same rate paid for as a business or first class airline seat (called 'Standard Rate').
This will apply to most private jet flights as just a small proportion of flights in light jets, such as a Citation Mustang at 3.9 tonnes, scrape in at under this weight limit.
There is also a new 'High Rate' band, which applies to flights of 20 tonnes or more with less than 19 passengers – designed to apply to larger private jets such as the Challenger 300. This will apply APD per passenger at double the Standard Rate.
Let's take a typical European flight in a Citation XL medium jet from London to Paris with a typical payload of 3 passengers.
The tax for each leg of the journey would be £26, so £52 per passenger return – a total of £156 for the journey. For a typical cost of £6,400 for this return journey this adds 2.4%.
For the Higher Rate the tax will range from £52 per passenger on a short flight, to £376 per passenger on a long haul flight of over 6,000 miles.
Here are the new bands of APD, which apply to both airline and private jet flights. Reduced rate APD applies to economy airline seats:
Air Passenger Duty: £ per passenger payable from 1 April 2013

Miles from UK
Reduced rate (in lowest class of travel)
Standard rate (in other than lowest class of travel)
Higher rate (applies to aircraft with an authorised take off weight of 20 tonnes or more, authorised to seat less than 19 passengers)
Band A (0-2000)

£13

£26

£52

Band B (2001-4000)

£67

£134

£268

Band C (4001 – 6000)

£83

£166

£332

Band D (over 6000)

£94

£188

£376
If you have any questions on Air Passenger Duty and how it applies to your private flight please call our team on +44 (0) 1747 642 777 (24 hours).
Back to Archive for December 2012