BA & Lufthansa strikes: The opportunity and challenge for private jet charter
Strikes by commercial airline crew are in the news again. Lufthansa's pilots called off their strike after one day, but this still resulted in major disruption (900 flights grounded on Monday and it will take several days for normal operations to resume). And of course the BA cabin crew strike is back on again – although thankfully not for the Easter holidays. All of this leaves the business traveller shaken and stirred at a time when service levels from commercial airlines are already compromised by cost-cutting measures and increased security concerns.
This is brand-damaging stuff for the airlines but private aviation is getting a real boost. At PrivateFly.com we have seen a clear spike in enquiries for private jet charter over the last few days for routes serviced by Lufthansa and BA's short haul services – and other industry contacts report the same pattern. Many enquiries are groups of 3 or 4 business executives travelling together – where a very real price per seat comparison can be made between private aviation charter and a business class ticket. Enquiries are also coming from existing private jet customers who retreated from private aviation in the recession but are now returning – especially after suffering delays and disruption to their own businesses using commercial airlines.
This is all good news for the private jet industry but the challenge is to convert these increased enquiries into business and to keep these customers coming back as we recover from recession. The private jet industry is changing and our aim must now be to provide customers with the transparency of pricing and ease of booking that they have come to rightfully expect from their other travel transactions – as well as maintaining the seamless and flexible VIP experience that private jets are known for.
Related content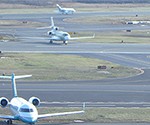 October 08, 2013
NBAA highlights US shutdown's impact on business aviation
With the US government continuing to operate a fiscal shutdown, the first in 17 years, the NBAA (National Business Aviation Association) has been highlighting the shutdown's effect on the business aviation industry with policymakers in…