Backing Boris – London's Island Runway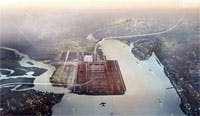 London has outgrown Heathrow; UK politicians, it's decision time!
Here's why I believe business leaders should back Boris Johnson's Island runway.
Due to no fault of anyone, we have built the UK's only hub airport, Heathrow, in exactly the wrong place. With 80% of winds from the west, we are flying planes low and slow over Europe's most populated city.
Heathrow Facts:
UK GDP predicted to lose £8.5bn if runway capacity is not increased
In 1990 Heathrow served more international destinations than it does today
Only 2 Chinese cities linked by Heathrow
To expand Heathrow's 2 runways would be short-sighted. Like building an extra lane on a motorway, one extra runway will not be sufficient and over time we will need a hub airport with 4 or more runways.
For safety and environmental reasons it would be dangerous to plan any increase in air traffic over London. Committing to expanding Heathrow is a short-sighted and limiting approach to the UK's airport capacity problem.
London's Mayor Boris Johnson has joined Lord Foster in a £50bn project for a new futuristic 4 runway airport in the Thames Estuary.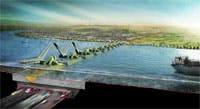 Thames Airport Facts
Cost £50bn
150 million passengers a year (double the amount currently served by Heathrow)
Integrated transport planning – bringing together high speed rail, an international port and a new flood barrier
Using tidal power to generate power
A world class Thames Airport would not only future proof London as Europe's leading business hub. It will also give our faltering economy a massive infrastructure project to create jobs and create long term prosperity to the south east.
Aviation is only just over 100 years old. London needs a modern and expandable airport that will serve the capital for the next 100 years.
Backing Boris Island is the only future proof solution to safeguard the UK's aviation community.
Images © Foster + Partners