Biofuel: The future for greener flying?
At this year's Paris Air Show a biofuelled Gulfstream 450 flew across the Atlantic from the US to Paris – the first time a commercial aircraft has flown across the Atlantic using biofuel. The trip saved 5.5 metric tons of carbon dioxide compared to a conventional flight. PrivateFly.com investigates the rise of biofuels in the aviation industry and the impact on the private jet charter market.
By 2012 European airlines will start paying for carbon credits, due to the EU's emissions trading scheme. Unsurprisingly, this has resulted in an increased focus from the aviation industry on the development of biofuels. Oil price fluctuations; decreasing oil reserves; and growing consumer pressure to be 'green' (across all industries) are also driving the search for alternative fuels. Boeing estimates that biofuels could reduce flight-related greenhouse gas emissions by 60 to 80 percent.
New biofuels in aviation
Thomson Airlines has announced that it is planning a flight from Birmingham to Palma on July 28 this year using a new biofuel, becoming the first British airline to fly using this particular type. They have stated that it will contain a 50/50 blend of conventional A1 jet fuel and biofuel from waste cooking oil.
Recently at the Paris Airshow (held at Paris Le Bourget private jet airfield), the concept supersonic aircraft Zero Emission Hypersonic Transport (ZEHST) was unveiled. ZEHST has been dubbed the new Concorde – due to projected top speeds of 3,125 mph (Mach 4) – and will fly using fuel that is an emission-free blend of seaweed biofuel, hydrogen and oxygen.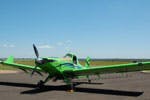 The private jet sector has been at the forefront of biofuelled aircraft development over the last few years, with both mainstream and specialist manufacturers focussing on the race to bring a 'green' aircraft to market. One of the industries big guns, Embraer, has developed an alcohol-powered Ipanema aircraft. Meanwhile specialist manufacturer Diamond Aviation has developed it's algae-powered biofuel engine in its Diamond Aircraft DA42 New Generation. The aircraft is able to maintain equal performance, while keeping consumption lower than conventional JET-A1 fuel.
Production of biofuel
Both the commercial aviation and private jet industries – in partnership with energy companies – are currently testing the production, development and cost of biofuel. Several biofuel variants are currently being tested:

Last year 40-50,000 acres in the United States that were cultivated with camelina plants, producing 'about 500-600,00 gallons of camelina oil'. The jet industry burns more than 50 billion gallons of gas per year, so the land space production method simply can't provide enough fuel, with more than 50 billion gallons of jet fuel being burnt in 2010 worldwide.
KLM have recently announced that they expect to fly over 200 flights on biokeroscene between Amsterdam and Paris, this fuel will use cooking oil as the feedstock.
Biologically produced alcohols, mainly ethanol, are primarily produced through the fermentation of sugars or starches. Ethanol fuel is the most commonly used biofuel worldwide; it can be used in petrol engines as a replacement for gasoline. However a study by London's Imperial College concluded that bioethanol cannot be used for air transport due to its low energy density, and because it doesn't combust effectively in 'thin air' at high altitude.

There is increasing interest in the production of biofuel from algae, this is due to the fact that algae grows very quickly and produces superior amounts of vegetable oil, compared to terrestrial crops grown for the same purpose. Also algae can be grown from substances such as sewage, thereby not using up food crop space. However this also presents commercial challenges, given the huge start-up costs and the large amount of water required to grow sufficient algae for fuel production.
Much work is being done to overcome these challenges and to make algae biofuel a viable commercial option. The San Diego company, Sapphire Energy, announced at the Paris airshow that it is aiming to produce 20,000 barrels of algae-based biofuel for jets by 2014.
Biofuels on the rise
The prospect of wide adoption of biofuels in aviation was recently given a further 'green' light by the standards agency ASTM International – who gave preliminary approval for commercial and private aviation to fly using up to a 50/50 blend of Green Jet Fuel, the same fuel that powered the G450's flight to Paris.
It's evident that biofuels are on the rise in the aviation industry, and the private jet sector is playing a key part in propelling these aircraft from concept to reality. Given the influential nature of many private aviation users – and the fact that many of them have a media profile to worry about – it's unsurprising that this is a sub-sector of the market where customers are particularly concerned about being seen to be green. Watch this space – PrivateFly predicts that biofuels will be commonplace in private aviation in the not too distant future.
Related content

October 14, 2013
New ICAO emissions rules: Will China & USA delay?
Members of the Montreal-based International Civil Aviation Organization (ICAO) recently agreed on a global mechanism regulating the carbon emissions caused by commercial aircraft. It's due to take effect in Europe by 2016, and globally by…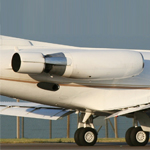 February 22, 2013
Noisy Jets: An end is in sight
With new noise restrictions being introduced at popular private jet airports around the world, is there finally an end in sight for noisy jets? Farnborough airport – an essential private jet hub to London, have…