Happy Birthday: The Lear Jet turns 50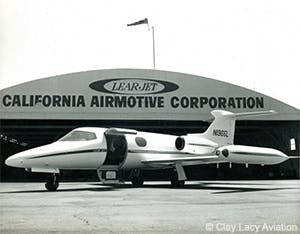 This month marks the 50th anniversary of what many regard as the first private jet flight.
The Lear Jet (which for many years dominated in public perception as THE private jet), first flew on October 7th 1963.
The aircraft, founded by Bill Lear, took off from a runway in Wichita, Kansas. At the time, it set the standard for private passenger flight.
There was nothing, outside of the military, that could compete on performance. However just a year later, the prototype aircraft crashed during a test flight, due to pilot error.
No one was hurt, and ultimately it proved to be the best news possible for Bill Lear, who was able to use the $500,000 insurance payout to continue to fund his company.
Just nine months after the first flight, and at a total cost of just $14 million, the Lear Jet was certified by the FAA and ready for commercial sale.
Today Lear Jets are part of the Bombardier Group, and the early Lear Jet 23 and 24 models have given way to the 40 XR, 45 XR and 60XR which are popular choices in the private jet charter market.
And, with the revolutionary Learjet 85 due into production this year and the announcement of the Learjets 70 and 75 in 2012, the company looks set for a resurgence in the coming 5 years, set to rival market leader Cessna. More about Lear Jet Private jets.
It's definitely the golden anniversary year of the private jet. Another contender for the crown of first private jet flight is manufacturer Dassault, also celebrating the 50th anniversary this year of its Falcon line this year, with the first Falcon making its maiden flight on May 4th 1963.
Bill Lear was known for his innovative ideas (he also worked on the first car radio, as well as autopilot systems and early cassette player models). What's strikes me when you look at these dates is what a relatively short history aviation has – we've come a long way since the Wright Flyer's maiden flight in 1903.
Our infographic below gives a summary of the last 50 years of private aviation. We're still in its relative infancy, but there's plenty of innovation ahead.
Lear Jet image courtesy of Clay Lacy Aviation.

Related content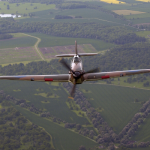 May 14, 2020
The uplifting power of aviation
These are difficult times. And there's a lot to be worried about, from the health of our loved ones; to the longer term state of the economy. So finding ways to lift the spirits is absolutely essential.…