HondaJet's Happy Ending to 2015
In March they said they expected to enter into service by the end of 2015 and HondaJet will just about achieve that goal, after finally receiving its type certification from the FAA (the US Federal Aviation Authority) yesterday.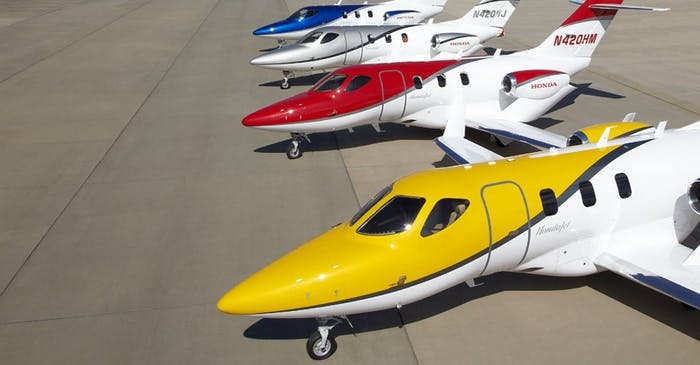 This was the happy ending that Honda have been waiting for – for more than 30 years. The revolutionary small jet has been an aircraft long in the making, with many setbacks and delays along the way.
But FAA approval now means the manufacturer can begin deliveries of its first 25 aircraft by the end of the month – a great Christmas present for these patient customers. Over 100 aircraft have already been ordered, so many more deliveries will follow in 2016.
The news follows the provisional certification awarded by the FAA back in March. Find out more about the stages of development of a new private jet.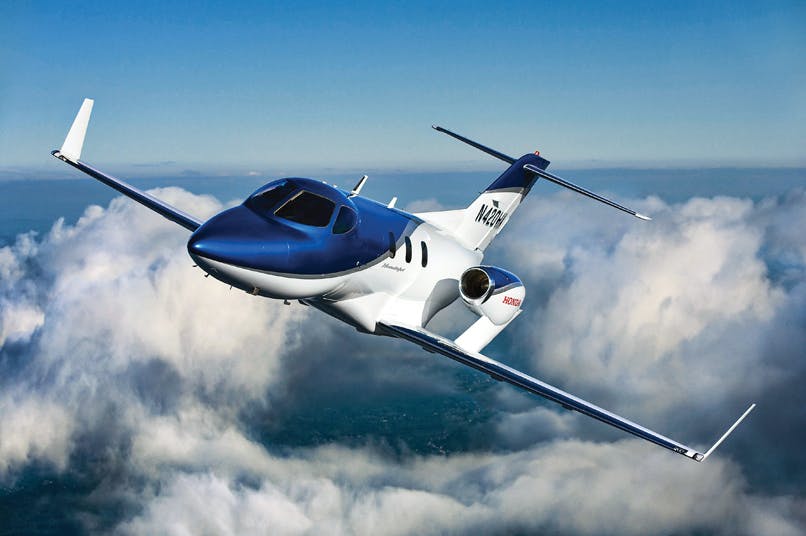 Honda Aircraft President and CEO Michimasa Fujino called the news a monumental milestone: "We established Honda Aircraft as a new aerospace company and introduced our first product — an advanced light jet with technologies developed from serious research activities. We designed, tested, and have now certified this clean-sheet design aircraft – an unprecedented challenge for Honda."
Here's our take on this exciting new contender in the small jet category.
What is the HondaJet?
Obviously better known as a car and motorbike manufacturer, Honda began to study business jet designs in the 1980s, building their own experimental aircraft, the Honda MH02.
The Japanese manufacturer developed this into the HA-420 HondaJet, with a proof-of-concept prototype launched in 2003 at the Piedmont Triad International Airshow in the USA, and the official launch announcement following at the Oshkosh Airshow in 2006.
There was a great deal of excitement about this 'new generation' light jet. A unique, clean-sheet design for a super-efficient small jet, to rival the market leaders in category, such as Cessna's Citation Mustang and Embraer's Phenom 100.
Unique over-the-wing engine design
The most notable and eye-catching feature of the HondaJet is the over-the-wing-mounted engines. These free up cabin space, which gives room for up to 6 passengers, in a cabin body size that would usually only allow 4.
The engine positioning also reduce drag and allow dramatically improved fuel consumption. The aircraft also boasts innovative 'natural laminar flow' wings; a lightweight fuselage; and its own turbofan engine, the Honda HF120. Honda say these features combined will lead to a 25-30% improvement in fuel-efficiency, compared to its competitors.
This fuel efficiency and higher occupancy will mean a more cost-effective offering to the customer, at this crucial entry level end of the business aviation market.
The HondaJet HA-420 will allow flights of up to 3 hours at a maximum speed of 420 kts. It also has a separate lavatory onboard (not always the case with small jets).
When will the HondaJet be available for charter?
With the first 25 aircraft now receiving their finishing touches, the long-awaited aircraft will finally be delivered to new owners at the end of the year, and into 2016.
We expect to see the first HondaJet becoming available to charter at some point in 2016 and we're looking forward to offering it to our customers. Cessna and Embraer both have established a strong foothold in small jet charter, with strong support and maintenance networks for charter operators. Can HondaJet start to dent their popularity? The next few years promise an exciting shake-up in the light jet market.
Our Flight Team can advise on which current light jet is best for your flight. Contact us or call (24 hours) +44 1747 642 777.
Back to Archive for December 2015