Mobile airport terminal showcased at Geneva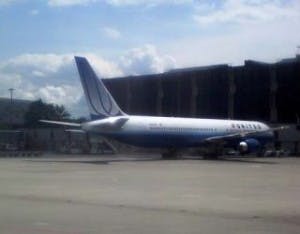 Interesting news this week from Geneva Airport where a mobile airport terminal design was showcased – a world-first. The mobile terminal, developed by Austria's TMT Management GmBH, provides the same facilities that would be found inside a conventional, fixed airport terminal but within an outdoor structure that resembles a large marquee.
The mobile terminal can be constructed and taken down within a week and is intended to provide overloaded airports with an extra means of processing and handling passengers during peak demand – such as extra ski season passenger traffic at Geneva, major sports or arts events, or for natural disaster back-up.
It will be interesting to see if the idea catches on within the private jet sector. I could see it being a successful idea for smaller private jet airports or FBOs, which can find themselves under pressure during nearby major sports or arts events – or those which are overlooked altogether because their facilities are not perceived to meet demand, even though their location may be better.
Examples that spring to mind are Cranfield airport, which could be an ideal hub for Silverstone during the F1 Grand Prix. It already handles multiple helicopter flights and could become the de facto landing spot for other aircraft if the terminal facilities were bigger. Similarly Southend Airport in Essex could become a competitive landing site for events in London and the South East if something like this could be deployed – especially with the London 2012 Olympics just around the corner.
One 'tented' FBO that already operates successfully – albeit as a permanent structure – is Signature's terminal at Toulon Airport, in the South of France. This offers very good facilities within a stylish tented structure and adds another, much-needed option for private jet customers arriving during the peak summer season on the Cote D'Azur, for events such as the Cannes Film Festival.
The ability to add FBO terminal space for a short period of time would allow smaller airports or terminals to market themselves more successfully to private jet operators and private jet customers (IF the facilities were of the right quality for the private jet customer of course). So this really is an interesting development which could open up the market and provide more choice to the private jet customer – something we always celebrate at PrivateFly.com.
Back to Archive for February 2011