10 rules of private jet-iquette
Our industry has introduced a number of COVID-safe processes. Private jet charter aircraft are undergoing even greater disinfection between flights; there are distancing protocols between crew and passengers; and using the clean and quiet private terminals (FBOs) already means no queues or waiting times on the ground (sometimes you can even drive directly to the aircraft steps).
But on a lighter note, what about the other unspoken etiquette 'rules' of private jet travel? To be honest, it's hard to go far wrong. A private jet flight is far more relaxed than many people think, and totally geared around the customer.
However if you're a first time private flyer (and we're flying many at the moment), here are a few tips about the social dos & don'ts of private jet travel.
1) What (not) to wear?
There's no need to be too overdressed on a leisure trip. Private jet fashion is all about not trying too hard. Or at least not looking like you have. So be comfortable. And if you're travelling on business, the usual dress code applies.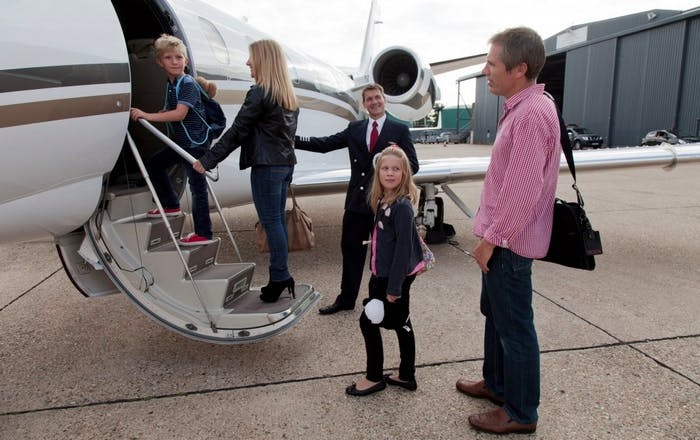 2) Be careful with photos and social media
If you're flying with your own family, snap away and enjoy the experience. But if you're travelling with others, always check first before you share images or names of other passengers – they may not want their travel arrangements made public.
3) Let your host board the aircraft first
If you're a guest and it's your first time on a jet, it might be best to hang back at the aircraft steps. Your host will probably have a favourite seat, and you don't want to make this your first and last invitation.
To familiarise yourself with the interior layout of your private jet, find out what type of aircraft you're flying on and search online (or ask one of our experts who can tell you).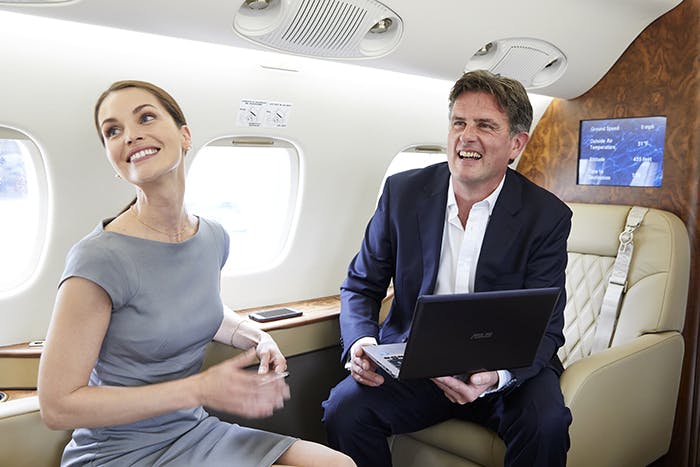 4) Be demanding (but polite)
Ask upfront for anything that will make your trip more enjoyable – whether it's dietary requirements for you (or your children or pets), your favourite wine or newspaper, or decorations for a special occasion. It's a bespoke flying experience, so make it your own.
5) No need to switch off devices
You can use your own devices freely onboard a private jet so there's no need to switch off. Some aircraft have WiFi, although in Europe this is currently more common on larger jets – so you don't need to lose connection while you fly. Although we know that many clients appreciate the ability to relax and take a break.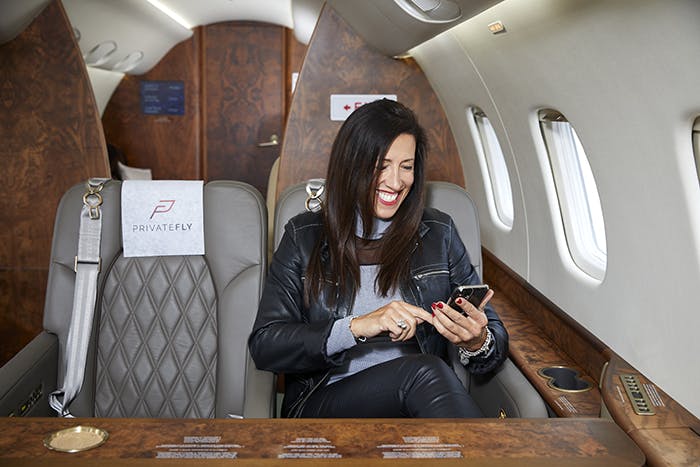 6) Pets can fly too
You can take your pets in the cabin on a private jet if you've arranged this beforehand, but make sure they've been groomed first. Dog hair or muddy paws on the seats are best avoided.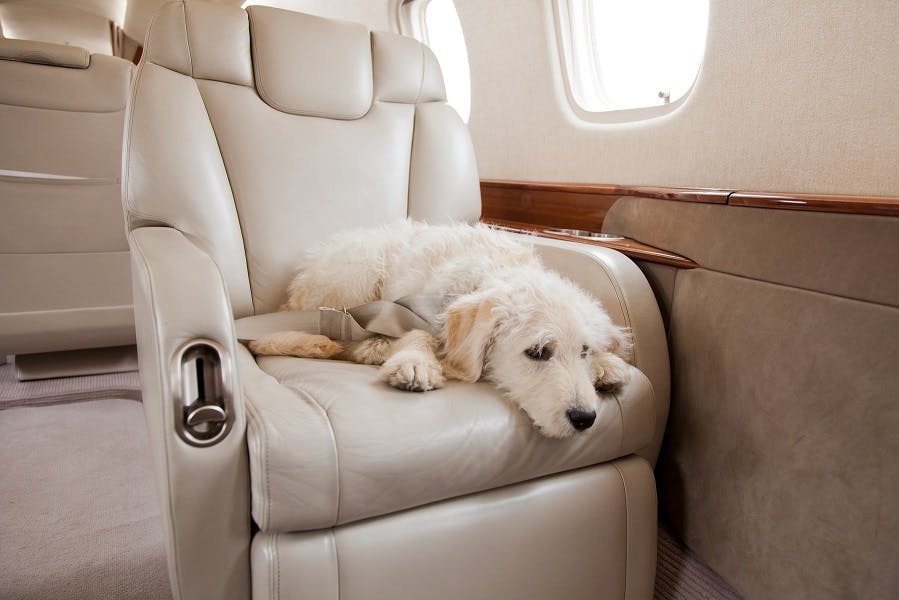 7) Don't be afraid to talk to your pilots
In private aviation your Captain and First Officer (we only offer charter on aircraft with two pilots) are there both to fly the aircraft and to provide you with a great experience and service.
Although they are currently keeping their distance in line with COVID-19 protocols, they are happy to answer questions and talk to you about the aircraft and the route. So don't be afraid to ask.
You can tip your pilot if you think they did a good job, it's not expected but it's quite normal and the crew will appreciate the gesture.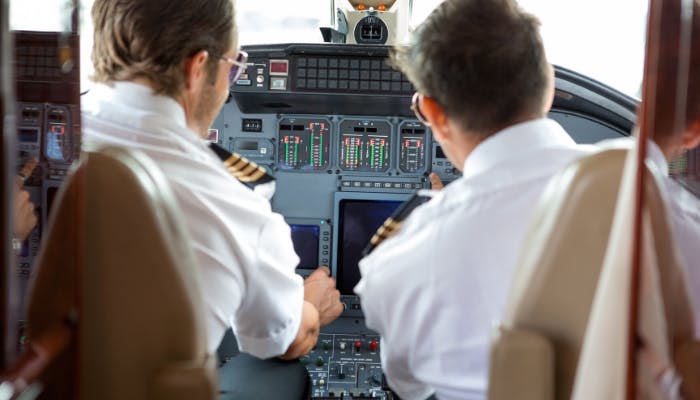 8) Disappear quickly after landing
After your private jet lands, you don't want to be hanging around at the airport. The point of private jet travel is to be whisked away as quickly as possible. Our Client Services team can arrange a seamless car or helicopter transfer to meet you on landing.
Or if you forgot to arrange a car, your pilot can radio ahead and order one for you.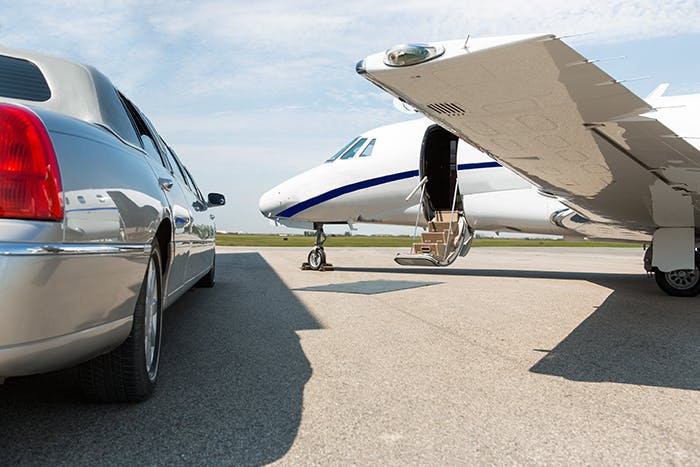 9) Practice good bathroom manners
The vast majority of private jets have an enclosed bathroom onboard. All are kept scrupulously clean and maintained (with extra cleaning now in place due to COVID-19) and some are very spacious and luxurious. But if you're taking a short flight, we'd recommend visiting the bathroom in the FBO beforehand.
In most small and medium aircraft, the toilet is a relatively small space and while it's there to be used as necessary, you might want to avoid needing to, particularly if you are with business colleagues.
Our expert team can advise you on the bathroom facilities and layouts on different types of private jet aircraft.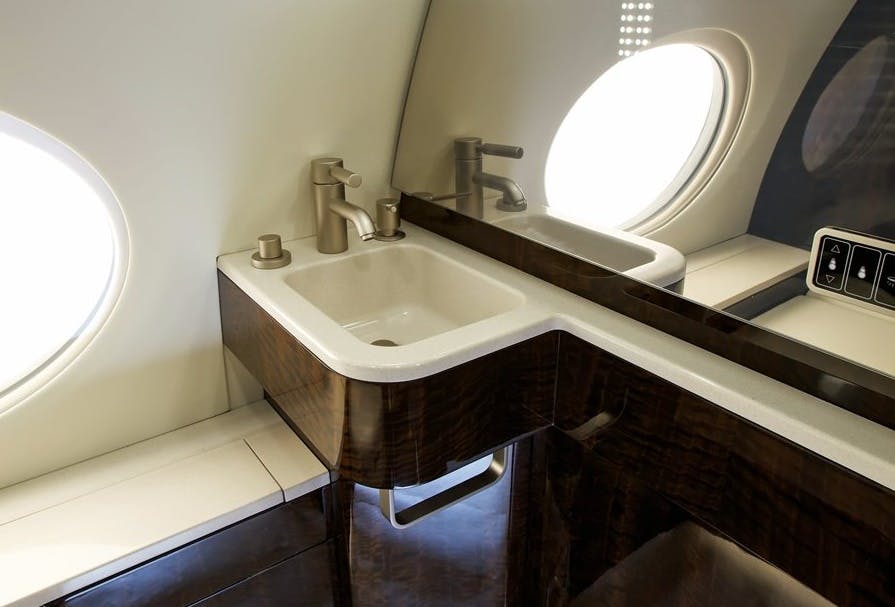 10) No need to carry your own bags
Your crew or the airport ground staff will take care of your luggage – don't worry it's in good hands.
This is not expected from the passenger, and the crew will know best how to stow your luggage to ensure your safety.
Some aircraft have large holds, others have less room on board. So if you are planning to travel with lots of luggage make sure you've confirmed this beforehand. Our team can help you decide which aircraft is best suited to your requirements.
Any other questions about private jet travel? Contact our expert Flight Team (24 hours) on +44 (0)20 7100 6960.
Related content

October 15, 2012
NetJets Pilot Redundancies in France & Belgium
Over the weekend I heard from many of my colleagues from my days as a pilot at NetJets. Responding to lower demand for fractional jet charter and jet cards, NetJets Europe is reducing its pilot…

June 26, 2012
Pilots and job satisfaction
We all measure job satisfaction both in financial terms and in how much we enjoy our jobs. And while most pilots venture into the world of aviation out of a long held passion for flying,… January 19, 2012
UK airport consultation: A pilot's view
Yesterday it was announced that the government's consultation on a new UK aviation hub will begin in March. The process will focus on the need to retain the UK's status as a major aviation hub…