5 flights this week: It's all about the customer
A big part of the appeal of private aviation is in its bespoke nature – the customer can have their flights tailored to fit their exact needs.
And our Flight Team like nothing better than making every detail perfect. Whether that's simply designing the schedule to fit a complex itinerary, having a particular brand of drink onboard, hosting a nervous guest (or pet), or designing a specific menu for a celebration flight…the sky's the limit when it comes to the customer.
Many of our regular customers have specific requirements that we can meet every time we fly – regardless of which aircraft they choose.
Here are five flights we arranged for clients in the last week, which had our detail-loving Flight Team working hard, to make sure everything was perfect.
STOCKHOLM TO LONDON WITH NEWLYWEDS
A regular client of ours made contact to book a new flight and mentioned that the passengers would be his son and new daughter-in-law, flying to London after their wedding, which was taking place near Stockholm.
The flight was arranged with just two days' notice and our client wondered if we could arrange for the aircraft to be decorated with a few ribbons as a surprise. But we knew we could do more than that.
So we got onto a local wedding supplier in Stockholm, and had a 'Just Married' sign made up and attached to the aircraft – along with balloons on the aircraft's tail and ribbons across the nose. Chilled champagne was waiting onboard of course and the happy couple were thrilled when they arrived at the aircraft.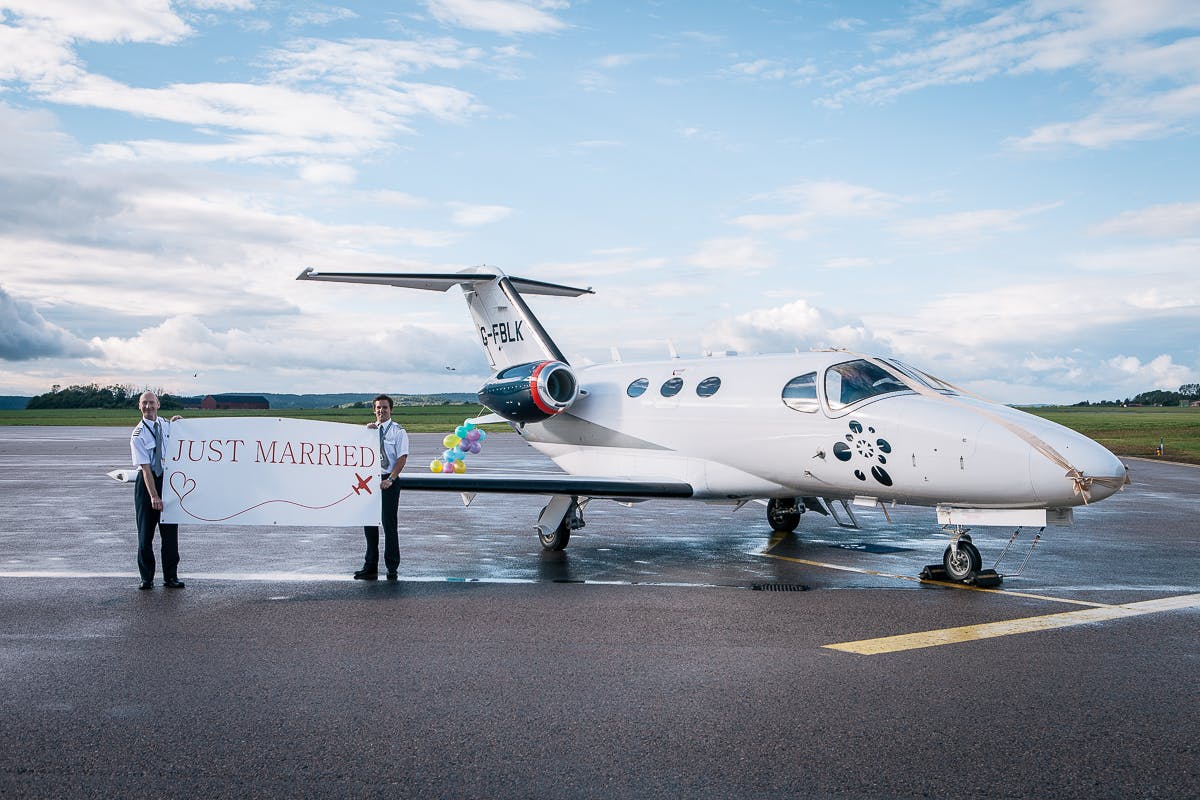 How much does it cost by private jet?
Itinerary: Stockholm Bromma Airport to London Luton Airport (one way)
Aircraft: Citation Mustang (4 seats)
Flight Time: 2 hours 35 Mins
Price: €11 580
MANCHESTER TO FARO WITH LOTS OF LUGGAGE
A sports agent client made contact to book a flight for a group of golfers, looking to fly into the Algarve in Portugal for a celebrity pro-am tournament.
There were 4 of them travelling, but they each had a full set of golf clubs and a number of large suitcases. They wanted to know which aircraft would be most cost-effective, but still accommodate them and their luggage. They also wanted to be able to access the luggage space during the flight.
Our Flight Team recommended the Legacy 600. One of the most cost-effective long range jets, with walk-in access to 240 cubic feet storage luggage facility.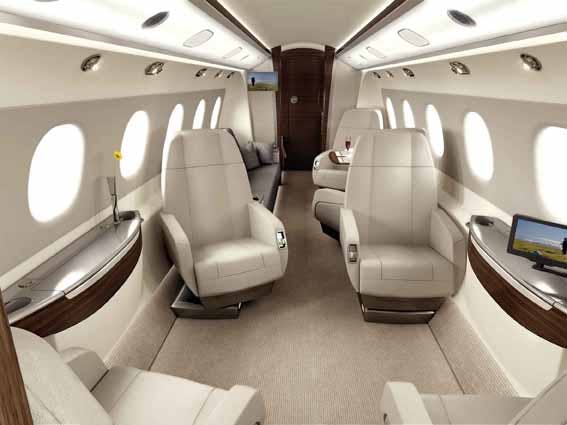 How much does it cost by private jet?
Itinerary: Manchester Airport to Faro Airport (2 day return)
Aircraft: Embraer Legacy 600 (13 seats)
Flight Time: 2 hours 30 mins
Price: £29 950
PARIS TO NICE COTE D'AZUR WITH A NERVOUS DOG
We are used to arranging flights with pets onboard, with this was a flight for a new customer, two other passengers and 2 of her dogs, relocating for the summer months from Paris to the South of France.. The client was worried about the welfare of the dogs, particularly the older dog who was very nervous and had had a bad experience on an airline flight in the past.
So our Flight Team helped to arrange for the dog's favourite blanket, toys and treats to be onboard the aircraft, and briefed the airport staff and crew to make sure the pet received the calmest possible welcome.
She was also keen to have a larger aircraft, so we recommended the Dassault Falcon 7X. Which gave the extra cabin space she required.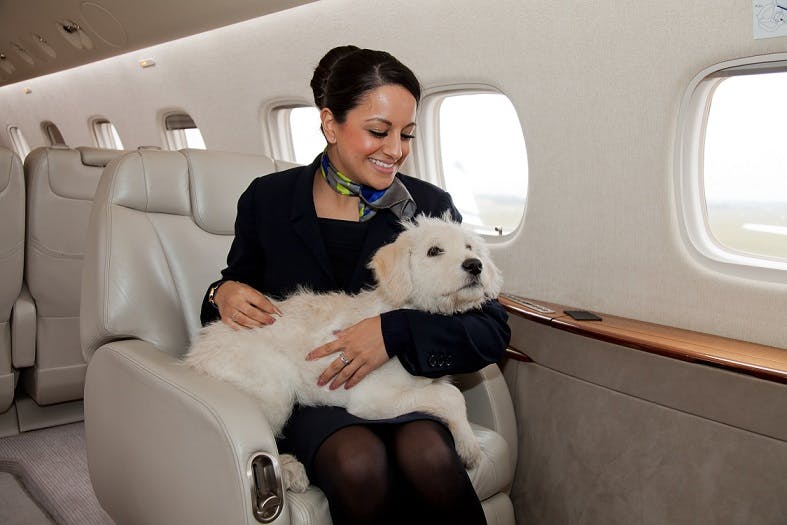 How much does it cost by private jet?
Itinerary: Paris Le Bourget to Nice Cote D'Azur Airport (one way)
Aircraft: Dassault Falcon 7X (14 seats)
Flight Time: 1 hours 5 Mins
Price: €19 430
LONDON TO WIMBLEDON BY HELICOPTER
The grand slam tennis tournament, Wimbledon, began this week in London and as always, it has attracted tennis fans from around the world. While we've flown a few clients into London specifically for the event, one client was on a very tight schedule and wanted to fly in as close as possible, in order to avoid any traffic or additional hassles.
After flying into London Luton, we helped this client waste no time getting to Wimbledon by flying them off in a helicopter to Ham Polo Club, which is just a short six miles from the tournament.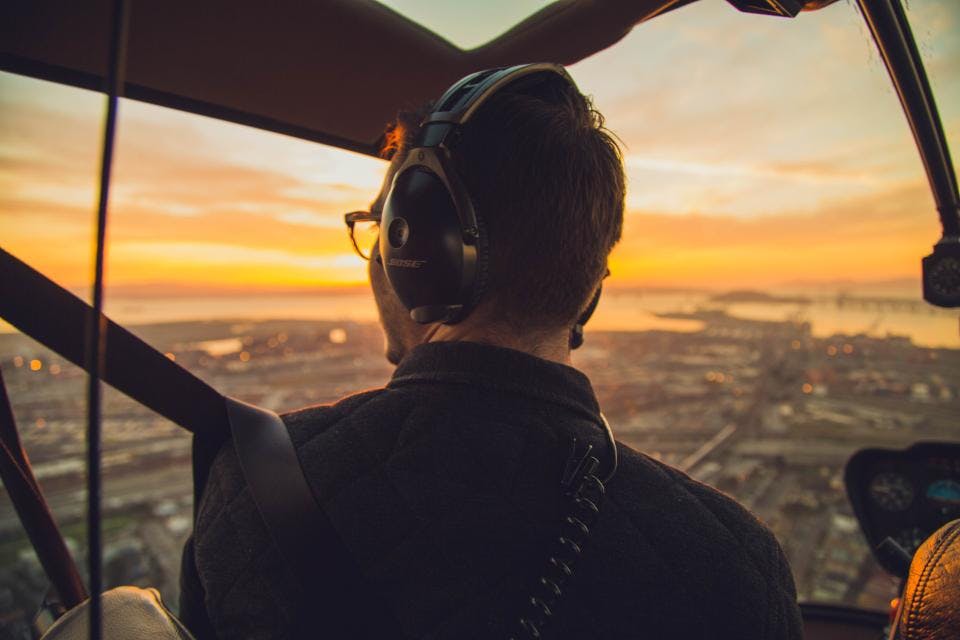 Itinerary: London Luton to Ham Polo Club (one way)
Aircraft: Twin Squirrel (5 seats)
Flight time: 25 Mins
Price: £3 050
ROME TO MOSCOW WITH A SPECIAL DIET
Specific catering requests are very much part of the service in private aviation. And this customer has some very specific needs on a flight from Rome to Moscow.
The customer was travelling with one of their company's most important clients and wanted to have a light lunch served on the flight. But the client has a number of severe food allergies, including to nuts and eggs. They also wanted to make sure we had a supply of the client's favourite brand of orange juice on board.
The allergies weren't a problem at all. This is something we are used to dealing with and we worked closely with the catering company to specify the menu.
But the orange juice was a little more difficult as this wasn't available through the usual catering supplier. But a little bit of research later, our Flight Team had located the brand in a specialist grocery shop in Rome and were able to have some sent out to the airport, ready to be chilled and waiting for the passengers' arrival.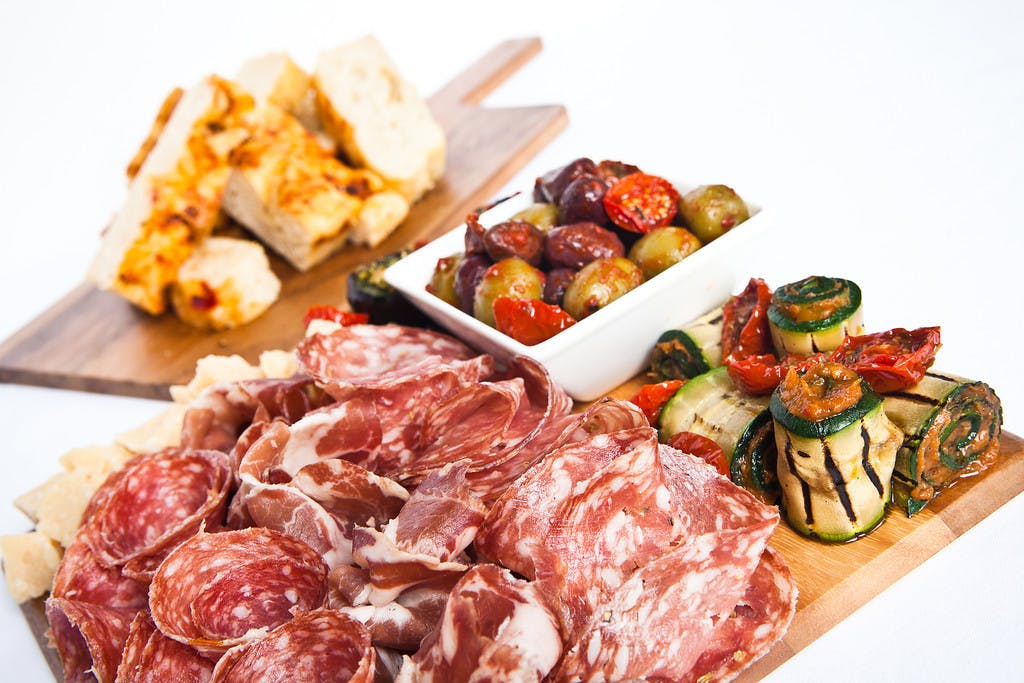 How much does it cost by private jet?
Itinerary: Rome Ciampino Airport to Moscow Vnukovo Airport (overnight return)
Aircraft: Citation XLS (8 seats)
Flight Time: 3 hrs 19 mins
Price: €35 062
Whatever your requirements, our Flight Team would be happy to help. For a personalised quote for your own flight itinerary, use our flight search on the website, app, or contact us (24 hours) at +44 1747 642 777.
Related content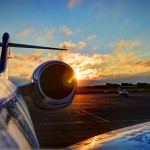 March 30, 2020
Tax relief on US private jet flights due to COVID-19
Last week the US Federal Government passed the CARES (Coronavirus Aid, Relief, and Economic Security) Act, which included tax relief measures for US business aviation customers and the industry. This includes the removal of FET (Federal…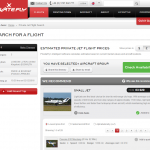 November 15, 2016
Instant private jet prices at your fingertips
When we meet someone new to private aviation, their first question is almost always the same: "So how much does it cost to fly by private jet?" The 'from' and 'to' might vary, but it's clear that there's…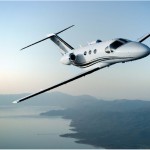 November 08, 2016
Which private jet is right for me?
When it comes to private jets, travellers are spoilt for choice. There are hundreds of models of different private aircraft on the charter market, in a multitude of sizes to accommodate different flights, and styles. So you…