All about private jet windows
Bringing in light is the most basic requirement of a window in any setting, but the windows in private jets do much more than that. They are one of most important factors in aviation design, providing a sense of space, structure and of course, a bird's eye view of the world outside. 
For manufacturers and designers, there is a very complex balance to be struck here: Maximise pressurisation and minimise drag, while still providing plenty of light. And this is something early aircraft designers learnt the hard way, with aircraft windows back in the early days of commercial aviation often the source of problems in structural integrity and safety.
In fact the world's first ever commercial airliner, the de Havilland DH 106 Comet, was eventually grounded due to its perfectly square windows, with their 90 degree corners and rivets proving a weakness. Since then, all aircraft windows have been designed rivet-free and with rounded edges - even those which look square or rectangular at first glance - to reduce stress concentration.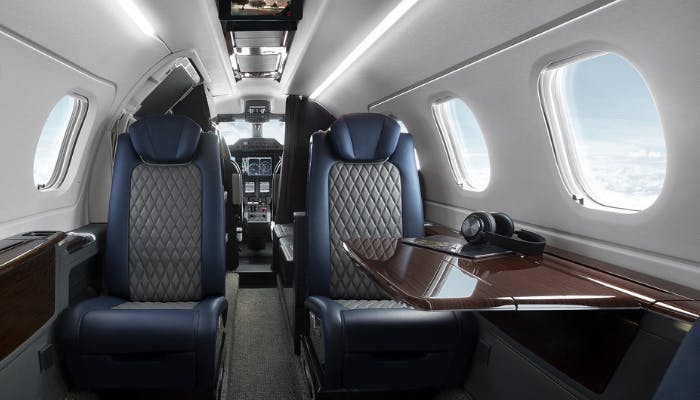 How many windows are there in a private jet?
The number of cabin windows in a private jet varies according to size and model. While the smallest light jets, which seat 4-6 people, typically have six or eight windows (three or four along each side), premium light jets such as the Pilatus PC-24 or Phenom 300 (both selected aircraft available with our Light Jet Plus category Jet Card), have 12 or more, and of a larger size to bring more light into the cabin.
As you go up the size spectrum from there, the additional airframe space allows for more windows, with the super-midsize jet Praetor 600 offering 14, and 22 in the heavy jet Legacy 600. The very largest jets have even more, with converted airliners such as the Lineage 1000 and Boeing Business Jet illuminated by as many as to 30 or 40 windows across the length of their multi-zone cabins.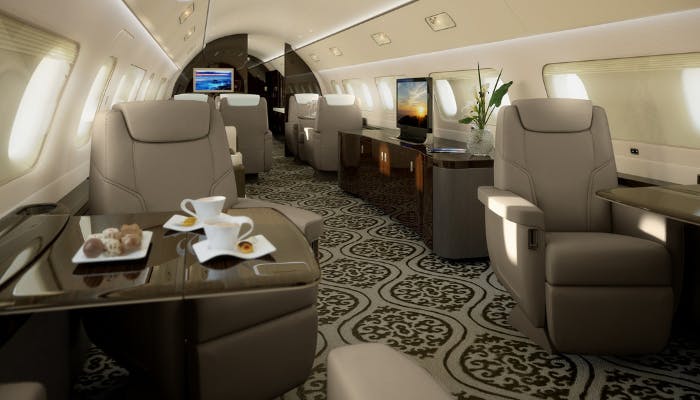 Gulfstream's iconic oval windows
When it comes to the visual impact and performance of private jet windows, size and shape are just as important as quantity. Gulfstream's unique wide oval portholes make their ultra-long-range aircraft instantly recognisable on the ramp, to even the casual aviation enthusiast.
The iconic Gulfstream G650 has a total of 16 of the elliptical windows, eight on each side of the fuselage, each one measuring a huge 71cm wide. These flood the cabin with light, and allows a spectacular, panoramic view of the world to every passenger, with the window blinds and shades operated individually via seat controls or by the cabin management app.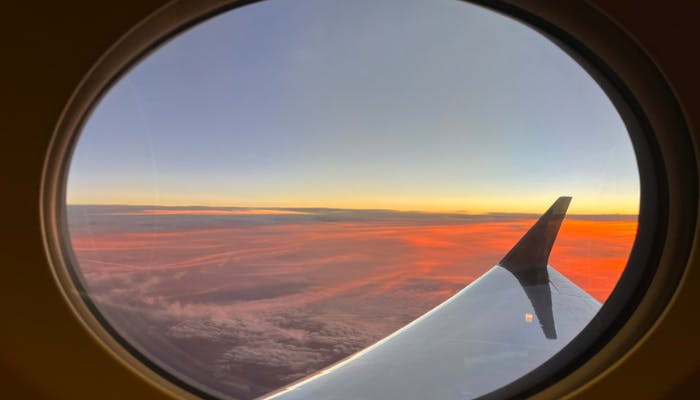 Dassault's skylight window in the Falcon 6X
While windows along the sides of the cabin are the expected norm when you step onboard, French manufacturer Dassault created an industry-first, when it unveiled a skylight in the cabin ceiling of its ultra-long-range Falcon 6X, in addition to windows along the sides.
This provides additional natural light in the normally dim galley area and certainly creates a fantastic first impression, as passengers step onboard the aircraft into this area.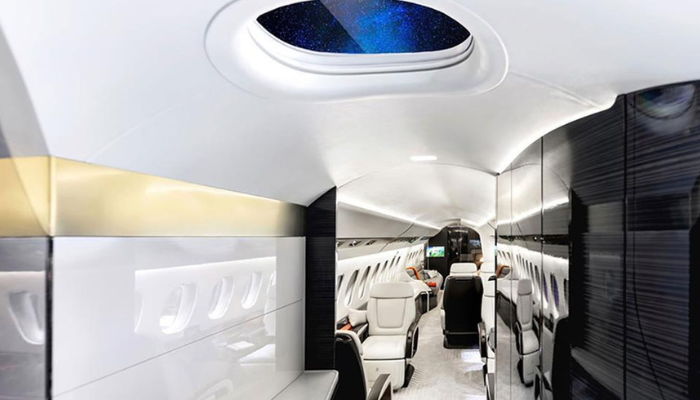 Of course, innovation in aircraft window design never stops and several futuristic concepts even include windowless private jets - where large screens inside the cabin mimic actual windows by projecting a live view of the world outside. This would give the huge benefit of reducing weight, drag and fuel consumption.
Talk to PrivateFly's expert team to discuss and compare windows or any other cabin feature of different private jet models. Contact us or call +44 (0)20 7100 6960.
Related content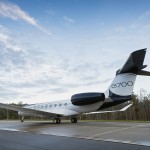 October 22, 2019
Gulfstream announces the new G700
They've been battling it out at the very top of the business jet market for years, so with Bombardier's Global 7500 now the incumbent leader in the ultra long range private jet stakes, it was only a…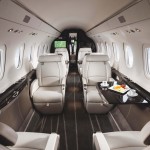 September 23, 2019
The Citation Longitude is finally certified by the FAA
The much-anticipated Citation Longitude has now been certified by the Federal Aviation Authority, following a number of delays in the program. And with a large order book already in place, manufacturer Textron can now finally…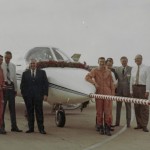 September 18, 2019
50 years of Citation jets
The Cessna Citation series of business jets is the largest, most enduring and successful aircraft families in private jet charter. And this week owner Textron Aviation celebrated 50 years since the very first one – a Citation 500 –…