First BBJ MAX 8 Ordered For Boeing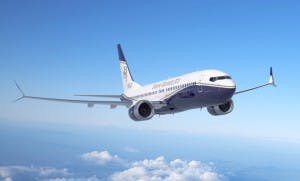 It was announced today that Boeing Business Jets (BBJ) have had their first sale of its highly-anticipated BBJ MAX 8 executive airliner.
The BBJ is a converted Boeing 737 airliner and is one of the most coveted and desired private jets for clients worldwide. Most configurations of the BBJ divide the cabin into four compartments; the luxurious interior is bespoke but generally consists of a board room, a lounge, a VIP bedroom, a business office, and two lavatories with showers.
The new MAX 8 version offers customers a 19-foot longer cabin and three times the cargo space of today's BBJ. It has a range of 6,325 nautical miles (an increase of more than 800 nautical miles over the BBJ2) and will provide a 14 percent fuel-use improvement compared to today's most efficient single-aisle aircraft.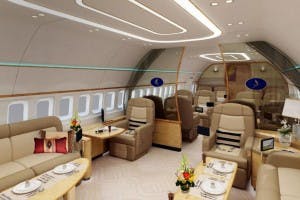 The BBJ MAX line of aircraft consists of the BBJ MAX 8 and BBJ MAX 9, both based on the upcoming 737 MAX commercial airliners due in service by 2017. These new models extend Boeing's market leading position in the VIP airliner category, enjoying a significant range of advantages over competing products like Airbus A318/A319 and Embraer Legacy Lineage 1000.
At the top-tier of the private jet charter market, the BBJ is showing strong demand so we would expect the new MAX line to be a success for Boeing. We recently had a $500,000 BBJ flight booked through our PrivateFly iPhone app, for a multi-leg business trip from Saudi Arabia to Europe.
There are currently over 150 BBJ aircraft worldwide, including the BBJ, BBJ2, and BBJ3 – some of which are solely owned for private use, but many are available to charter. Continue to watch this space for more development on when the BBJ MAX 8 will be available on the charter market.
Related content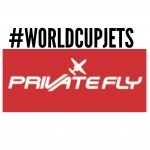 June 27, 2014
WORLD CUP OF JETS: WHICH COUNTRY'S PRIVATE JET REIGNS SUPREME?
This month, fans have been glued to their TVs, tablets, computers and smartphones as football players from around the world try to bring the World Cup trophy home for their country. And with the first…