Inside Europe's busiest private jet airport – Paris Le Bourget

Paris Le Bourget is the busiest private jet airport in Europe, with 48,000 private jet movements in the last year (the second busiest is Geneva Cointrin, followed by Nice Cote D'Azur in third). See all 25 busiest airports for private jets in Europe.
It's a very impressive airport for the business traveller – dedicated to private aviation. It's also the home of the biannual Paris Air Show, the world's oldest air show, which celebrated its 50th anniversary earlier this year. See Paris Le Bourget map location
Paris Le Bourget also has more FBOs (private jet terminals) than any other airport in the world – 8 in total. That's significantly more than other busy global airports for private jets. The UK's busiest private jet airport, London Luton Airport, offers a choice of three FBOs. Teterboro Airport in New York and Van Nuys in California (both also dedicated to private aviation) each have five.
So at Paris Le Bourget, the private jet customer is spoiled for choice, whatever their requirements. The eight FBOs are:
Each FBO has its own distinctive offering and attracts all types of customer: business people; families with children; travellers with pets – and also overseas customers accustomed to a certain standard of luxury.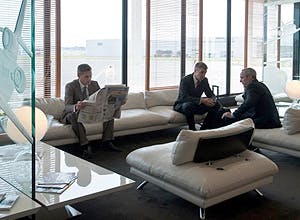 Dassault Falcon Service
Dassault has the distinction of having a totally secure entrance (you cannot access it without having your identity card verified).
Your car can drop you off right at the gates of the FBO, to access the VIP area.
Service levels are very high and the Dassault team will happily escort travellers to view aircraft in the hangar.
Advanced Air Support
Providing a bespoke service for the ultra high net worth traveller, Advanced Air Support is distinguished from Le Bourget's other FBOs by its high spec design and prayer room – the only one at the airport. This is available to travellers wishing to pray at any time.
Advanced Air Support has 5 VIP lounges; a boutique selling luxury goods; 2 meeting rooms; and 3 snooze rooms.
The FBO also a lift for wheelchair users.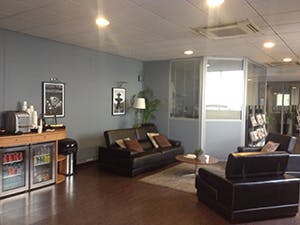 Landmark Aviation
Landmark Aviation's FBO offers direct access by car, there is no gated entrance.
3VIP lounges are available, in addition to a meeting room.
Landmark has plans to move to another strategic location in Le Bourget airport. The current one will become an office and the new FBO will open at the end of April 2014.
JetEX
JetEx offers a VIP area, specifically designed to accommodate members of official delegations (The Royal Lounge)
A conference room for up to 20 people is available for meetings and direct access to the ramp.
There is reserved parking is exclusively for use by crew and passengers.
The FBO also offer a concierge service and will book your hotel; limousine; or arrange other purchases or activities as requested.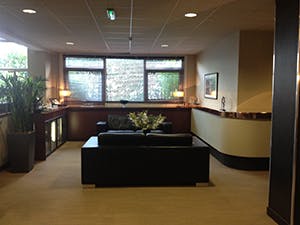 Signature Terminal 1
The Signature Terminal 1 is spacious, simple and elegant.
It offers all the essential facilities: a large lounge area with refreshments and plasma screens; conference rooms (configuration between 12 and 30 seats); and Wi-Fi.
Crew and pilots are also often seen in the lounge, making themselves available for any questions about your flight.
Signature Terminal 2
The second terminal Signature is equally comfortable with meeting rooms available and a lounge area overlooking the tarmac.
It is also particularly popular with those flying by private aviation with young children, as it offers a small play area.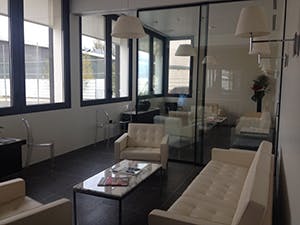 Unijet
One of Unijet's notable features is a superb open-air terrace to relax just before takeoff. It also offers bathrooms are also on the same floor for passengers looking to spend a little more time there, or who are transferring from a longer flight.
Meeting rooms are upstairs and also have stunning views of the tarmac and aircraft.
Universal Aviation
A large lounge area is available for passengers, plus conference rooms for organizing your business meetings.
A limousine service and private car is offered for all trips to and from the airport.
Paris Le Bourget Map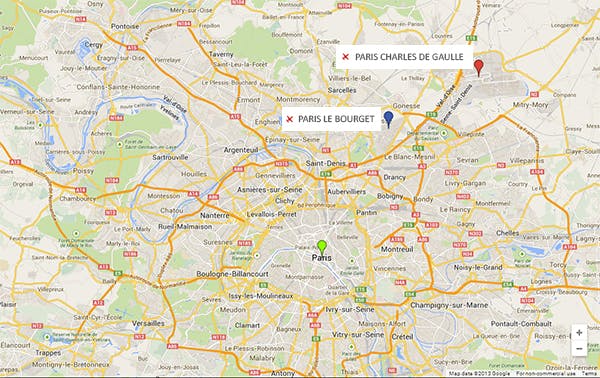 Related content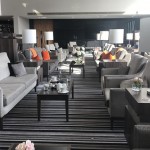 March 04, 2020
What is a private jet FBO?
You might have heard the term 'FBO' used to describe the separate private jet terminal at the airport. But what does FBO mean? And what should you expect from the FBO experience when you fly by private…