Supersonic aircraft – soon to fly again?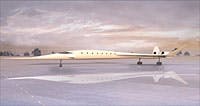 British aircraft manufacturer HyperMach revealed its new supersonic business jet concept at the International Paris Airshow this week. The company claims the 20-seater aircraft, named the SonicStar, will be able to cruise at Mach 3.6. At almost twice the speed of Concorde, this would mean a journey time from Paris to New York of one hour and 45 minutes. The aircraft is scheduled to fly in 2021 with certification possible by 2025.
The SonicStar's thrust is provided by a Class S Magjet 4000X Propulsion system that will run on seaweed-based biofuel, which will be manufactured in the UK by Hypermach's sister company, SonicBlue. Richard Lugg, CEO of Hypermach, claims that the brand new power plant will be 30% more fuel efficient than the engines used to power Concorde and cause almost no environmental damage whatsoever.
The designers also claim that the SonicStar will be able to travel at supersonic speeds over land, unlike Concorde which could only travel supersonically when over the ocean. This is due to the unique design of the aircraft, which means that it does not produce a sonic boom (thanks a magnetic spike on the nose that uses plasma waves). The cost of the aircraft is likely to be in the region of $100 million.
The Aerion Corporation is another manufacturer that has developed a concept for a supersonic business jet. Known as the Aerion SBJ, it would be able to carry up to 12 passengers at a cruising speed of Mach 1.5. Although slower than the SonicStar, the SBJ is expected to enter the market as soon as 2015. Despite their currently being no prototype, the company has reportedly already received several orders from customers, each with a $250,000 deposit.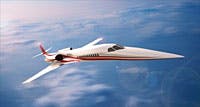 As with all new aircraft launches, after the initial flights for owners, these supersonic jets will quickly appear on the private charter market and become available for private jet hire.
As Concorde proved, there is most definitely a market for supersonic air travel which, for many, will be as much about the excitement and life-affirming experience of innovative air travel as it is about saving flight time. These aircraft are also destined to be absolutely stunning to look at – given the very particular design requirements of supersonic air transport. It will be fascinating to see how the new generation of supersonic aircraft integrate with the rest of the industry.
Back to Archive for June 2011