What can I eat and drink on a private jet?
It's a question we're often asked by those new to private aviation: What can I eat and drink on a private jet charter?
The answer is just about anything you like. Private jet travel is a bespoke service, with catering to match.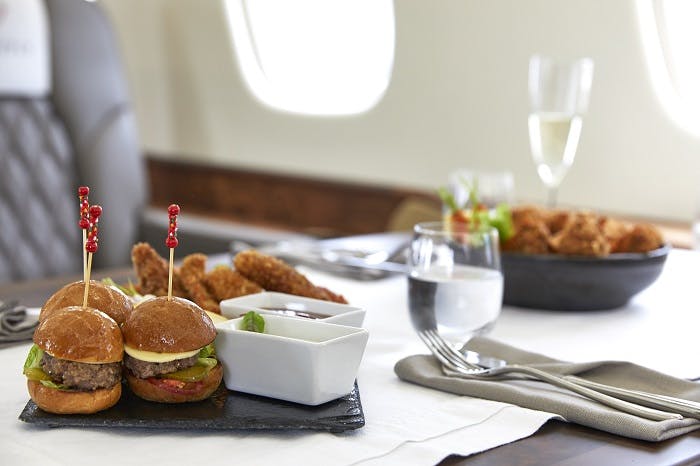 When you have booked a flight, our Client Services team will talk to you about your catering preferences. Private jet catering is of an exceptionally high quality, expertly prepared by a specialist supplier and standard VIP catering is included in the price of your flight.
Currently during the COVID-19 pandemic, there are some changes to catering protocols, such as reducing the interactions with the flight attendant, and avoiding shared dishes. Your catering is meticulously prepared with safety the utmost priority, but rest assured you will still enjoy delicious and well-prepared food and drinks as you fly.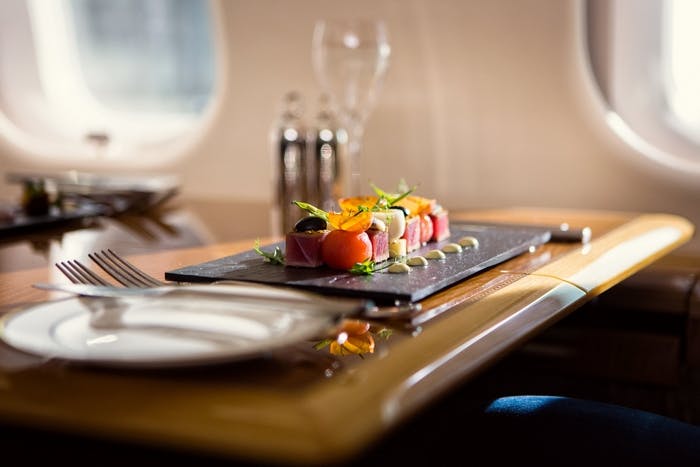 Private jet catering options by aircraft type
The options vary according to the size of aircraft and its galley facilities; the time and duration of your flight; and whether there is a flight attendant onboard.
On the smallest of aircraft for flights of 1 – 2 hours, there will always be a range of high quality snacks and drinks. And on most light jets you'll also be able to order light dishes such as sandwiches, antipasti, pastries, salads, and fruit.
On larger aircraft, there are more options, including hot dishes pre-prepared by a chef and finished onboard by the flight attendant. This includes fine dining options, beautifully-prepared and served to restaurant standards.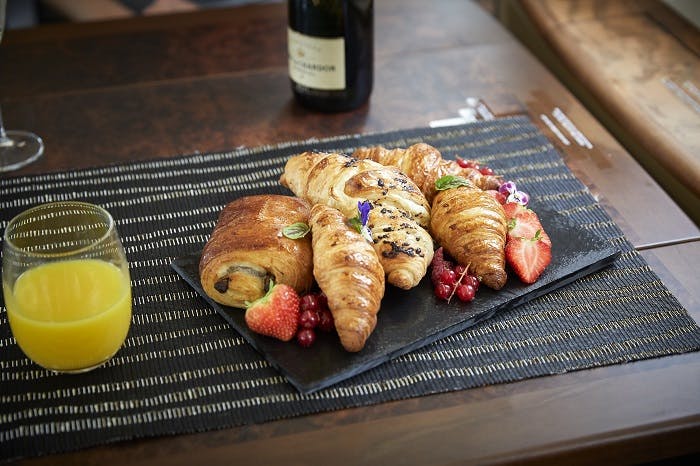 Dietary requirements and special requests
Of course all dietary requirements can be accommodated, including meat-free or vegan menus, and dishes which are free from gluten or avoiding other allergants. If children are onboard, special dishes can be arranged to suit their tastes.
When it comes to drinks, champagne or sparkling wine is usually available onboard most aircraft, as is a range of soft drinks, teas and coffee. Specific wines, beers and spirits can also be arranged to suit your tastes.
At PrivateFly, we see a wide range of catering requests from our clients, and our team do our utmost to accommodate them. It's not always about fine dining, it can just be a very specific request to make that flight extra-special and personal. From pizza, to birthday cakes to a certain brand of herbal tea, we like nothing better than making sure the customer's experience is as enjoyable and comfortable as possible.
Talk to our expert team about your catering preferences or for advice on any aspect of your private jet charter flight. We're available 24/7 on 020 7100 6960 or contact us online.
Back to Archive for October 2020