Which aircraft were hot news this week at EBACE?
EBACE is Europe's key industry event for business aviation; bringing to Geneva a major influx of business leaders, government officials, manufacturers, corporate aviation departments – and a whole host of others involved in business aviation. And the PrivateFly team have been there every day this week, enjoying the great opportunities to network, and the industry debate.
But it's really all about the aircraft.
Both the static display of current private jets which fly in for the event (there were over 50 different current aircraft) and the chance to get a first hand look at aircraft that haven't made it to the runway yet.
These were the major new aircraft highlights – the ones to watch in the months and years ahead:
HondaJet
After years of anticipation, the much-talked-about HondaJet made a red carpet arrival at Geneva this year for EBACE, marking the first European stop of its world tour.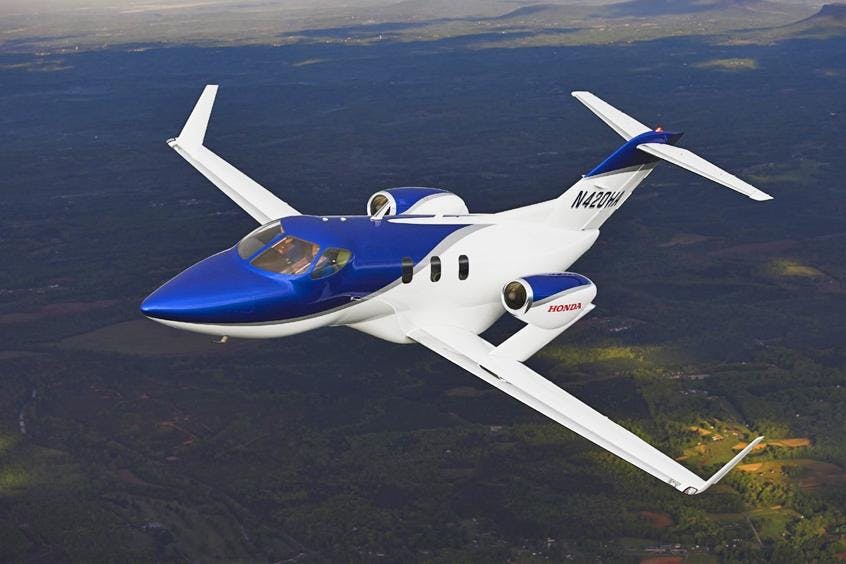 The innovative design of the HondaJet allows it to be the same size as a Very Light Jet, while still having a surprisingly spacious cabin that allows for up to five passengers, a separate lavatory, as well as a refreshment area.
The HondaJet began its 13-nation tour of potential markets last month, starting in Japan and just achieved its provisional FAA certification – with full certification expected later this year.

Citation Latitude
The Citation Latitude is having a busy month, making its debut at EBACE this week ahead of flight testing, and expecting to receive FAA certification by June. First shown at NBAA last October, the Latitude boasts Cessna's widest-yet passenger cabin, with stand-up access throughout its length of more than 16 feet, and accommodation for two crew and 7-9 passengers.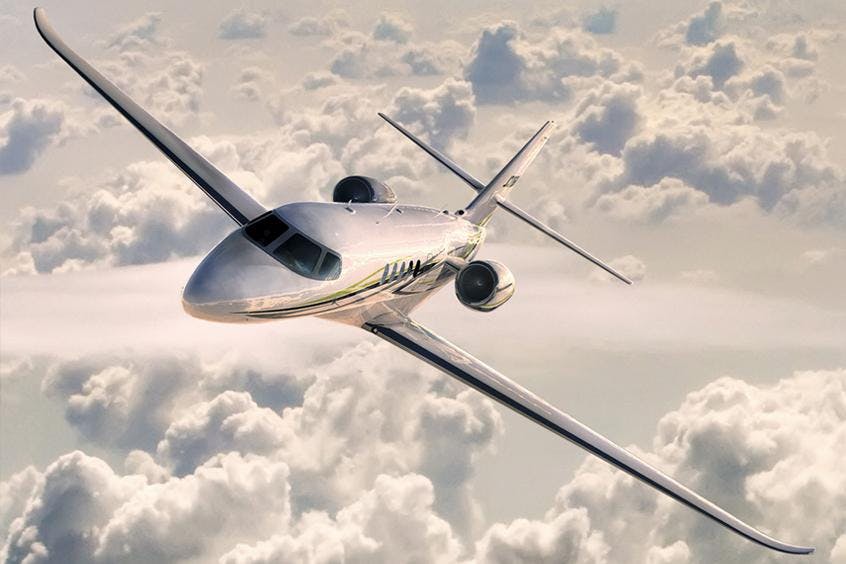 The Latitude will have a range of 2700 nm, making it capable of flying from Los Angeles to Washington DC without a fuel stop.

Pilatus PC-24
The first ever Pilatus PC-24 was one of the most talked-about aircraft at this year's EBACE, where it took off on its maiden flight. The impressive and versatile twin-engined jet took off in just under 2000 feet and climbed to 10,000 feet in around three minutes.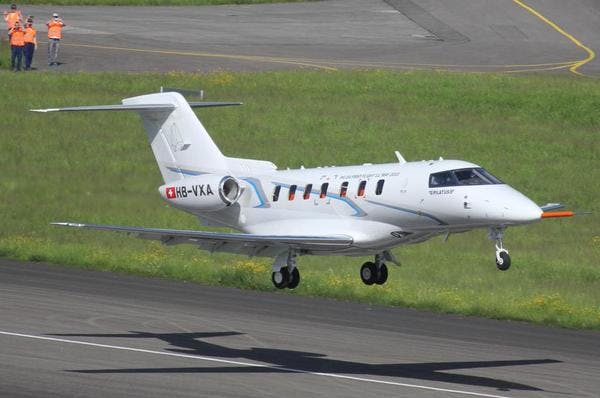 The PC-24 is equipped with a rear cargo door as a standard, with takeoff and landing performance that allows for the use of very short and even unmade runways – so it will allow access to remote locations for medevac and cargo flights. The jet boasts a spacious cabin with an interior that can be customised.
A total of three PC-24 prototypes will be built and used to complete a rigorous test program over the next two years for the aircraft. Certification and initial deliveries are planned for 2017.

Embraer Legacy 450
The smaller brother of the popular Legacy 500 made its EBACE debut (also appearing at NBAA last year similar to the Latitude). Soon-to-be-certified, the Legacy 450 seats 7-9 passengers and promises a 2,500 nm range when half full.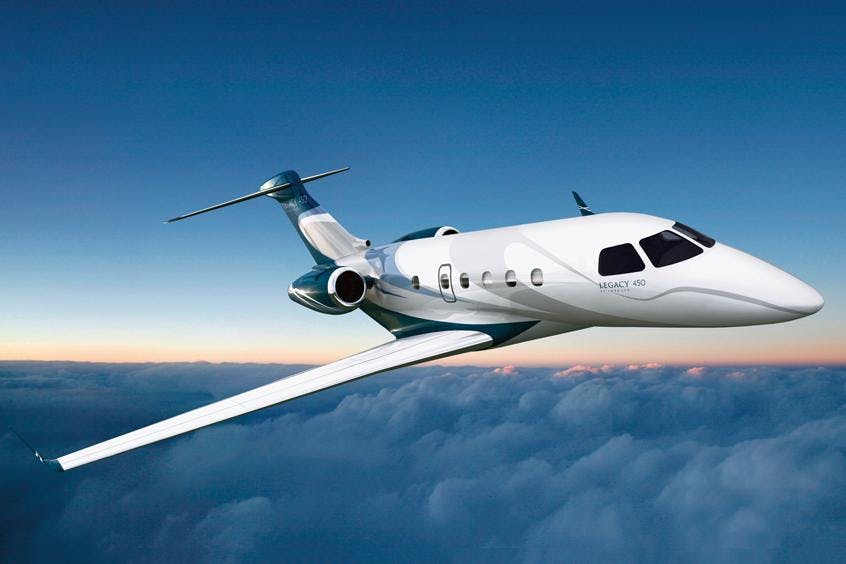 Like the Legacy 500, it is the first in the midsize field to have fly-by-wire controls and it also boasts a 6ft high cabin with flat floor.
Bombardier Challenger 650
Revealed at Orlando's NBAA convention last October, a real, flying Challenger 650 made its debut at EBACE this year.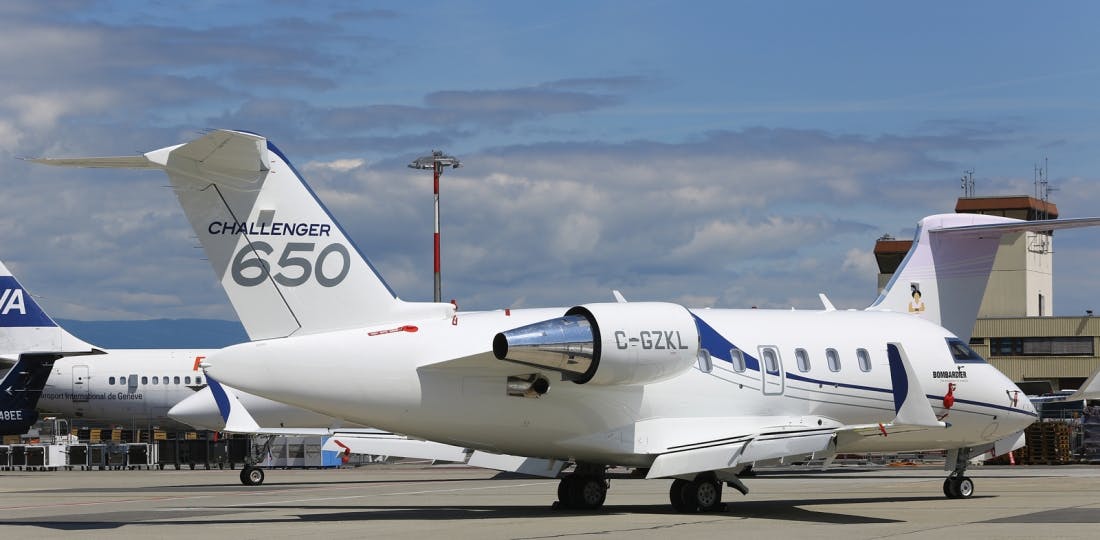 With 5% more thrust from its new CF34-3B engines; a redesigned cabin with new seating, entertainment and improved galley; and avionics enhancements to please any crew, certification for the Challenger 650 is due later this year.
Dassault Falcon 5X and Falcon 8X
French manufacturer Dassault has been creating quite a buzz with its new Falcon 5X at EBACE this week.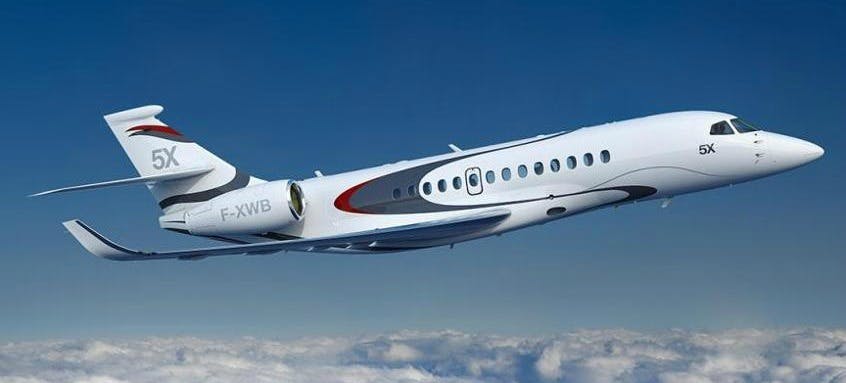 The Falcon 5X is set to roll-out on 2nd June at its Bordeaux-Merignac facility and Dassault says the long-range business jet is on track for its first flight in the second half of this year. While smaller than its brother, the Falcon 7X, it has a larger cabin that can hold between 14 to 16 passengers. The aircraft also brings in lots of natural light, with 28 windows that are all bigger than the 7X windows, plus an industry-first skylight.
Being developed alongside the airframer's flagship type, the ultra-long-range Falcon 8X, the 7X is earmarked for certification and service entry in 2016 and 2017 respectively. The 8X – which appears to have leapfrogged the 5X – is set to make certification and deliveries before the end of next year.

Aerion AS2
How much will a supersonic private jet cost? That question was finally answered at EBACE this year with Aerion Corp officially authorising the sale of its AS2 supersonic business jet at a price of $120 million in 2015 dollars. That's double the list price of the current most expensive purpose built business jet, the Gulfstream G650.
A decade ago, talk of bringing a supersonic business jet to market seemed like an idea from a sci-fi movie. But it's now fast becoming a reality.

While an aircraft of this type is still some years away from first flight, and even more years away from being available for charter, this news is an exciting revolution in business aviation and one that we will continue to monitor.
Whether brand new to the charter market, or a well-established contender, we have access to around 7,000 accredited aircraft worldwide. Contact us or call our Flight Team (24 hours) on +44 1747 642 777 for advice, or a personalised quote for your itinerary. 
Related content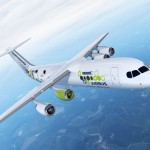 February 28, 2020
How close are electric aircraft to take off?
I was delighted to be invited to join a 'Dragons Den' style panel at aviation innovation summit Revolution.Aero, in San Francisco last autumn, evaluating some exciting new concept ideas in electric aviation. It was incredibly inspiring…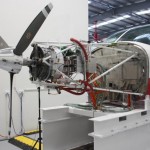 October 01, 2018
New electric engine aims to power future private flights
At PrivateFly we're very excited by the future potential of solar and electric engineering in aviation. There are a number of new and ongoing projects taking place, and we hope to see one them making an…