Which Would You Fly In: No Windows or Glass-Bottom Aircraft?
At PrivateFly, we are always keeping our eye out for the next innovative design that's going to revolutionise aviation. Whether it's new private aircraft releases, or just far-fetched ideas for the planes of the future; we love imagining where aviation design will be going next.
Recently, an imaginative new aircraft redesign that allows passengers to see straight through the aircraft when flying made the news. An old April Fool's joke from Virgin Atlantic was going around Twitter, stating they would be incorporating the world's first-ever glass-bottomed aircraft in their fleet, giving passengers "an unparalleled flying experience".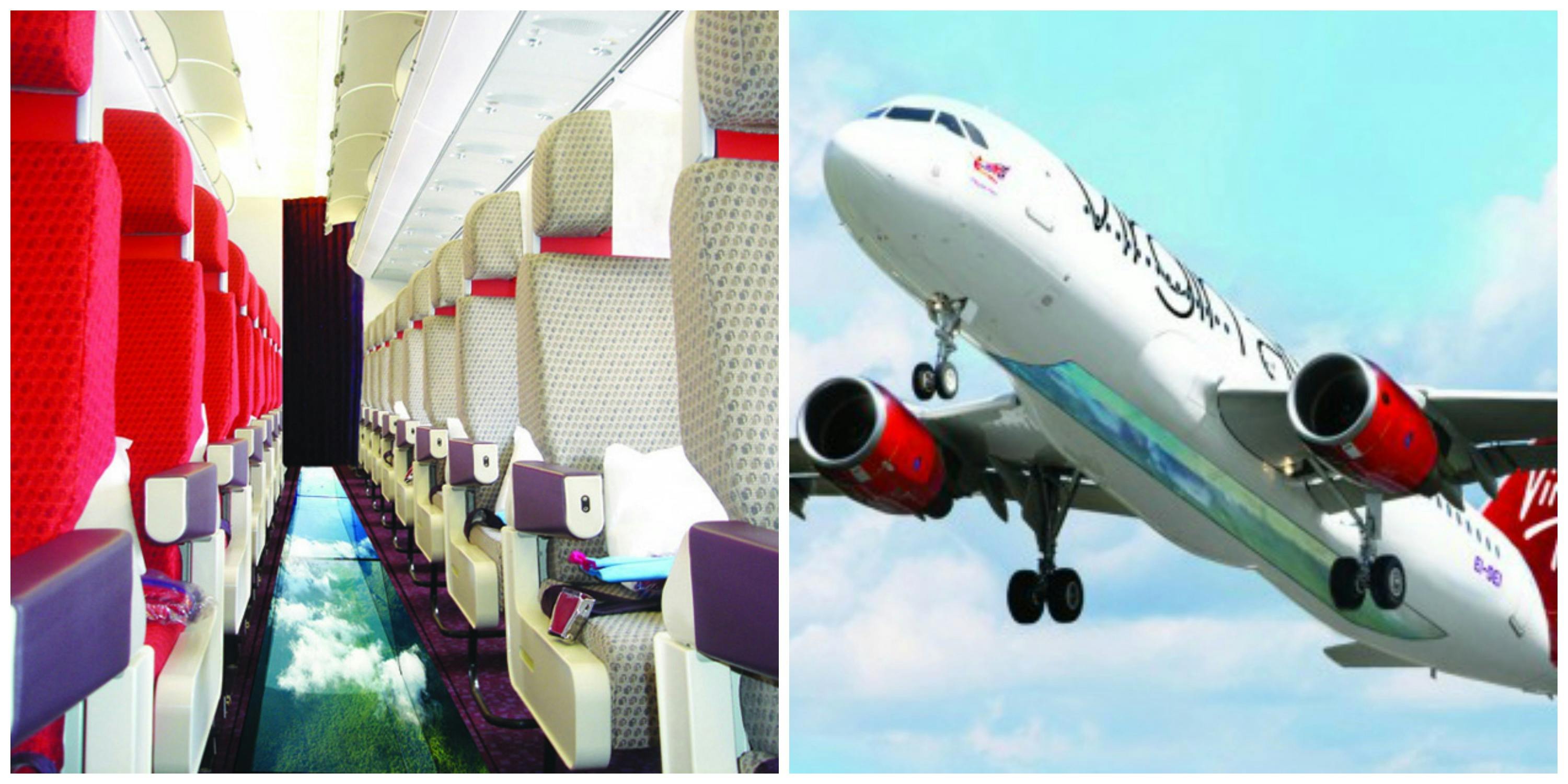 While the design won't actually come into fruition, it didn't stop it from sparking debate among aviation enthusiasts, nervous fliers, and regular travellers online. Comments on social media varied between excitement and utter terror, with some stating how they wouldn't need to fight for a window seat anymore and others insisting they would never fly on such an aircraft.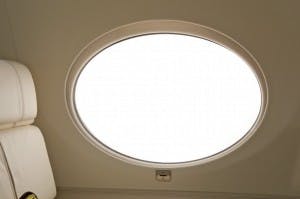 Windows are the main factor in an aircraft's design, providing both interior and exterior aesthetic for the plane. The size, shape and placement of a window can change the entire perception of flying for a passenger, with smaller windows making the cabin seem smaller and larger windows making the cabin feel more open. It's due to this that many aircraft designers are continuously experimenting with how to change the windows of an aircraft to completely revolutionise the flying experience for the passenger.
However, at the same time, windows play a major role in an aircraft's performance. Windows can significantly affect the aerodynamic quality of an aircraft, which is why today's designs tend to have quite small windows.
So which way to go when designing new aircraft – adding more windows, like Virgin's imaginary glass-bottomed aircraft, or using less (if any!) windows to increase a plane's performance?
Bigger and Better Windows
Since more and larger windows can help make an aircraft feel more spacious and luxurious, many private jet manufacturers are looking for ways to design aircraft with bigger windows that won't affect an aircraft's aerodynamics.
A design close to becoming a reality is Dassault's Falcon 5X, whose cabin will include an industry-first skylight, allowing for more natural light without dramatically affecting the aircraft's performance. The Falcon 5X is set to have its first flight later this year.
Additionally, the VIP completions and refurbishment provider, Fokker Services, recently announced that they've teamed up with Boeing Business Jets to propose a new panoramic aircraft window called the SkyView. This large window is three times bigger than the current windows on a BBJ, and if approved, could reinvent the windows of future aircraft. EASA and FAA certification of the windows are set to be complete as early as the third quarter of 2015.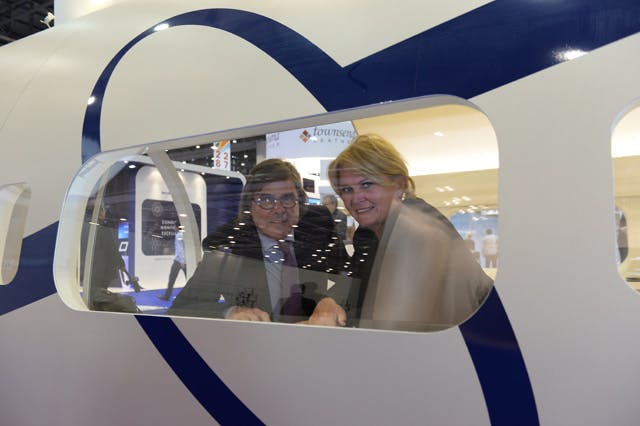 Learn more about the different types of private jet windows here.
Adding More Windows
While these new window innovations are interesting, it's the aircraft designs of the future that really get us excited. One such design is by Airbus, who decided to imagine their aircraft of 2050. The design includes a structure complete with panoramic windows around the entire aircraft, allowing for a 360 degree view while flying.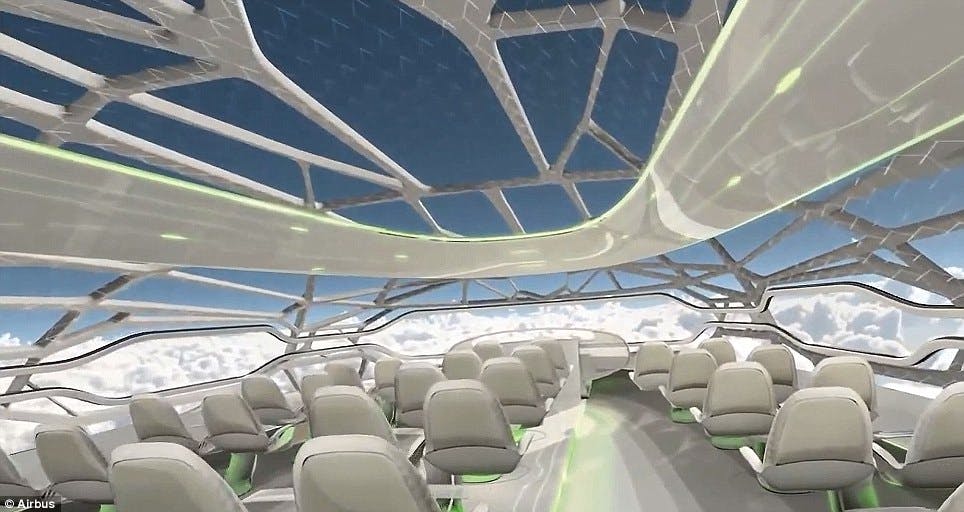 The windows will be able to control the amount of natural light let in, the humidity and the temperature of the cabin, however this idea might not be a pleasant one if you're a nervous flier. Similar to how the glass-bottom design would make passengers feel, a 360-degree window could make nervous fliers even more nervous.
Getting Rid Of All The Windows
On the complete other end of the design spectrum, there are the windowless supersonic jets. Since windows are the weakest point in an aircraft's structure, some designers are simply removing them to allow for the aircraft to fly even quicker.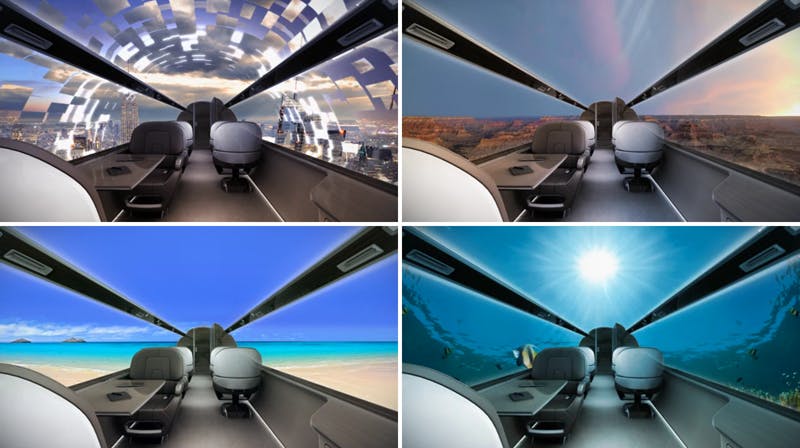 Instead, the jet will use external cameras to capture a real-time, 360-degree panoramic view of the space so passengers can still feel like there are windows. Or they can project different images, depending on their taste, including space or just a presentation for work.
Still, this idea makes some uncomfortable too. Despite the fact that windowless designs will maximise the speed and efficiency of an aircraft, many don't like the idea of not being able to have a window to see out of – which may halt any windowless jets of the future.
We want to know your thoughts – which is better? More windows or no windows?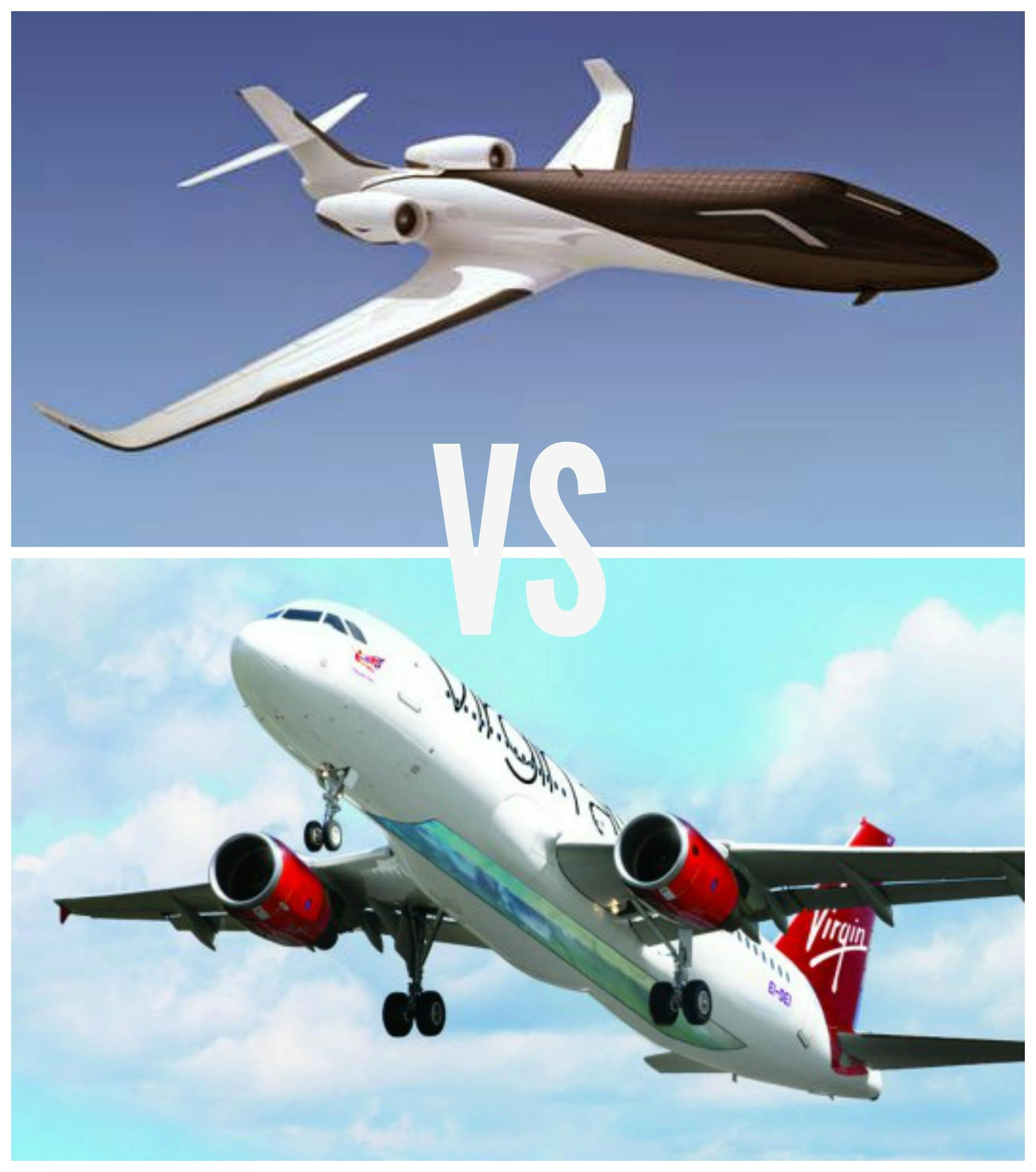 Related content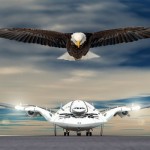 October 01, 2020
How animals inspire aircraft design
At PrivateFly we're passionate about aircraft design – both past, present and future. Nature plays just as much a part in this, as science. Early aviation pioneers studied birds and bats – which were already highly-evolved at…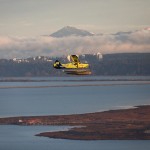 December 12, 2019
The world's first all-electric commercial flight
We've been following electric engineering company MagniX for some time, and it was fantastic to see them hit a major milestone this week, when they performed the world's first commercial test flight in a 100% electric aircraft.…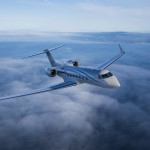 May 22, 2019
Latest private jet news & innovations on show at EBACE 2019
This week the PrivateFly team is at EBACE (European Business Aviation Conference & Exhibition) in Geneva, where we're meeting industry colleagues, sharing our latest company news and – of course – experiencing a wide variety of private jet aircraft (including…