10 facts & 5 years: All about the PrivateFly app
When we launched the PrivateFly first generation mobile app in 2010, it was the first of its kind: The only app to give instant private jet prices and global aircraft charter.
I remember having several conversations with industry colleagues who thought it was a great PR stunt, but unlikely to be widely used by private jet customers.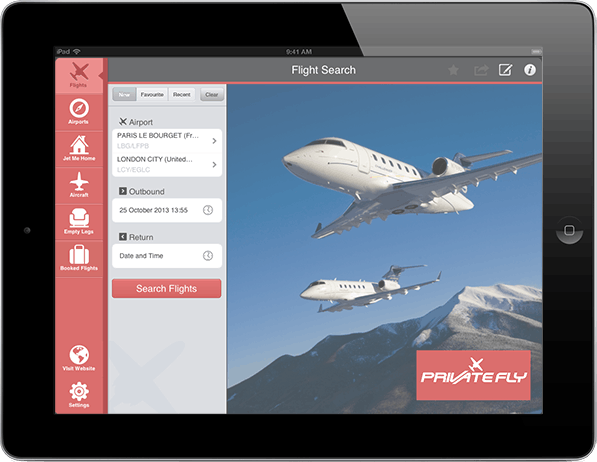 Fast forward five years and I'm delighted to have proven them wrong. Apps are now recognised as key ingredients in the commercial strategy of online travel businesses – from hotels, to car hire and of course, airline flights. So why should private jet travel be any different?
We understood the potential of optimising our service for users on the move, even on their way to the airport. Our first generation app gave rapid response private jet charter in our customer's pockets, at the touch of a button.
Since then we've remained focussed on how our app can improve every stage of private jet charter – both for those looking for instant prices, and services for clients who are already flying with us.
We've made several steps forward in each successive update, to making arranging private jet travel easier than ever before.
We have recently launched our iPhone app in French for the first time – recognising the importance of the French market for private aviation (it is the biggest in Europe). Our French business is growing fast and our French-speaking customers were asking us for the app, so we were delighted to oblige!
Here are 10 facts about the PrivateFly app:

Our app has been downloaded over 100,000 times & drives 10% of our bookings.
The PrivateFly app has been downloaded over 100,000 times since we launched the first version in 2010. And it has become an important driver of business for us – our app app users now account for about 10% of our flight bookings and this is increasing.

Who is using the PrivateFly app?
In terms of demographics, the most popular age band for our app users is 35 – 54.
79% are male, 21% female.
In the past six months, 28% of our new app downloads were from the UK, 18% from the USA, and 5% from France – but this is growing fast now that we have launched our iPhone and iPad app in French. The rest are spread all over the world, including other countries in Europe and the Middle East.

It's all about speed.
Most of our new users spend between 1 and 3 minutes per session in the app – that's all they need to get a clear idea of prices and aircraft options.
Some customers then decide to speak to our 24-hour, multi-lingual flight team for advice and to make a booking. The app allows users to request phone or email support in one touch.

1,091 different global airports worldwide were used in app searches during the last 6 months.
The PrivateFly app allows you to search for flights to and from any global airport and alphabetically these range from Aalborg in Denmark, to Zurich in Switzerland.
Airports seeing the most searches include New York's Teterboro airport; LA Van Nuys in California; Paris Le Bourget; Geneva in Switzerland; and London Luton airport.
Lesser known airports includes the Iranian island airport of Abu Musa, or Bathurst airport in New South Wales, Australia.

The most popular aircraft viewed on the app is the Citation XL.
The Citation XL is the world's best-selling private jet aircraft and the most popular aircraft viewed by our app users.
The Aircraft Fleet section in the app includes photos and a fact file for all aircraft models in PrivateFly's accredited network of 7,000+ private aircraft. This includes details of each aircraft's range, speed, cabin dimensions, and cost per flying hour.

Our biggest sale via the app was a $500,000 multi-leg flight.
The booking, made by a family office in Saudi Arabia, was for a multi-leg business trip to Europe in June 2013.
The client hired an ultra long range Boeing Business Jet (BBJ) for the trip, a converted 737 airliner capable of nonstop flights up to 6192 nautical miles. The 5,390 cubic feet cabin includes an office, board room, lounge, VIP bedroom, and two bathrooms.

You can 'Jet Me Home' – a one-touch instant price for a private jet home.
This facility uses GPS to identify the current closest airport (using GPS), and calculates a private jet charter price from there, to your pre-set home airport.
This feature has proved particularly popular with airline passengers, who want to see private flight options, when stranded at the airport due to strikes, delays or cancellations.]

Our app users are flying at shorter notice.
Over the last 6 months the average lead time (number of days between booking and take-off) via app has been 8 days on average, versus 12 days for bookings from those using our web platforms or phone.
But behind these numbers, we organise a significant number of last minute private jet flights – and it's not uncommon for us to fly our clients within an hour or two of their enquiry. Our shortest ever lead time is 43 minutes.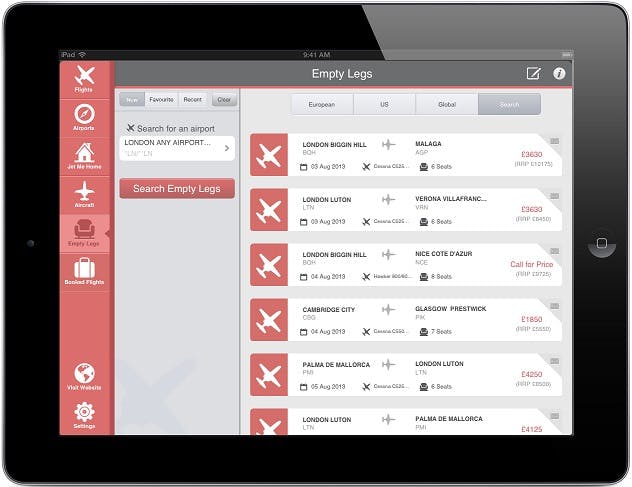 Empty leg flight search is available on the app.
Empty legs are one-way flights offered at up to 75% discount. An empty leg is generated by an aircraft needing to reposition for its next booked flight. The aircraft operator will often be willing to sell this flight at a huge discount.
Users can search for empty legs by airport name, nearby airports, or browse all global empty leg offers. See latest empty legs and find out more.

Clients can also use the app to review booked flights.
Our clients can access details of their booked flights via a secure login within the app. This gives them key flight information, such as itineraries and crew contact details. Changes can also be made, such as adding new passengers and passport information.
More and more of our customers are using it to check information on their booked flights now. And our tech team are currently working hard on the next stage of enhancements, including full end-to-end booking. We're really excited about the app's potential as a customer service tool.
The PrivateFly app is free to download from the App Store for iPhone and iPad users, and from Google play for Android phones and tablets.
Related content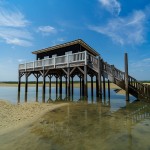 August 14, 2019
Top 10 beaches by private jet
With summer in full swing in Europe, over a third of our European flights are currently heading to sunny holiday hotspots. And with a private jet charter, you can fly fast and direct to some…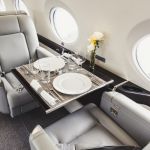 February 11, 2019
Love is in the air: 10 romantic private jet flights
What could be more romantic than a private flight? From mountaintop helicopter transfers, to long range jets to exotic destinations, we've arranged all sorts of special occasion private jet charter for couples all over the world. We've helped to create special…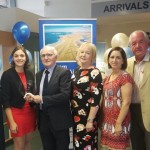 September 10, 2018
A flying visit to Donegal – the World's Most Scenic Airport 2018
Earlier this year Donegal Airport was named the World's Most Scenic Airport 2018 in PrivateFly's annual poll of the world's most stunning runways. See the World's Most Scenic Airports 2018. And a couple of weeks' ago, our European…