Snowden's private jet options from Moscow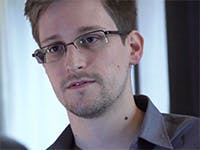 Update 11th July:
Following new reports yesterday that Snowden is likely to accept asylum in Venezuela, we've been asked again about the private jet options for his flight there – and which aircraft would potentially be available. It's reported that he has temporary travel documents allowing him to depart from Moscow Sheremetyevo airport.
Pricing and route information is in the last update below ($180,371 for a Gulfstream G550). According to our live availability data, suitable aircraft for the long range trip are currently in the area, including:
At Moscow Sheremetyevo airport: 1 Gulfstream G550 (Austrian registered), 1 Bombardier Global Express XRS (German registered)
At Moscow Vnukovo (Moscow's dedicated private jet airport, 10 mins positioning flight from Sheremytevo): 2 Bombardier Global Express XRS (both Malta registered); 1 Gulfstream G550 (Austrian registered)
Not all of these aircraft have their home base at these airports, but private jets are constantly repositioning in and out, with large, long range jets popular in Russia. So (much like a taxi) these aircraft have flown in and are now available.
The key questions now, of course, are whether the operators of these aircraft would allow their aircraft to be chartered for this trip. And if so, what route could be taken – ie which countries' airspace would allow it.
A direct route would allow a non-stop flight on these aircraft but the 5365nm direct distance (with headwinds) is already at the top end of the maximum range (see more technical details below). Any diversion is likely going to mean a fuel stop is required.
An aircraft is required by law to land with some fuel remaining on board. This is to allow an aircraft to divert from its destination airport, should it be required to find an alternative landing site for safety reasons. The maximum distance for a private jet is subject to its range and wind conditions for the routing.
***************************************************************************
Update 2nd July:
Further to the post below, today we have been asked from those curious about a route from Moscow to Caracas (Venezuela).
Caracas would be more feasible than Quito as a direct flight from Moscow. The distance of 5365 nm, even with head winds, would make this a possible journey for a long range jet such as a Gulfstream G550.
The cost for a one-way charter would be $180,371. The flight time 10 hours, 57 minutes.
******************************************************************************
Edward Snowden, the American National Security Agency fugitive, is reported to be currently evading the US authorities in the transit zone of Moscow Sheremetyevo Airport – in the company of Wikileaks activists.
PrivateFly has been inundated with enquiries from those curious about availability and prices for a private jet from Moscow to Ecuador, where Snowden has applied for asylum.
So how much does it cost to charter a private jet from Moscow to Ecuador? How long would it take? And can you fly direct without a fuel stop?
Let's have a look at the facts: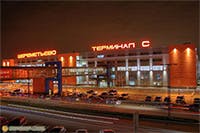 Airports:
Moscow Sheremetyevo
Airport Code: SVO
Quito Mariscal Sucre International
Airport Code: UIO
Flight distance from Moscow to Quito: 6,255 nm
Headwinds: 60 kts (average)
Direct flight time: 14 hrs 15 mins (but see note below – a direct flight would be very unlikely in this case)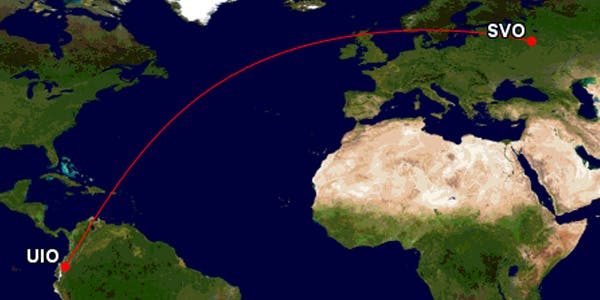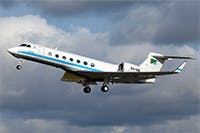 Which aircraft can fly the furthest?
Gulfstream G550 (6,750 nm)
Boeing Business Jet (6,141 nm)
Airbus 319 Corporate Jetliner (6,100 nm)
Global Express XRS (6,055 nm)
Falcon 7X (5,950 nm)
Can Edward Snowden fly direct to Ecuador from Moscow? 
Using normal safety limits, a direct private jet flight from Moscow to Ecuador would not be possible. The distance of 6,255 nm, combined with strong headwinds, puts this routing out of the range of a direct flight on any aircraft.
How can you extend the range of a private jet?
Much like fuel efficiency of a car, there are a few tricks pilots can use to increase the range of a private jet.
Fly slower: Each aircraft has a Long Range Cruise Speed that has been calculated to obtain the maximum possible distance.
Fly lighter: Generally the less heavy an aircraft is the faster it can climb and the more efficient the engines will be.
Fly higher: Jet aircraft are more efficient at higher cruising altitudes
Optimise winds: Head winds reduce an aircraft's ground speed and tail winds increase it.
Optimise routings: Air Traffic Control routings can significantly affect the distance flown & flight time. Direct routings will allow an aircraft to avoid having to make a fuel stop on long distance flights
Land with less fuel: An aircraft legally needs an amount of unburnt fuel in in tanks when it lands at a destination. This allows the aircraft to divert safety to an alternative airport.
Potential fuel stops for Edward Snowden between Moscow and Ecuador:
Nouakchott, Mauritania (NKC)
Cuba Baracoa, (BCA)
Flight Cost:
$212,872 USD (€162 821 EUR)
Summary:
It would be possible for Edward Snowden to fly from Moscow to Ecuador on a private jet. However using legal safety limits a fuel stop would be required.
Call PrivateFly for more details on flying from Moscow to Ecuador: +44 1747 642 777
Related content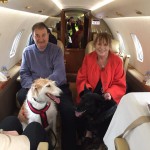 March 22, 2017
5 flights this week: Filling the seats
Most private jet flights are not filled to capacity. Each aircraft type has a maximum number of seats, but usually there are some to spare. In 2016 our flights had an average of 4.5 passengers onboard…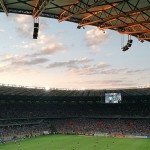 June 23, 2016
Last minute private jet travel to the Euros 2016
With the last 16 now decided, we're seeing a number of last minute enquiries from fans looking to travel to the knockout stages of the Euros 2016. Private jet travel is the fastest and most…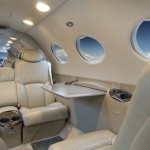 September 30, 2015
5 flights we flew this week (& their prices)
During the summer months lots of our European flights are to popular summer leisure hotspots. But with Autumn now upon us, the mix of airports we're using is changing and getting wider again. Here are…