Flying like a G6 (aka the Gulfstream G650)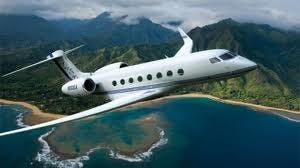 The new Gulfstream G650, Gulfstream's latest long range business jet, has been immortalised in song. The platinum-selling track is 'Like a G6', by Far East Movement, from their album Free Wired, currently at number 6 on the UK charts and number one on the US BillBoard Hot 100 last month. 'Like a G6′ has been generating a lot of attention, not least because many listeners are wondering what a G6 actually is. The lyrics ("I'm feelin' so fly like a G6") compare feelings of exhilaration to flying in the ultra-long range and ultra-large G650, which will become Gulfstream's largest, fastest and most expensive business jet when it enters the market in 2012, priced at $59 million.
The new aircraft will ultimately replace the Gulfstream G550 – Gulfstream's current aircraft operating in the same category. And manufacturers of competitor aircraft such as the Dasalt Falcon 7X will no doubt be re-tuning their radios whenever the song is played. So for lovers of music and aircraft everywhere, here is PrivateFly.com's rundown of the G6:
With a weight of less than 46,000kg (100,000 pounds) the Gulfstream G650 will give passengers a wide choice of airports, including those with smaller runways. The aircraft will have a range of up to 7,000 nm (13,000 km) and will fly at cruise speeds of Mach 0.85 to 0.90, with a maximum speed of Mach 0.925. The cabin will provide the ultimate in comfort and design with internal features to include a full bar, kitchen and a variety of communication and entertainment options – such as satellite phones and wireless internet. To maximise internal volume, Gulfstream's designers moved away from the usual circular cross-section in favour of an oval shape, which allows a flatter lower portion. The cabin will be 6 feet 5 inches high and 8 feet 6 inches wide, and will have sixteen oval windows, each measuring 71 cm (28 inches) wide.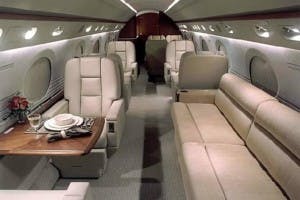 The wing design is also notable, using a greater sweep at 36 degrees than previous Gulfstream aircraft – for example, the G550 wing has 27 degrees of sweep. The wing's leading edge is a continuously-changing curve, and the airfoil varies continuously from root to tip.
For pilots, the G650 features the most technologically advanced cockpit with a number of enhancements including four 14-inch, adaptive, liquid-crystal displays, and a fully automatic, three-dimensional scanning weather radar with an integral terrain database for efficient ground-clutter elimination. It also uses state-of-the-art vision systems to improve both pilot situational awareness and flight safety.
The G650's first test flight took place on November 25, 2009. Joint certification from the US Federal Aviation Administration (FAA) and the European Aviation Safety Agency (EASA) is being pursued and expected to be completed during 2011. Deliveries are expected to begin in 2012.
Crew: 2 pilots
Capacity: 11 – 18 passengers
Payload: 6,500 lb (2,950 kg)
Length: 99 ft 9 in (30.41 m)
Wingspan: 99 ft 7 in (30.36 m)
Height: 25 ft 4 in (7.72 m)
Wing area: 1,283 ft² (119.2 m²)
Aspect ratio: 7.7
Max takeoff weight: 99,600 lb (45,200 kg)
Powerplant: 2× Rolls-Royce Deutschland BR725 turbofan, 16,100 lbf (71.6 kN) each
Maximum landing weight: 83,500 lb (37,876 kg)
Wing sweep: 36 degrees
Maximum speed: Mach 0.925 (530 knots, 610 mph, 982 km/h)
Cruise speed: Long range cruise: Mach 0.85 (488 kn, 562 mph, 904 km/h) Fast cruise: Mach 0.90 (517 kn, 595 mph, 957 km/h)
Range: Long range cruise: 7,000 nautical miles (8,050 mi, 12,960 km) Fast cruise: 5,000 nmi (5,750 mi, 9,260 km)
Service ceiling: 51,000 ft (15,500 m)
Wing loading: 77.7 lb/ft²
PrivateFly's view
Gulfstream is the Audi of the private jet world, consistently producing aircraft which are absolutely reliable (99.6% despatch rate), safe and stylish – at a price. Distinguished by their egg-shaped windows, which give a birds-eye view of the landscape, Gulfstream aircraft are extremely popular with private jet customers. The G650 with it's excellent range and fuel capacity promises to be be a highly successful entry to the private jet charter market.
Related content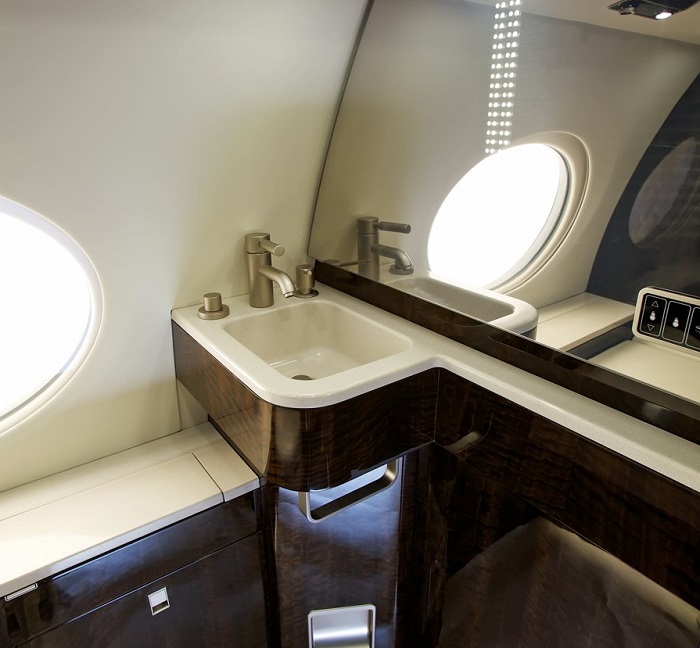 November 08, 2022
Private jet bathrooms – what to expect
The bathroom facilities available on a private jet are a source of great interest. And this can sometimes be a key decision driver when it comes to aircraft or aircraft category choice for Jet Card programmes or private jet…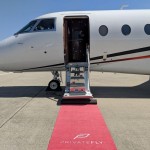 February 24, 2020
Three special 'Leap Day' trips by private jet
The 'Leap Day' of February 29th is fast approaching and as it falls on a Saturday this time (which only happens once every 28 years), there's even more reason to celebrate having 24 whole extra hours in 2020. If…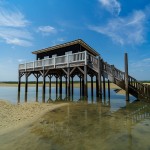 August 14, 2019
Top 10 beaches by private jet
With summer in full swing in Europe, over a third of our European flights are currently heading to sunny holiday hotspots. And with a private jet charter, you can fly fast and direct to some…