Love New Year's Eve? How to see in 2017 twice over
For New Year 2018 celebrate twice in Sydney & Honolulu
New Year's Eve parties can go all too fast. Before you know it, it's all over and you're waking up to the start of another year.
But what if you could delay the post-party blues, by flying 'back in time' to do it all over? It might sound like something out of a movie, but here's a private jet itinerary which helps you do just that.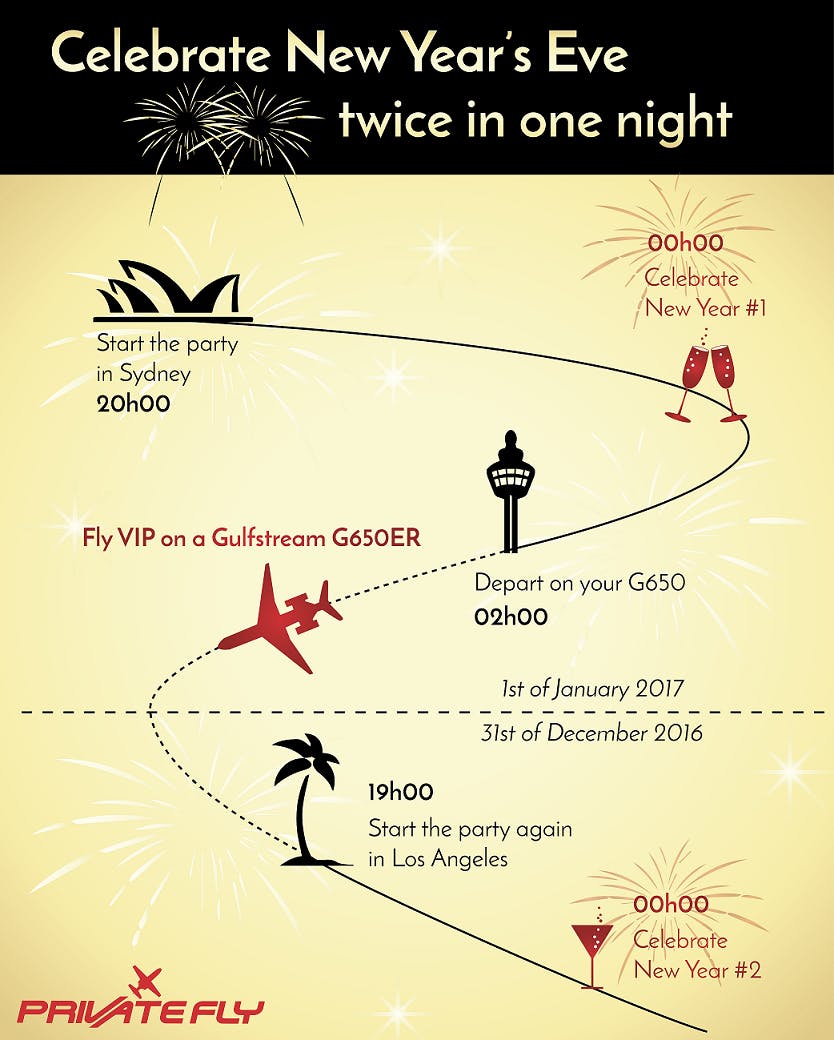 How to celebrate New Year twice (in one night)
Using the world's fastest and furthest private jet, a carefully designed schedule and a tight airport turnaround, you could enjoy a full evening of partying and the stroke of midnight in Sydney. Then – if you have the stamina (and the budget) – jump onboard an exclusive private jet and fly to Los Angeles, where you can do the same all over again.
Experiencing New Year's Eve twice is only possible by moving eastwards across the International Date Line. With the world rotating at 1,038 miles per hour, the time in Los Angeles is 19 hours behind Sydney, So if you can move between them fast enough, you can enjoy the same evening in both places.
This is the ultimate in luxury ways to see in 2017, in two of the world's most exciting party cities. The flight time from Sydney to LA in a Gulfstream G650ER is around 12 hours, so with the 19-hour time difference, you can gain seven hours of party time by flying eastwards.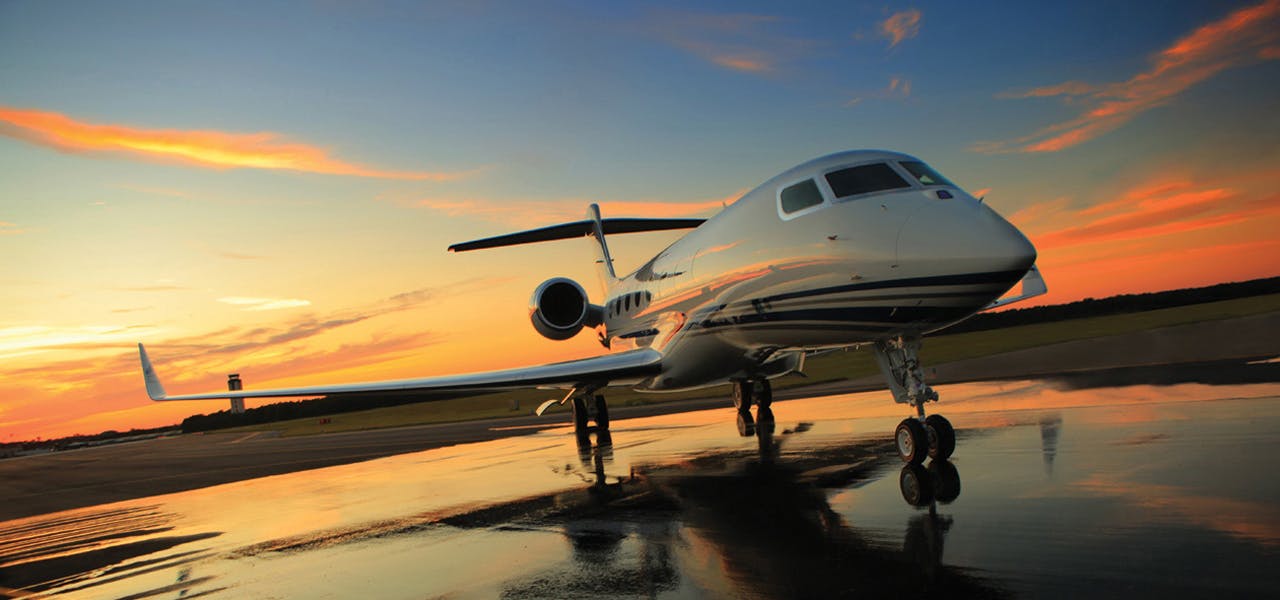 This unique flight experience is only possible by private jet, as the timings are so tight – and there are no airline schedules to fit the itinerary.
No civilian aircraft can currently overtake time. But the Gulfstream G650ER is the world's fastest and furthest private jet, with a nonstop flight range of 7,500 nautical miles and a top speed of Mach 0.9, just under the speed of sound.
A unique way to see in 2017 (twice)
20:00| 31st December 2016 | Sydney: Get the (first) party started
Start your evening in Sydney, celebrating at the city's most exclusive party spots. You could join other VIP partygoers at Marquee Sydney, one of the city's most exclusive nightclubs with a rooftop view of the fireworks. Or for a more intimate celebration, you could dine at Quay, which offers spectacular harbour views and fine dining.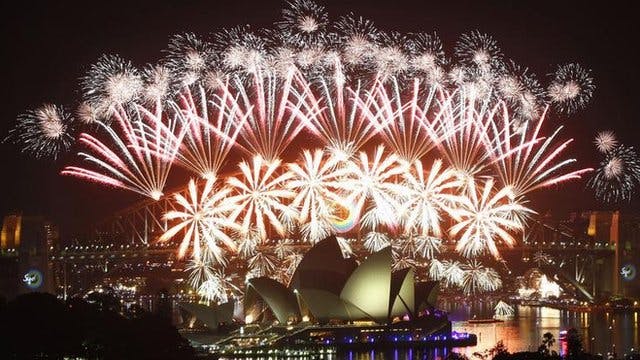 12:00 | 1st January 2017 | Sydney: Celebrate New Year #1
There's plenty of time to see in the start of 2017, as you can party until past 1.00am and then make the short 12km drive from the harbour to Sydney Kingsford Smith airport, which offers 24-hour access for private jets.
02:00 | 1st January 2017 | Sydney: Depart in your Gulfstream G650ER
Your Gulfstream G650ER long range jet will be waiting, ready for a 2.00am departure and there are no long waits at the airport – you can take off just minutes after you arrive. The G650ER is the fastest long range private jet in the world – the party aircraft of choice, offering sleek interior configurations which accommodate 8 to 18 passengers.
During the 12-hour flight, dedicated party lovers can continue the celebrations, VIP style, with a high-spec entertainment system, fine wines, champagne and bespoke catering served by a private flight attendant.
Or if you'd rather rest and recharge during the flight, you couldn't be in better hands. The spacious G650ER cabin offers exceptional, luxury comfort, with the option of a double bed and bathroom with digital shower; floor-to-ceiling wardrobe and mirrored vanity; the latest bespoke lighting and temperature controls; and further ergonomic seating that fully reclines and swivels.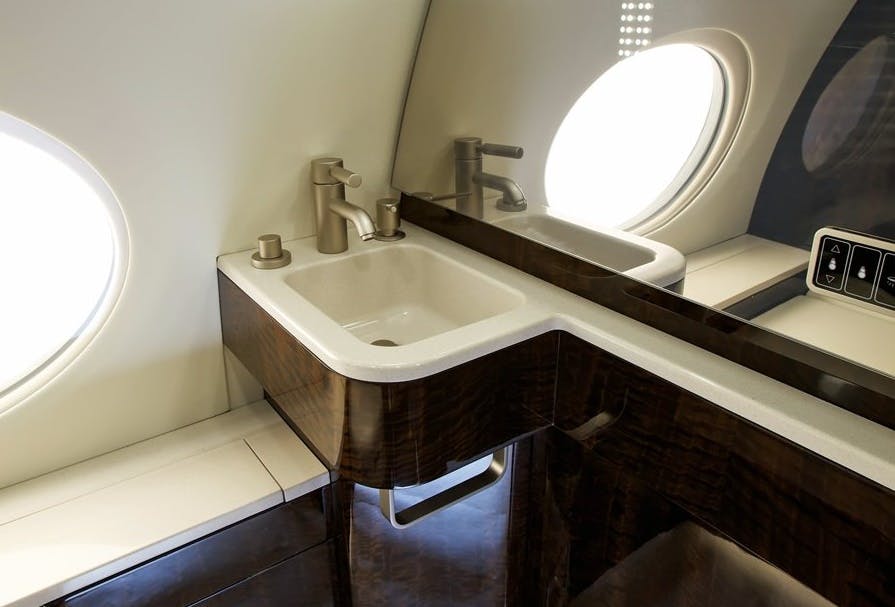 19:00 | 31st December 2016 | Los Angeles: A second night of celebrations
While others have woken to sore heads back in Sydney, the night is still young in LA. You'll land early evening – refreshed and ready to start all over again – at Van Nuys, LA's exclusive private jet airport.
Just a short drive away lie the most exclusive nightspots of Beverley Hills. The Midnight Toast at Sofitel Beverly Hills is offering exclusive VIP party packages. Or dine at one of LA's most exclusive restaurants, such as Spago, renowned for both its fine dining and its extensive wine cellar.
12:00 | 1st January 2017 | Los Angeles: Celebrate New Year #2
As you see in 2017 for the second time, it's been 24 hours since you started partying in Sydney – and undoubtedly a night to remember.
Private charter flight cost Sydney – LA (one-way): £151,000
For advice or prices for any special occasion flights over the festive period, our expert Flight Team is available 24 hours. Contact us or call +44 1747 642 777.
Related content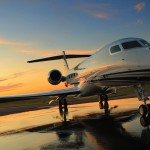 November 13, 2014
Celebrate New Year Twice In One Night? Sydney to LA in the world's fastest private jet
For New Year 2018 celebrate twice in Sydney & Honolulu If you can't get enough of New Year's Eve, how about celebrating it twice – in one night? If you fly in the world's fastest…