Nigel the pilot bear's 2018 travel diary
At PrivateFly, we're as passionate about travel and aviation as our clients. When we're not in and around aircraft for work, we don't miss the opportunity to travel for pleasure.
In addition to moving between our offices in the UK, Florida and Boston, we love discovering new destinations around the world both for our clients and ourselves. But one member of our team is particularly well-travelled: Nigel the pilot bear never fails to slip into our luggage, or to jump onboard with clients.
So if you need some travel inspiration, here are just some of highlights from Nigel's travel journal in 2018.
Snowmobile tour in Lapland
Nigel started the year travelling to Lapland, where he enjoyed a reindeer ride and a snowmobile safari through the stunning winter landscapes.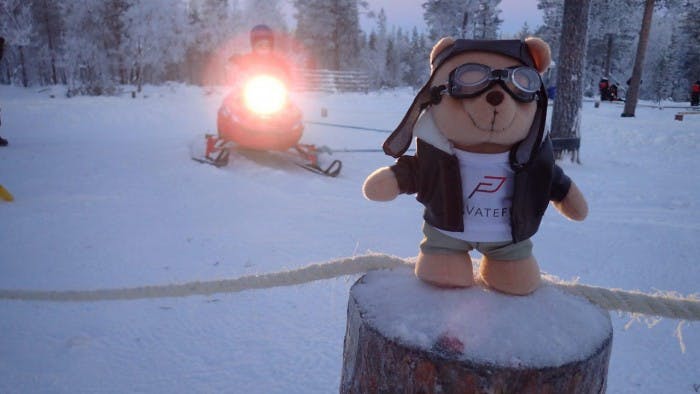 Want to discover Lapland? Take a private jet charter to Kittila Airport in Northern Finland. Find out more about our ultimate Lapland by private jet itinerary with bespoke travel specialists Blue Marble.
Beach life in Cornwall
When the sun shines, it's hard to beat the beauty of North Cornwall's wide sandy beaches. Nigel enjoyed a trip to Booby's Bay this year, famous for its dunes and surf.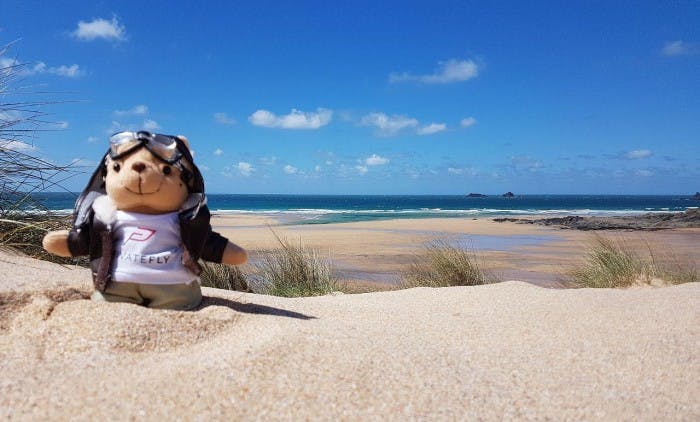 Cornwall by private jet: Fly fast and direct to Newquay Airport from any global destination, with private aviation. The King Air turbprop is a popular and cost-effective aircraft choice for shorter flights.
Lake Geneva cycling challenge
If you enjoy an activity holiday, why not follow Nigel's lead and cycle around the perimeter of Switzerland's Lake Geneva?
In May, he joined some of PrivateFly's team for BACA Bikes the Lake, a 180km cycling challenge. The event, which took place just before the EBACE business aviation conference and exhibition, raised funds for fly2help – a charity which provides flights and aviation experiences for children and adults in challenging circumstances.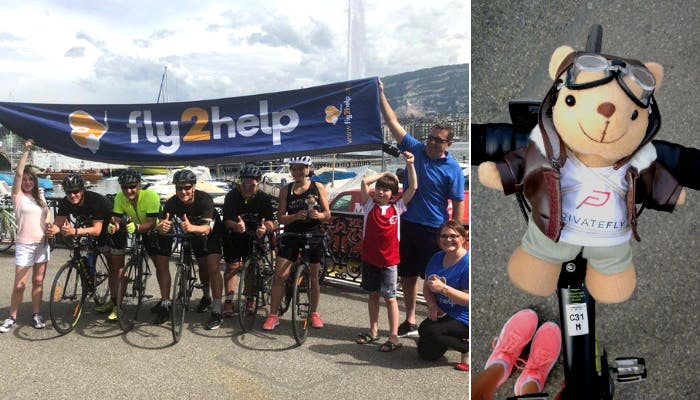 Lake Geneva by private jet: Geneva International Airport is the largest around Lake Geneva and offers an extraordinary view of the lake and the mountains on landing. For those who prefer a smaller private airport, we recommend Lausanne where you can land in turboprop aircraft such as the Pilatus PC-12.
Exploring the Panama Canal
Connecting the Atlantic Ocean with the Pacific Ocean, the Panama Canal is a mecca for many fans of transport history, including Nigel.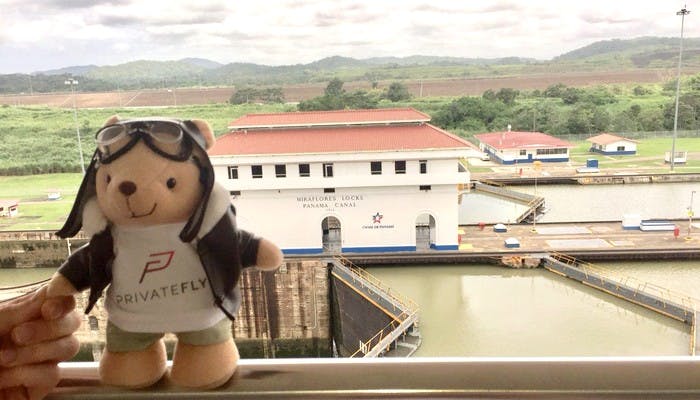 Where do you want to fly? PrivateFly's US team are experts in arranging private air travel in Central and South America. Contact us or search online for a quote.
Climbing Sicily's Turkish Steps
Last summer Nigel enjoyed a tour of Sicily. One of his highlights was the Scala dei Turchi – a striking white rock face in the Agrigente province.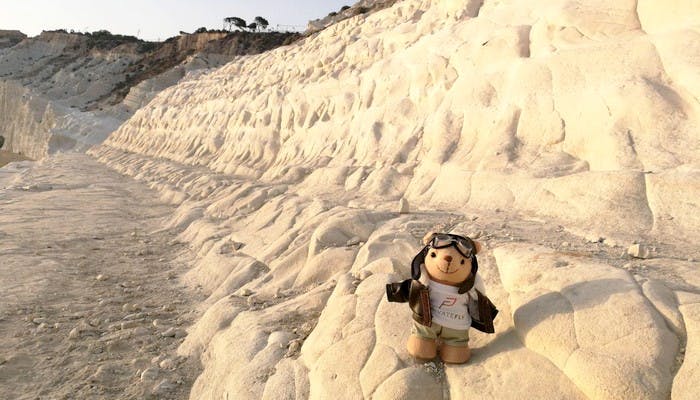 Jet off to Sicily: Many of our clients visit Sicily for sailing. For a memorable experience, you can fly into Catania by private jet, combined with a yacht charter to Taormina.
A world-beating landing in Donegal
Situated on the famous Wild Atlantic Way in Northern Ireland, Donegal Airport was voted the world's most Scenic Airport landing in 2018 in PrivateFly's annual poll. To celebrate and enjoy this breathtaking view, Nigel made the trip to Donegal in August. (He also took care of Mr Moo, who had been forgotten at the airport by a young passenger, until he could be safely returned to her in Scotland.)
Fly into Donegal by private jet. Make the most of experiencing the most beautiful landing in the world by flying in on a private aircraft.
Skiing in Colorado
To finish the year, Nigel enjoyed a week in Vail, one of the most beautiful ski resorts in Colorado. He also discovered that the small town is twinned with St Moritz in Switzerland – another popular ski resort with our European clients.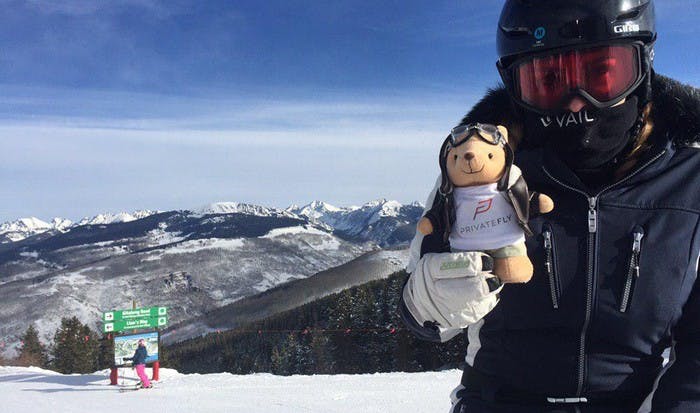 Vail by private jet: Eagle County Regional Airport provides fast and easy access to Vail and Beaver Creek ski resorts.
Wherever you want to travel in 2019, our expert team is ready with advice and quotes. Contact us (24/7) or call +44 (0)20 7100 6960.
Related content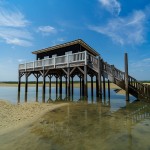 August 14, 2019
Top 10 beaches by private jet
With summer in full swing in Europe, over a third of our European flights are currently heading to sunny holiday hotspots. And with a private jet charter, you can fly fast and direct to some…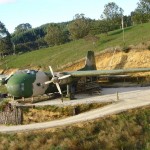 July 03, 2019
Private jet hotels: Sleep in an aircraft on the ground
Many private jet charter aircraft have beds onboard and even small jets designed for shorter journeys have reclining seats, with space to lie back and relax. Search for flights But for AvGeeks who live and breathe aircraft, the…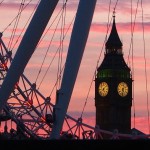 May 28, 2019
Summer changes at London's private jet airports
At PrivateFly and in the private jet charter industry overall, London is Europe's no.1 city for business aviation. It also has a bigger choice of private jet airports than any other city. But there are a number of…