Private jet bathrooms – what to expect
The bathroom facilities available on a private jet are a source of great interest. And this can sometimes be a key decision driver when it comes to aircraft or aircraft category choice for Jet Card programmes or private jet charter.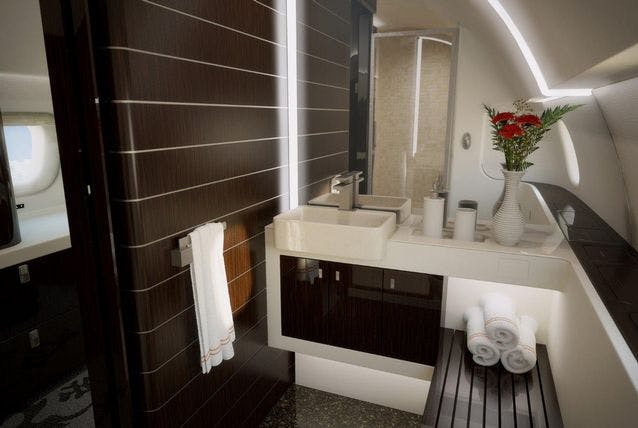 Most of our clients are keen to understand the detail of what facilities they can expect and this can vary greatly, from aircraft to aircraft. From more basic facilities on the light aircraft, to multiple bathrooms and luxury-appointed ensuite shower rooms on long range jets and airliner conversions.
Client requirements also vary greatly, particularly depending on the duration of the flight. So we advise clients accordingly, in order to identify the right aircraft choice for them and their particular flight.
Light jet bathrooms
Light jets, such as the Embraer Phenom 300, Citation CJ2, and Nextant 400XTi, have a private enclosed lavatory onboard, and this is usually at the aft (rear) of the aircraft cabin.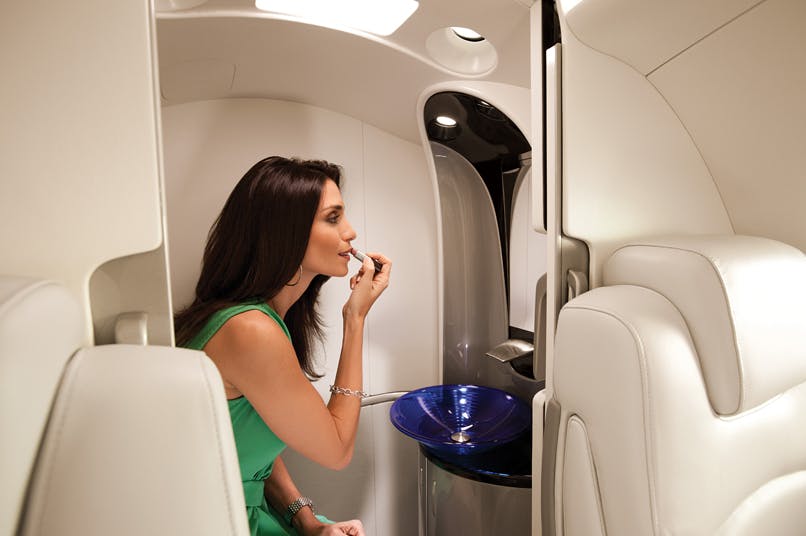 The bathroom is separated from the cabin with a hardwood swinging door, hardwood bi-fold doors, sliding pocket doors that meet to create a solid door, or sometimes an accordion door.
Typically amenities include a flushable toilet and basin with mirror, as well as storage. It may well be compact, but for the flights of 1-2 hours duration that small jets are capable of, these are well-designed and functional spaces.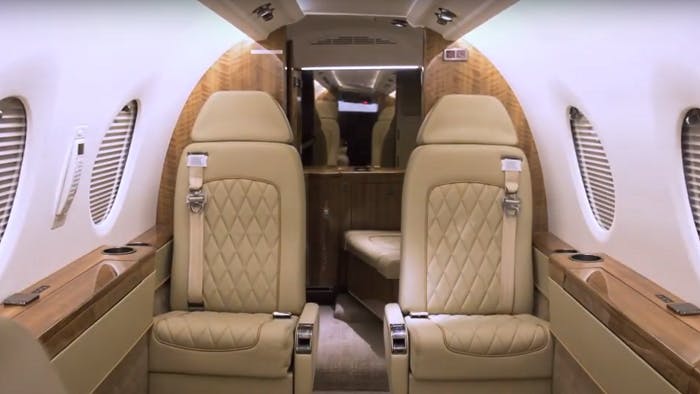 At the most basic end of the spectrum, some older models including Cessna's Citation Mustang, have an 'emergency' toilet facility, located between the cockpit and the passenger cabin. This does not have a solid door and just comes with a removable privacy curtain.
Bathrooms on midsize & super-midsize jets
Further up the size spectrum, bathroom facilities become a little more spacious – to cater for larger groups of passengers, and longer flights of up to 4 – 5 hours that medium-sized private jet aircraft are capable of.
The 8-seater Citation XLS+ is a popular midsize private jet aircraft and provides passengers with a well-designed private aft lavatory.
Super-midsize aircraft such as the Legacy 500 offer additional bathroom amenties and space, with a well-designed vanity area, storage, and more space to move around – allowing the bathroom to also be used as a private dressing area.
Long range jet bathrooms
For longer flights of up to 9 – 12 hours, long range jets will offer additional space and facilities in the bathroom for passengers.
Embraer's Legacy 600 is a long range jet, seating up to 13 passengers. Its aft bathroom is well-appointed and it offers a great space for passengers to change and freshen up, with stylish fixtures, lighting, mirror and storage.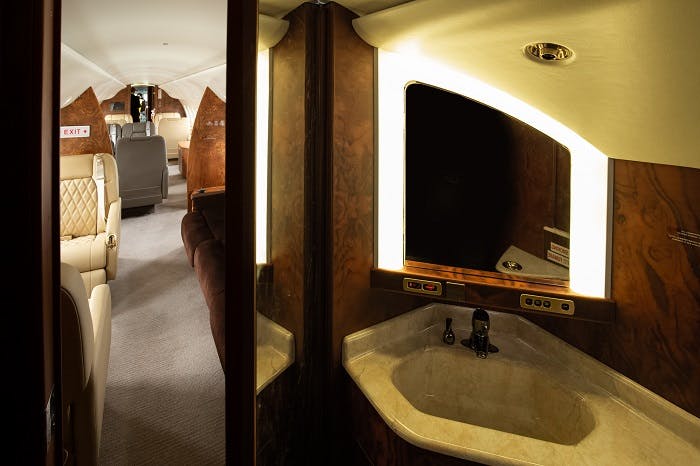 At the top end of this aircraft category are the Bombardier Global range, Dassault's Falcon family and Gulfstream's G650 and G650ER. As these ultra long range jets capable of flights over 12 hours, their bathroom facilities are impressive, and well-equipped.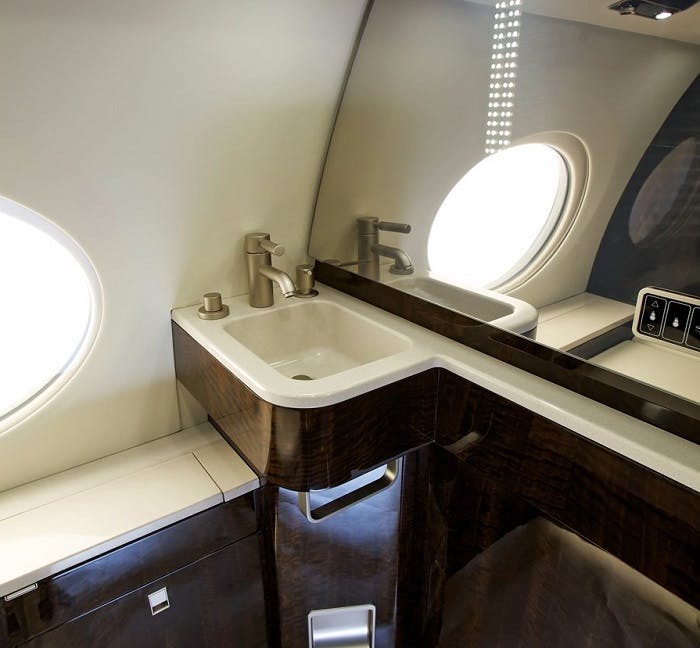 These large cabin aircraft offer very stylish and well-appointed bathrooms with WC, basin, natural light and extra closet space. And some aircraft can even be fitted with a shower.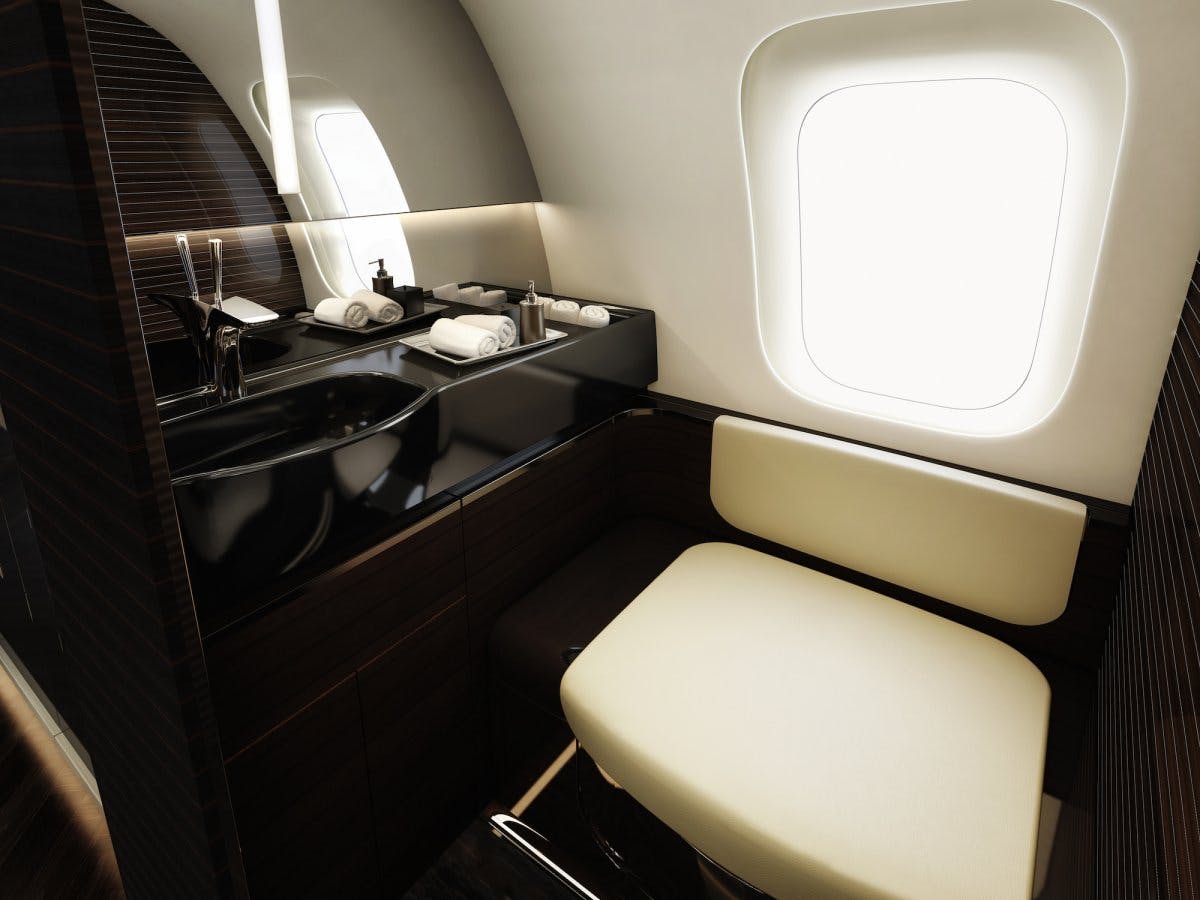 VIP airliners
When it comes to the highly-customisable spaces on a converted airliner, the sky's the limit. And that also applies to the bathrooms (most will have more than one).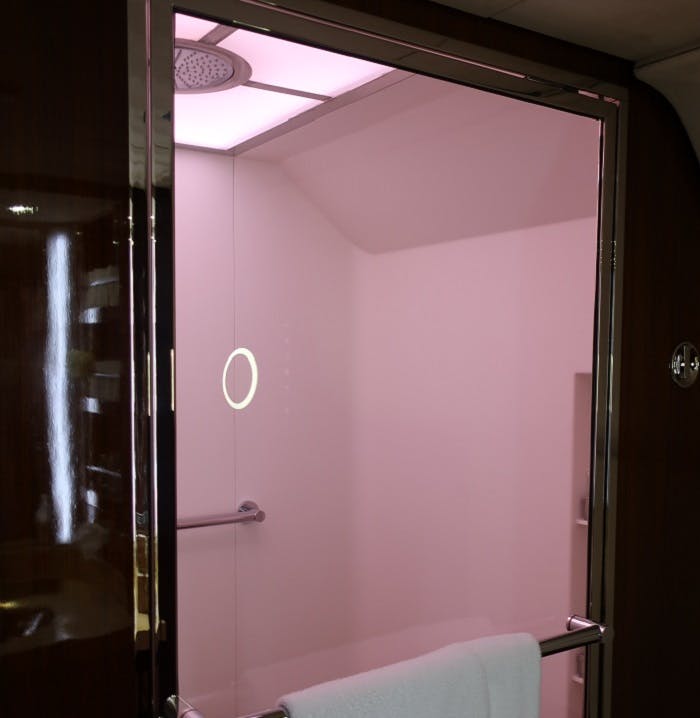 The luxury large cabin BBJ (Boeing Business Jet), ACJ (Airbus Corporate Jet) and Embraer's Lineage 1000E are airliners that have been converted to large cabin jets. So there's a lot of cabin space to work with.
Cabin configurations can vary and some private owners include multiple bathrooms, with spa facilities and even a Turkish bath. But more often there is a toilet and shower available mid-cabin and, for more privacy, another ensuite shower room attached to the VIP bedroom in the aft section of the aircraft.
Our expert team is available 24/7 to talk through the bathroom or other cabin amenties on different private jet models. Contact us or call +44 (0)20 7100 6960.
Related content

July 17, 2012
Jets Uncovered: 5 Myths about private aviation
There are many myths about private aviation, which can perpetuate the idea that it is a secretive mode of transport, complex and out of reach for all but the very few. In our quest to… November 24, 2010
Flying like a G6 (aka the Gulfstream G650)
The new Gulfstream G650, Gulfstream's latest long range business jet, has been immortalised in song. The platinum-selling track is 'Like a G6', by Far East Movement, from their album Free Wired, currently at number 6… August 11, 2010
Should I buy a private jet?
If you are thinking of buying a private jet for private ownership, there are a number of things you should consider before you buy. Owning an aircraft (ie versus fractional ownership or ad hoc private…