PrivateFly Provides Ebola Evacuation Flights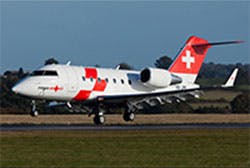 While private jets are typically viewed as a mode of transportation for those seeking luxury or privacy, private jets are also important transportation vehicles for medical emergencies, especially during the Ebola crisis. Earlier this year, a private jet was used to evacuate two Ebola patients to the US, who had been stricken with the disease working as aid workers in Africa.
At PrivateFly, we have extensive knowledge and experience in arranging various types of medical evacuation services, and are now transporting Ebola patients, and those involved in the Ebola crisis, through specialist medical evacuation flights. We currently have a range of aircraft that are performing evacuation flights due to Ebola, with an extensive network based in West Africa, and we have been seeing an increase in flight enquiries from the region.
An example flight from Monrovia, Liberia to Seville, Spain:
Aircraft: Hawker 800
Cost: £38,364
Flight Time: 4 Hrs 56 Mins
Our goal at PrivateFly is to provide the highest quality medical transport services for Ebola patients at the lowest possible cost. If you should find yourself needing a private jet transport from West Africa, our Flight Team will remain at your disposal to assist during the entire trip, 24 hours a day.
For advice on transporting an Ebola patient, or evacuating from within affected areas, call the PrivateFly Flight Team (available 24/7) on 01747 642 777 or contact us. 
Related content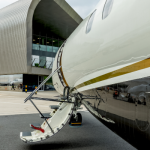 December 20, 2020
Private jet charter during the COVID-19 coronavirus outbreak
We are fully operational and available for short notice on-demand private jet charter and future flight planning, during the current coronavirus COVID-19 pandemic. Read the PrivateFly COVID-safe charter to see our safety standards for every flight.…