The Space Race: The new frontier for commercial air travel
The founders of Virgin, Paypal and Amazon are neck and neck in the race to take you into space. PrivateFly.com compares the options and the entrepreneurs.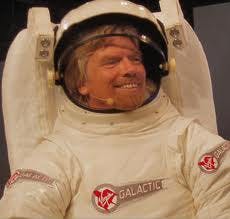 Who & when: Sir Richard Branson, founder of the Virgin empire and travel adventurer, teamed up with designer Burt Rutan in 2002 to launch his current commercial space program after several prior attempts to design a passenger space flight vehicle were rejected on safety grounds. In 2005 it opened for business, helping to fund the development by asking for a $20,000 deposit to pre-book a seat. Richard Branson is expected to take his parents on an official launch voyage in spring 2012.
Price tag: $200,000 per seat
Experience: 3 day experience including 2 days of ground school training followed by a 3-hour flight in passenger ship SpaceShipTwo. This is similar in size to a Falcon 900 business jet, with an open cabin and large viewing windows both to the side and above. 'Passenger astronauts' are able to float freely within the cabin in zero gravity while the pilots provide a changing view.
Technology: The passenger ship is transported and released by a twin-fuselage mothership, WhiteKnightTwo, the largest all-composite aviation vehicle ever built, able to carry a heavy payload of 35,000lbs to high altitude (50,000ft). SpaceShipTwo is released at the height of a commercial airliner then, fired by a hybrid rocket motor, accelerates into space at almost 2500mph, over 3 times the speed of sound. For re-entry, the wings fold back into the cabin in a unique aerodynamic 'shuttle cock' design. The re-usable aircraft reconfigures as a glider once back within the earth's atmosphere, making a runway landing back at the New Mexico base.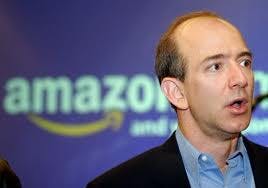 Who & when: Jeff Bezos, chief executive and billionaire founder of online retailer Amazon, has recently confirmed that he too is developed a passenger space program at his ranch in Houston, Texas , after accepting a $22m grant from Nasa to develop low-cost spacecraft. Bezos, who is said to have a lifelong fascination with space travel, is working with partners including aircraft manufacturer Boeing. The company has not yet disclosed full details of its plans but industry insiders are tipping a launch in spring 2012 – around the same time as Richard Branson's launch flight.
Price tag: Not yet announced.
Experience: Blue Origin's spacecraft New Shepard (named after Alan Shepard, the first American in space), will launch from the private spaceport near the Texas town of Van Horn site, carrying seven people in total, including at least 3 commercial passengers. The company says it expects to conduct up to 52 launches per year once operational.
Technology: New Shephard is a vertical take-off/vertical landing (VTOL) suborbital shuttle which comprises of a crew capsule atop a launch rocket. The aircraft takes off from the ground in a similar way to existing space shuttles and is controlled by on-board computers, without ground control. Then, after accelerating for two and a half minutes, the rocket engines will shut down, using momentum to continue before releasing the crew capsule in space. After re-entry the capsule deploys parachutes for a 'splashdown' landing in water. The technology is less innovative than Virgin's but is expected to be much cheaper to operate.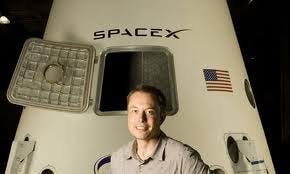 Who & when: Elon Musk, founder of online payment system PayPal, established his space development company in 2002 in Los Angeles using $100 million of his own money and in 2005 announced plans for manned commercial flights. Musk has subsequently also received venture capital funding for his SpaceX business, which has a clear focus on undercutting other players in the commercial market via largely in-house processes and a simplified management structure. No official launch date has been announced for passenger flights though last year Musk suggested a 2 to 3 year timeline.
Price tag: A passenger price has yet to be announced although operating costs of $7M per rocket launch have been disclosed.
Experience: SpaceX describes its long-term goal as 'enabling humanity to become a space-faring civilization'. Its Dragon spacecraft orbital vehicle is intended to carry up to seven people and is launched atop a rocket launch vehicle. The company has launch facilities at Kwajalein Atoll in the Marshall Islands, Cape Canaveral in Florida and at the Vandenberg Air Force Base in California.
Technology: SpaceX has developed a family of partly-reusable, two-stage 'traditional' rocket designs. Its Falcon 9 has been designed for manned spaceflight, carrying the passenger craft Dragon, a conventional blunt-cone ballistic capsule which, after re-entry, deploys parachutes and lands in the sea. SpaceX plans to eventually use the passenger vehicle's thrusters to achieve a land-based landing.
PrivateFly's view
Of the three contenders, there is no doubt that Richard Branson's Virgin Galactic is currently the front runner. Closest to completion, on the cusp of FAA approval and backed by Virgin Atlantic's experience and safety record, it is now a very real prospect on the (suborbital) horizon.
Related content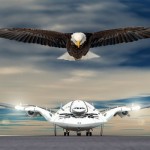 October 01, 2020
How animals inspire aircraft design
At PrivateFly we're passionate about aircraft design – both past, present and future. Nature plays just as much a part in this, as science. Early aviation pioneers studied birds and bats – which were already highly-evolved at…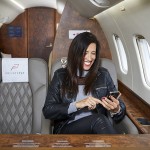 July 01, 2020
10 rules of private jet-iquette
Our industry has introduced a number of COVID-safe processes. Private jet charter aircraft are undergoing even greater disinfection between flights; there are distancing protocols between crew and passengers; and using the clean and quiet private terminals (FBOs) already means no queues…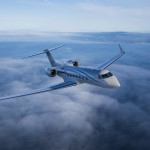 May 22, 2019
Latest private jet news & innovations on show at EBACE 2019
This week the PrivateFly team is at EBACE (European Business Aviation Conference & Exhibition) in Geneva, where we're meeting industry colleagues, sharing our latest company news and – of course – experiencing a wide variety of private jet aircraft (including…