Which private jets have flat beds?
While time-saving and flexibility top the reasons why our clients choose to travel by private aviation, on longer flights the potential for sleep onboard – without being disturbed – is a major benefit.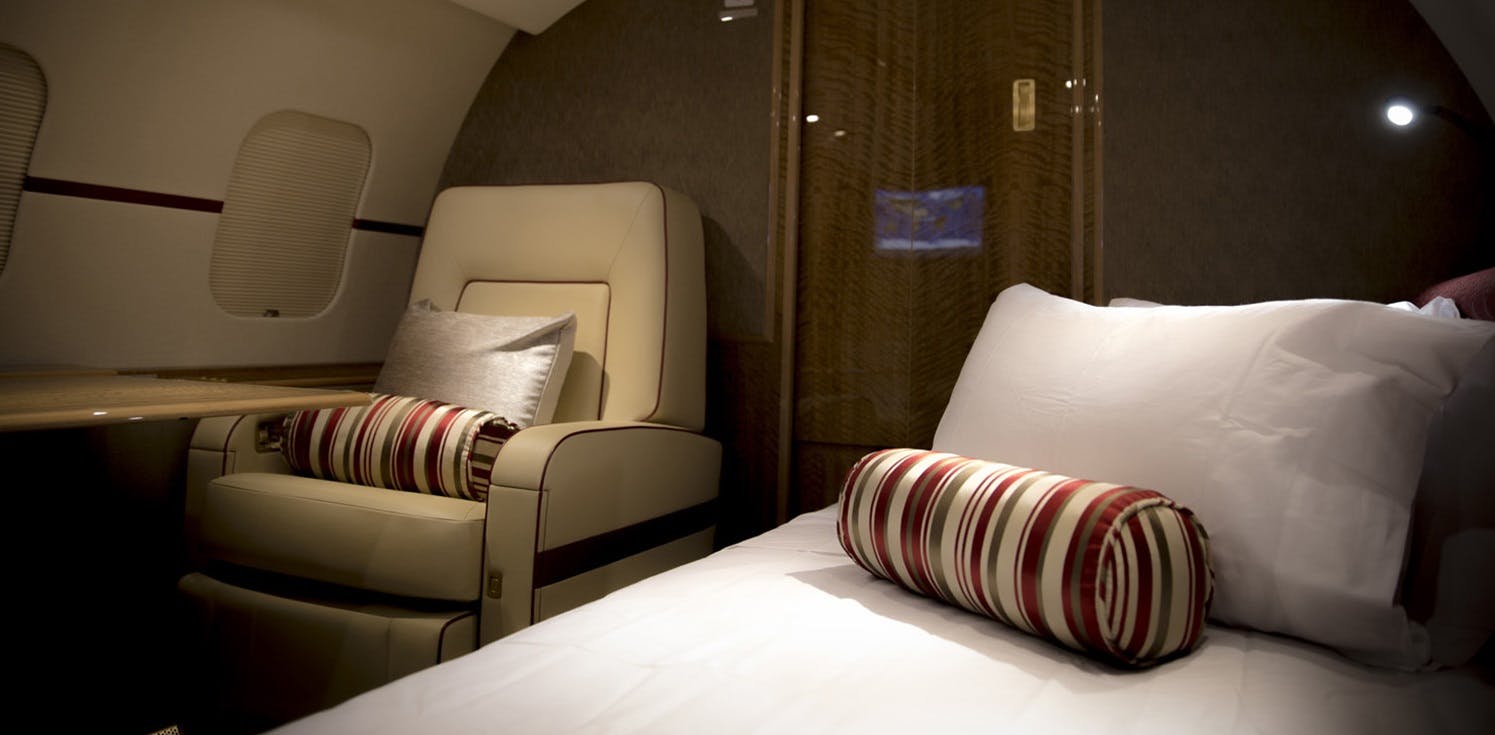 Aircraft manufacturers go to great lengths to maximise the space available for seating and sleeping, when developing new cabin design (or refurbishing existing models).
There is a range of seating and sleeping options on private jets, designed to make passengers as comfortable and relaxed as possible, from ergonomically-designed reclining seats on small jets, to separate bedroom suites on VIP converted airliners.
So here's what you can expect when you need to sleep onboard.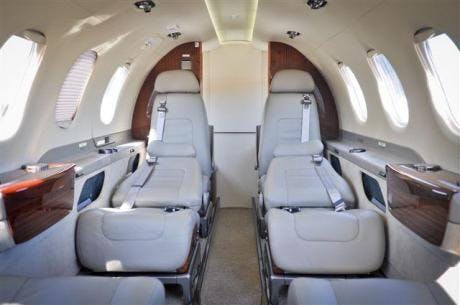 Small jets & turboprop aircraft
Small jets are used for shorter journeys, typically up to a maximum of 3 hours, so sleeping onboard is less of a priority than it is for longer journeys.
But aircraft in this category can still provide a very comfortable flight indeed, with seats that recline – and in come cases, swivel and slide – adjustable headrests and armrests, and and plenty of room to fully extend your legs.
With the exception of the Embraer Phenom 300 (which really bridges the gap between a small and medium jet), they do not provide fully horizontal flat bed options for sleeping.
The Embraer Phenom 100 and 300 aircraft are often regarded as providing the most comfortable and well-designed (by BMW) cabins and seating. The bigger Phenom 300 includes seats that convert into a flat bed position.
Other popular charter aircraft in the small and VLJ (Very Light Jet) category include the 4-seater Cessna Citation Mustang. There are also slightly bigger aircraft regarded as small jets, seating 7 or 8 passengers, such as the Hawker 400XP; Embraer Phenom 300 and a range of Learjet and Citation variants.
Turboprop aircraft are also designed for efficiency on a short journey, but some variants of the Beechcraft King Air (the world's most popular turboprop) have high spec luxurious VIP interiors to rival any small or medium jet.
These can include side-facing divan seating, which can extend and recline into a fully horizontal bed.
Medium jets
For slightly longer journeys of 4-5 hours, or where extra space is desired, medium jets can provide additional comfort in the cabin including more options for sleeping.
The most popular aircraft in this category – and indeed the most popular private jet in the world, due to its versatility and cost-effectiveness – is the Citation XL/XLS/XLS+. This has 6 fully-reclining, extra-wide seats, which track into position for a very comfortable sleeping position – and some models also include a two-seat divan couch.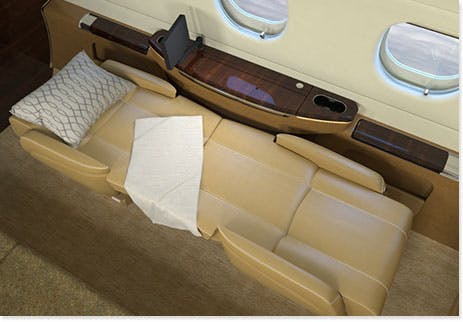 At a slightly higher cost per hour, and offering more space, Beechcraft's medium-sized Hawker jets are notable for their cabin size and comfort in the mid-sized category.
The Hawker 900 and 800XP include a three person divan for fully flat sleeping, along with other adjustable seats which recline and swivel 360 degrees.
Brazilian manufacturer Embraer again leads the way when it comes to cabin and seat design in the medium jet category. Its Legacy 450 and Legacy 500 seat between 7 – 10 passengers, and offer excellent space, range and comfort.
Two of the central club seats fully berth into a flat bed position – the seats are swivelled into a back to back position, and locked together to convert into a fully-horizontal and very comfortable bed.
Large body and long range jets
As they are designed for longer journeys, long range jets and ultra long range (ULR) jets offer a variety of horizontal sleeping options in spacious and comfortable cabins. And at this end of the market, customisation makes it possible to use the cabin space in a number of ways.
Gulfstream's flagship ULR jet, the G650 (and its extended range the G650ER), offers the exceptional space, luxury and comfort you would expect from a $65 million aircraft.
The G650's cabin can seat up to 14 passengers, but typically it is configured for 8, giving room for easy-to-berth divan seating which converts to a large, flat bed at one end of the cabin.
The other seats convert electronically to full-flat berths and include swivel and tracking controls, and built-in footrests.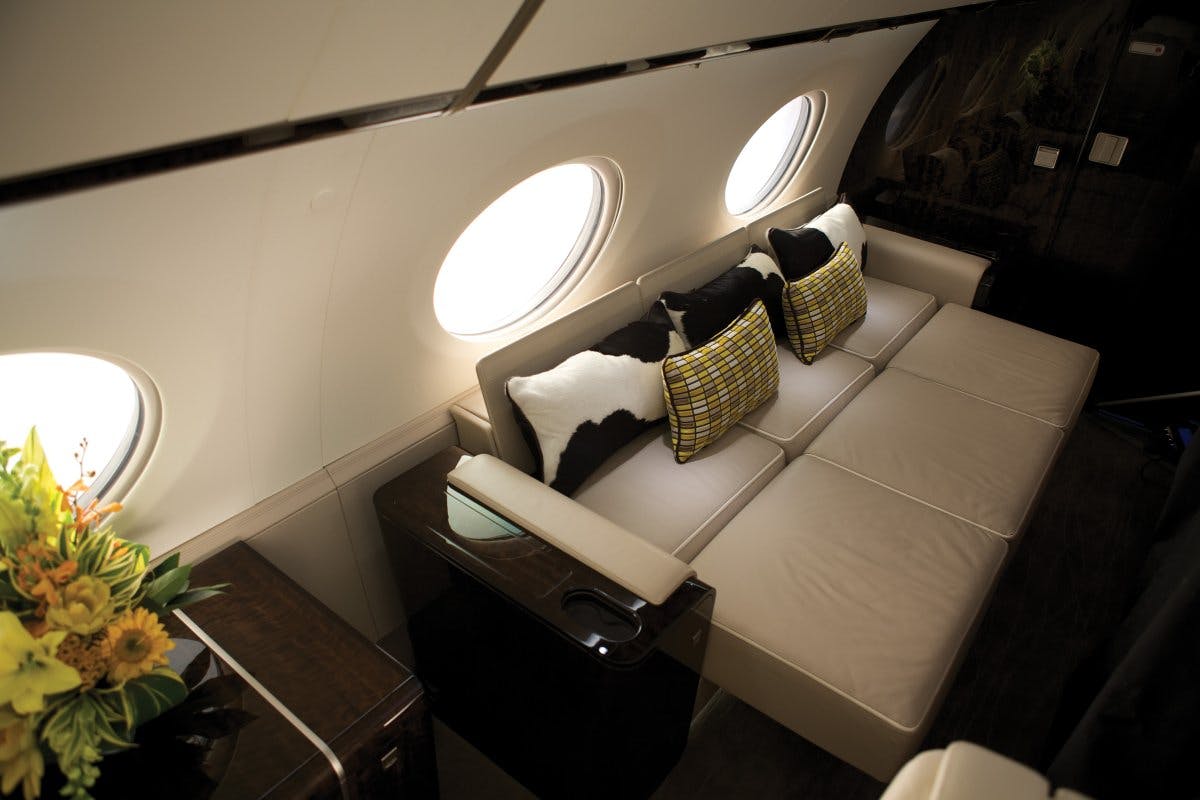 Dassault's Falcon jets also offer a supremely comfortable sleeping experience in the long range category. The Falcon 900EX seats 8 to 12 passengers, and includes a three person divan as one spacious sleeping space, and a further two seats can be reclined and combined to make a full-length bed.
Bombardier's Global family of long range jets – the original Global Express and the newer Global 5000 and Global 6000 – also offer similar divan to bed conversions.
In some aircraft there is a private aft stateroom option – a separate compartment within the cabin, with its own ensuite bathroom, to maximise comfort and peaceful sleep.
Converted airliners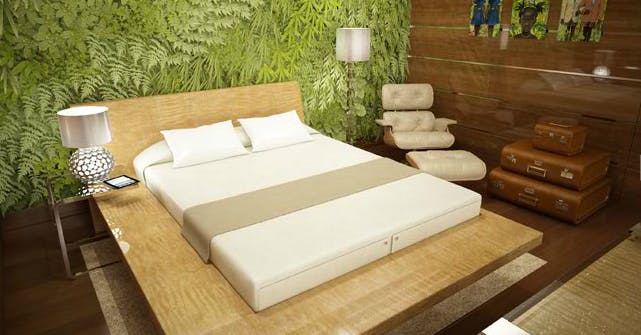 When it comes to private converted airliners, the sky's the limit for interior design options – and that includes bedrooms.
Airbus and Boeing are the leading manufacturers of these supersized giants of the private aircraft world, which are used by VVIPs, head of state and large corporates.
The Boeing Business Jet (BBJ) is one of the most successful models, originally based on a 737 airliner frame. Airbus models include the ACJ318 and ACJ319.
Converted airliners are usually divided into different sections or rooms, and this includes a master bedroom suite, with full double bed and shower room.
The other seating also usually offers fully reclining flat bed conversions and divans, so a group of 15 – 18 can sleep comfortably onboard a long flight.
Our flight team can advise on the best aircraft for your trip, including more details on the seating and sleeping options. Contact us or call +44 (0)20 7100 6960.
Related content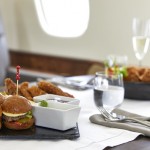 October 20, 2020
What can I eat and drink on a private jet?
It's a question we're often asked by those new to private aviation: What can I eat and drink on a private jet charter? Search for flights The answer is just about anything you like. Private jet travel…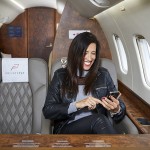 July 01, 2020
10 rules of private jet-iquette
Our industry has introduced a number of COVID-safe processes. Private jet charter aircraft are undergoing even greater disinfection between flights; there are distancing protocols between crew and passengers; and using the clean and quiet private terminals (FBOs) already means no queues…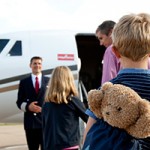 May 29, 2014
Never work with children or animals? We love to do both
Some people are surprised when we tell them that we regularly fly young children or pets. But in fact our smallest and furriest passengers are positively welcomed and well-catered for on private jets – along…