Chocks away!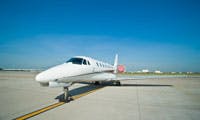 You'll often hear the phrase "Chocks away!" in aviation films, and particularly to represent British aviators.
But why do modern aircraft, and private jets need chocks? Who removes the chocks before take-off at a private jet terminal?
Read on to find out what chocks are used for, and why they could increase the cost of your private flight.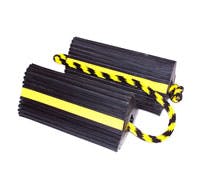 1. What is a chock?
Traditionally a wooden triangular block of wood that when placed under the tyre of a private jet stops any involuntary movement.
Today most aircraft chocks are made from ribbed rubber.
Often a private jet will carry its own chocks in the luggage compartment. This is because a private jet often flies into remote airfields with little or no support from the airport.
PrivateFly organises local handling agents to support our passengers and crews on arrival at a smaller private jet airports.
2. Where did the phrase 'Chocks Away' come from?
The term was originally used by British pilots during World War II, who allegedly shouted "Chocks away!" to indicate that they were ready to take-off. The ground crew would then remove the chocks in front of the aircraft's wheels, ready for take-off.
3. Who removes the chocks on a private jet?
An airline chock is removed by the ground crew. In private aviation, after the passengers board their private jet, the pilots will normally make sure all chocks are removed prior to closing the door.
At some private jet airports, like RAF Northolt in London, crews are not allowed to remove chocks for safety reasons.
4. What is chock time?
An airline will publish a flight's departure time as the expected time the aircraft will start taxiing. This is known as 'off chocks' or 'off blocks' or 'block time'. Likewise an airline's published arrival time is the time the aircraft stops taxiing.
Often airlines like RyanAir and EasyJet will publish much longer chock times so they always appear to be on time, even if they depart late.
Private jets flight times are much more confusing. Some private jet companies quote flight times as chock times (from beginning of the taxi to when the aircraft is parked at the arrival airport).
Other private jet companies will quote airborne time (from the take off to the landing and not including any ground taxiing). PrivateFly publishes actual flight times only.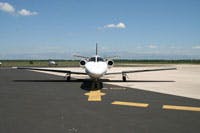 5. Are private jet passengers charged for the taxi time?
PrivateFly does not charge our members for taxiing time. PrivateFly private jet charters are fixed cost and the price will not change, no matter how long the taxi or flight actually takes.
Many fractional and card providers of private jet flights (such as NetJets) will add 20 minutes to every flight for the taxi.
For example on a flight from London to Paris this means fractional and card private jet customers are being charged an extra 40% of the flight cost for taxiing on the ground.
PrivateFly does not charge any extra fees for ground taxi time.
6. How does a pilot signal for the chocks to be removed?
From inside the flight deck a private jet pilot will touch both thumbs together then twist both hands through 180 degrees to point the thumbs upwards and outwards; this indicates to the private jet ground staff that the aircraft's brakes are on and it is safe to remove the chocks.
7. Why does a private jet need a chock?
An aircraft's brakes are normally hydraulically applied. Unlike a car which has a wire from the hand brake to the brake, a private jet uses hydraulic oil to apply pressure to keep the brakes in place.
After a period of time after an aircraft's engine is shut down, the hydraulic pressure in the brake pipes dissipates and the aircraft's brake will be removed.
If a private jet is not chocked, there is a danger that it will roll away causing damage if it impacts a surrounding building, vehicle or other aircraft. If a private jet is parked on a slope or in windy conditions, it is particularly important to ensure the aircraft wheels are chocked.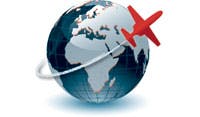 8. Is it true that the doors in the PrivateFly office are chocked?
We believe in bringing the spirit of aviation to everything we do, so aircraft chocks in the office keep us grounded. In our case they never put the brakes on moving our technology and service forward though!
9. Do bigger aircraft use bigger chocks?
The size of an aircraft wheel dictates the size of the chock required to stop the wheel moving. Surprisingly, many large aircraft have smaller wheels than you would expect. This is a design requirement to minimise the total weight (known as the All Up Weight) of the aircraft.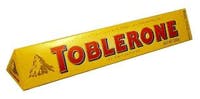 10. "Chocks away" in film
Often used in War films, the phrase "Chocks away" was recently heard in Aardman Animations studios' "Chicken Run". The chocks in this case were made of Toblerone.
Related content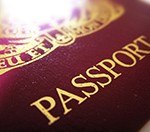 June 20, 2019
What documentation do I need to fly by private jet?
A private jet charter flight is a different experience to a flight on an airline. Everything is designed to make your trip as efficient, fast and comfortable as possible. Search for flights This includes the administrative process before…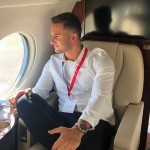 December 05, 2018
My first year at PrivateFly
Gianluca Cioffi joined PrivateFly's Flight Team just over a year ago. Here he reflects on his time in the team so far and gives an insight into life at PrivateFly. Our Flight Team is made up…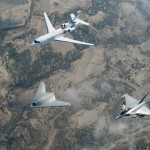 January 11, 2018
Private aviation's military connections
Private aviation and military aviation have many close ties. Not least in terms of career paths. Many military pilots tend to opt for a change once they decide to end their career in the forces. And while…