Extreme private jet catering: From chocolate grasshoppers to Arctic Circle crab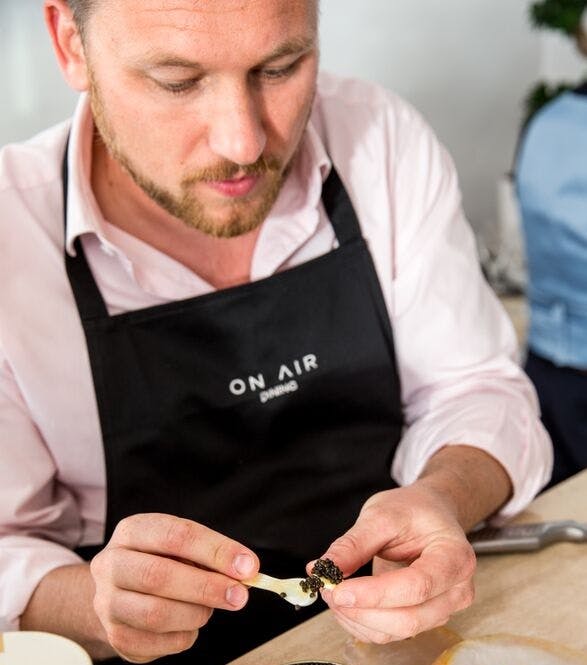 When it comes to eating and drinking onboard a private jet, the sky's the limit. Our clients can request pretty much anything they'd like to eat and we'll do our utmost to oblige.
Private jet catering is all about the bespoke approach, whether that's a favourite brand of tea, a personalised birthday cake, or a specific fine dining menu. Read more about our bespoke approach.
We work with a number of private jet caterers, to ensure our clients enjoy the highest standards of eating and drinking. To dig a little deeper into what goes into every in-flight dining experience, we spoke to Daniel Hulme, CEO of one of our suppliers, On Air Dining.
Here he tells us about the challenges of preparing food to eat in the air; the most popular dishes; and some of the more unusual catering requests they've had from clients.
Q: How does cabin altitude affect the taste buds and the food? How do you make dishes differently than if you were serving them on the ground?
Cabin pressure and altitude has an enormous effect on food. Not every dish will taste the same in the air, the sense of taste and salt in particular is half in the air of what it is in the ground, hence we always give extra sea salt with every single dish we send.
The flavours are also paramount, every dish is always filled with Umami, also known as the fifth sense. Umami is a very important element as it stimulates the palate, throat and the back of the mouth. It is found in foods such as tomatoes, mushrooms, parmesan and soya sauce.
Q: Can customers choose anything they like or is there a menu?
We have two menus, our main menu which is very comprehensive, and will include items like pan fried salmon, lasagna or a wide array of salads.
Our fine dining menu is changed every six month, we are the only business aviation caterer to do so. It encompasses modern cuisines in a Michelin Star style, with dishes such has our Dedham Vale fillet of beef or our Seared Tuna Nicoise. We also offer a wide hot or cold breakfast selection as well as all kind of platters such as cheese, charcuterie, or smoked salmon.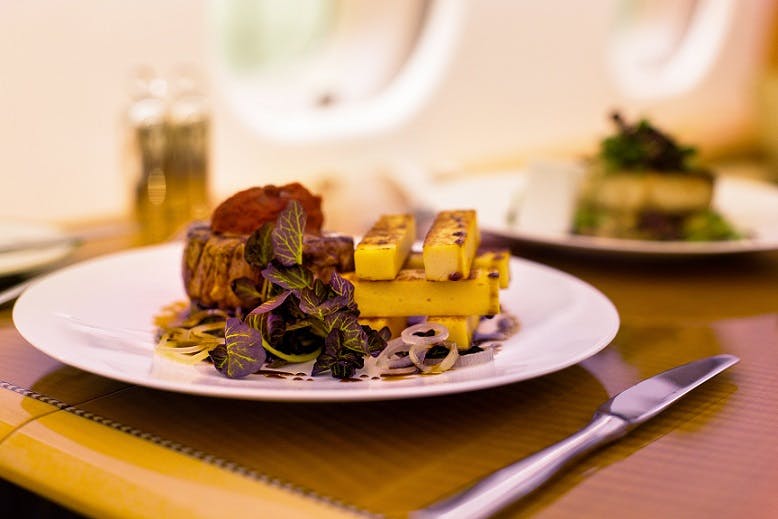 Customers often ask us for off menu items and dishes which we are always happy to accommodate. Anything is possible.
Q: How do your dishes compare to fine dining in a restaurant? Do you follow wider food trends when designing your menus?
Our fine dining menu dishes are very much on par with the dishes one would expect from a trendy central London Michelin Star restaurant. We must adopt this approach as it is likely the passengers flying will often dine in the world's top hotspots.
Our senior chefs come from a very eclectic background of both events and Michelin Star restaurants which is great as we make full use of their experiences and the influences when creating a new dish.
We always use seasonal and local ingredients, along with our inspiring spin on sustainability. Not only do we follow or set a trend, but we always push boundaries to make onboard dining a more exciting experience.
Another aspect of what we do is the great relationship we have with our specialist partner restaurants where we source of specialised world food. We have teamed up with Nobu and Sumosan for sushi and Japanese food, Tamarind for Indian, China Tang for Chinese. We will collect the food from them after they have blast chilled it, transport it safely in our refrigerated vehicle to our premises where the food is repackaged in aircraft friendly containers and sent to the airport along with the rest of the catering.
Q: What is the most popular menu you provide?
Our fine dining menu is our most popular. Our Seared Tuna Nicoise is our most popular dish.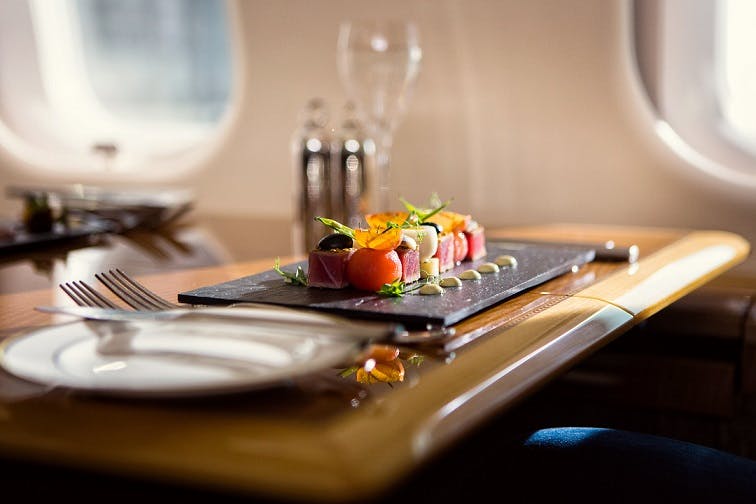 Q: What is the most challenging request you've ever had?
The crew and passengers on this privately operated jet had a bit of a dare going. To eat chocolate covered grasshoppers. Not a problem!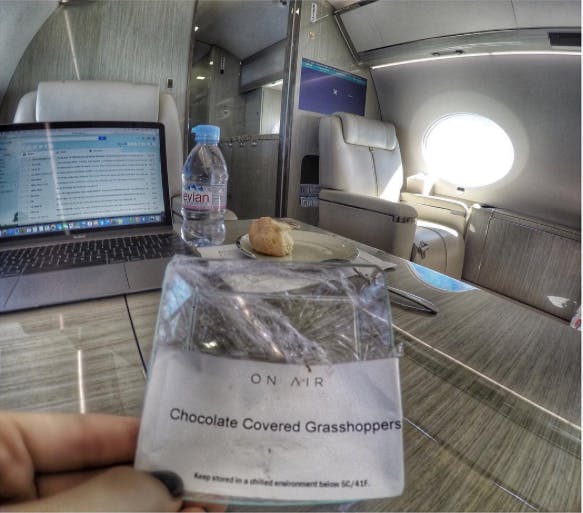 Q: And what is the most expensive dish you have ever prepared?
A client wanted a bespoke dish made for him from a very specific type of soft shell crab only found in the Norwegian Arctic Circle. I flew there with a team of divers to source some of these very particular shellfish. We had them flown back to the UK and our chefs created the dish.
Q: What's your own personal favourite dish?
It would have to be our Miso Braised Cod with Shitake Mushrooms and Sesame Bok Choy. Because this was one the the first dish I created when I set up my business, and lot of time and research was spent on creating it. The flavours work so well together and it is filled with Umami which means it is an explosing for the tastebuds even at 40,000ft. It remains our most popular main course today.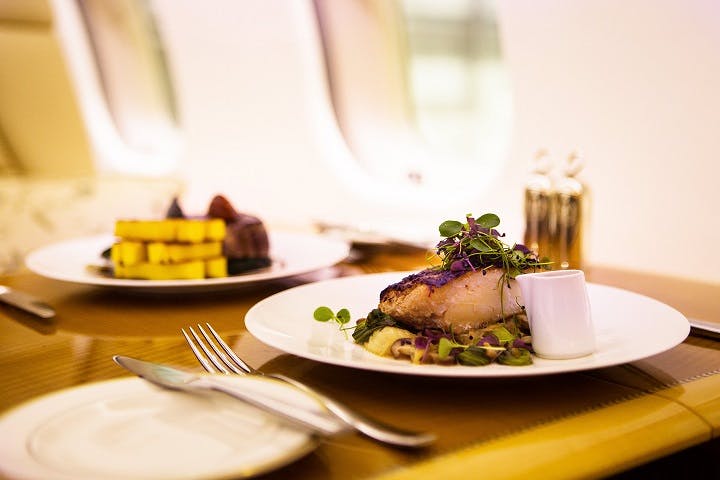 Q: There's not always much space onboard the aircraft, how much is pre-prepared? And how is food heated onboard?
Packaging food for an aircraft is one of our main challenges, even on large corporate airlines. A lot of money and time was spent on researching the ideal packaging. We believe we have come up with a situation that works, both in terms of food safety and practicality.
We do not use the standard foil but instead a special container that can be used in both an oven or a microwave. A heatproof label is also apposed with item description and heating instructions. Furthermore, our dishes come in an almost kit form whereby, to plate it up, the flight attendant only needs to perform no more than 4 or 5 moves.
Most aircraft are equipped with an oven or at least a microwave but they always tend to be very small, and this renders the task difficult for the flight attendant.
Newer aircraft like the Gulfstream G650 or Bombardier Global 6000 are very well equipped with a good sized convection oven and even a steam oven.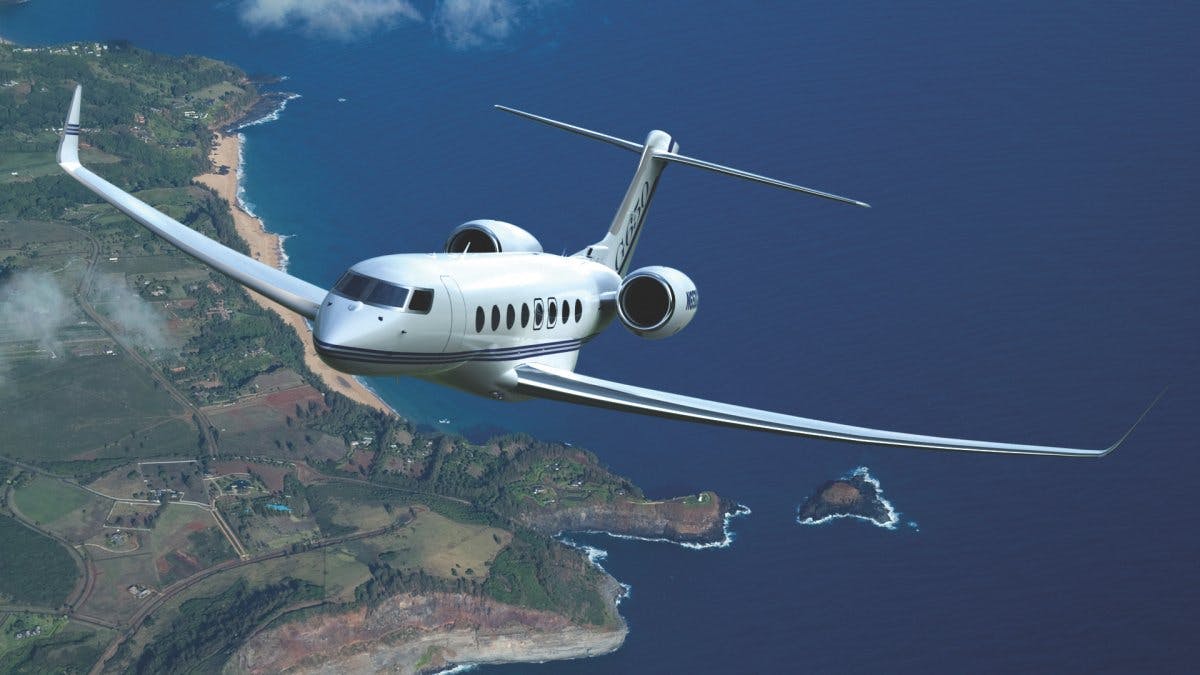 Q: Could you give us a typical menu for a long haul flight eg London to LA, on a large aircraft eg a Global 6000?
We recently catered for one of our regular customers who flies from London Stansted Airport to Los Angeles. Items on their orders included:
– Beluga Caviar
– Mixed Luxury Canapes
– Classic Italian Minestrone – We are pretty famous for this one!
– Heritage Tomato and Mozzarella Salad
– Fresh Seafood Platter
– Suffolk Rack of Lamb
– Lobster Linguine
– Summer Pudding Trio
– Chocolate Fondant
– Selection of petit fours
– And of course plenty of healthy freshly squeezed juices, natural yogurt and a little bit of Haagen Dazs Vanilla!
Q: And what is possible to serve in a smaller aircraft, eg a Citation XL?
Smaller jets like the Phenom 100 or Cessna Citation XL are much smaller and do not often have any heating facilities nor a flight attendant, the food will be laid out by the flight crew. That's when our chefs have to be creative and come up with exciting cold items based menus that are nicely presented in a box or on a tray.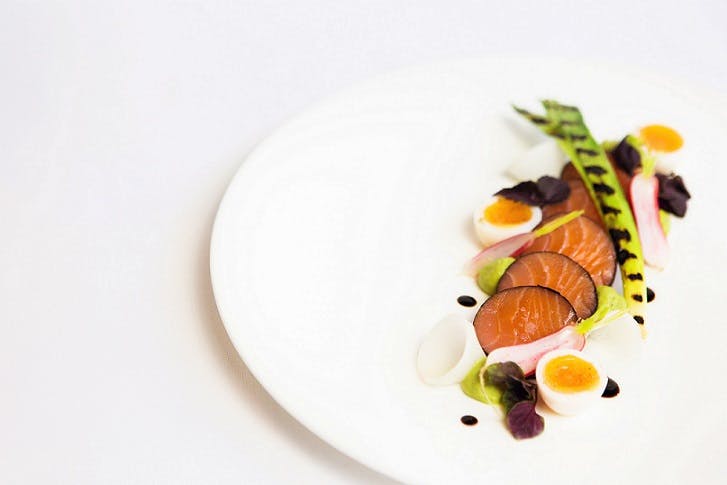 Q: How do you accommodate allergies, food preferences, vegan etc?
Part of our order check list is to check whether there are dietary requirements for the flight. It could be that the food needs to be prepared in a fully halal kitchen, perfect for us as we were just awarded our Halal certificate and there is only another company in the UK to have such certification.
We take food allergies very seriously and we will always ask if we should be aware of anything. If so, it will appear in red on our order sheet so that the kitchen knows extra precautions have to be taken.
Plenty of clients are trying out new diets. So for example, the flight attendant will let us know that his/her principal passenger is on a carb free diet so we have to come up with inventive dishes to suit their requirements.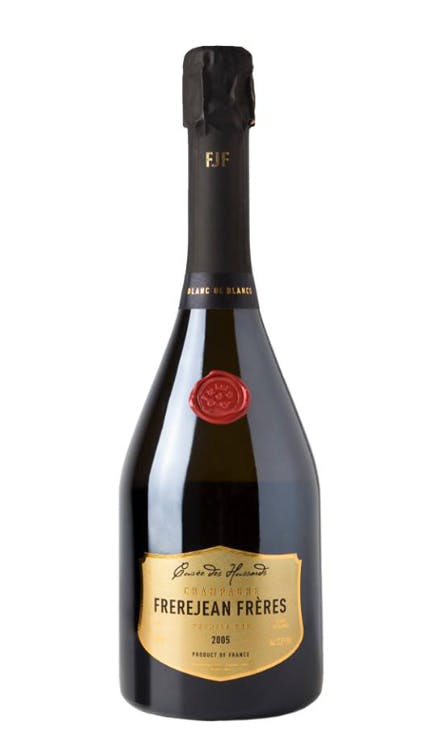 Q: Do you also provide wine and other drinks?
We have a very extensive wine list with options with vintage wines and champagnes and of course we will accommodate special requests as part of our concierge service.
Recently, we teamed up with an expert mixologist and we now offer cocktails. They come already packed and mixed in a pouch, and we also supply the garnish. The only things the flight attendant will need are a glass and a pair of scissors. As far as soft drinks go, Fiji Water is our best seller.
Q: How does a client's location or nationality tend to affect what they order?
It has a big influence. Our Saudi or Emirati clients will always require Arabic dishes, sometimes done in a particular regional fashion. Our Russian clients are very keen on sushi and a lot of our American clientele seem to love Indian food from our partner Tamarind.
Q: Which type of aircraft do you think has the best kitchen facilities for food preparation?
It really depends on the size of the aircraft and the way they have been configured. I love the Global Express 6000, but the Falcon 2000 is very easy to work in as well. The Falcon makes good use of the removable two tiered counters that clip in front of the sound curtain.
Very large aircraft, such as the Boeing Business Jet (BBJ) of course have better storage, refrigeration etc but the new G650 has some great new features for the galley – better refrigeration, wine storage (with temperature settings) and a better oven system. The bigger aircraft you are on, the better the galley in my opinion.
I have seen a VIP reconfigured Boeing 767 which has more of a full-sized kitchen than a galley!
Q: How do you ensure that the food is served and presented onboard as you'd like it to be? Does the flight attendant need to have much training?
During the order process, our team are always on hand to answer questions about how to plate the food. Any item on our fine dining menu comes with our unique 4 step flash card system. It has pictures and clear instructions for the flight attendant. What's more, our drivers will always unpack the food onboard and tell the flight attendant what to do with every dish.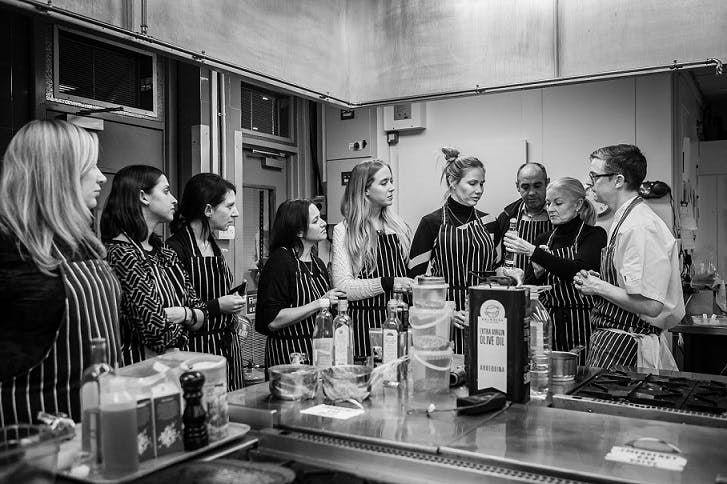 We believe the relationship between us and the flight attendant should be like the Chef and the Maitre D' in a restaurant. So we hold a free culinary training course at our facilities in Stansted every months, where I teach flight attendants plating techniques, presentation styles and other hints and tips that helps them save time and space onboard.
Our main aim is to make the flight attendant look good!
We also promote a complete open door policy, so anyone wishing to pop in and have a look at what we do and how we do it is always welcome to do so. Not many catering companies adopt this approach.
At PrivateFly we can arrange bespoke catering for any private charter flight. Contact our Flight Team for more information or advice on +44 1747 642 777.
Related content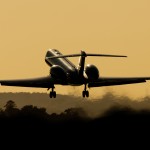 November 20, 2018
Fly 'back in time' by private jet & celebrate New Year 2019 twice
New Year's Eve is the biggest party night of the year. But with so many celebrations taking place all over the world, it can be difficult to choose how and where to spend it. But…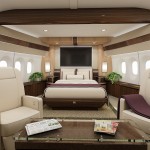 September 07, 2016
Interior options for private jets
From ultra-luxurious interiors to not-so-private bathrooms, a look at what to expect inside each private jet.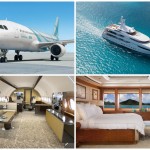 August 21, 2015
Private Jets meet their Superyacht match
Take 5 private jets and meet their superyacht counterparts, for the smoothest journey from sky to sea.  Private jets and superyachts are closely aligned. Both represent the optimal way to travel, whether it's by air…