Fly 'back in time' by private jet & celebrate New Year 2019 twice
New Year's Eve is the biggest party night of the year. But with so many celebrations taking place all over the world, it can be difficult to choose how and where to spend it.
But what if you could celebrate it twice over in one night, in two different, iconic party hotspots on different sides of the world? It might sound like something from a movie, but with a customised and carefully-planned private jet itinerary, you can do it for real.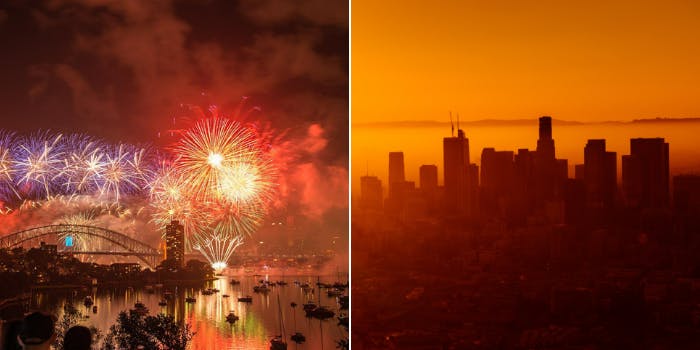 How to celebrate New Year twice by private jet
With the world rotating at 1,038 miles per hour, the time in LA is 19 hours behind Sydney. So if you can keep the travel time between the two lower than that, you can (effectively) arrive several hours before you left! Flying on an ultra long range jet, such as a Gulfstream G550, with a bespoke itinerary, it's possible to celebrate New Year in both places.
The flight time from Sydney to LA in a Gulfstream G550 is 13.5 hours, so with the 19-hour time difference, you get to replay over 5.5 hours of party time, by flying eastwards.
This unique flight experience is only possible by private jet, as the timings are so tight – and there are no airline schedules to fit the itinerary.
New Year Twice itinerary between Sydney & Los Angeles
Here's how it works:
20:00, 31st December 2018, Sydney: Start the evening on the ground in Sydney, Australia, at one of the city's glamorous nightspots or VIP parties.
12:00, 1st January 2019, Sydney: Be among some of the first in the world to welcome 2019, with a view of the famous harbour fireworks.
02:00, 1st January 2019, Sydney: Depart Sydney Kingsford Smith airport in a Gulfstream G550.
20:30, 31st December 2018, Los Angeles: Land in LA, where the night is still young and there's time to head to your party of choice.
12:00, 1st January 2019, Los Angeles: Welcome the start of 2019 for the second time, in Los Angeles, California.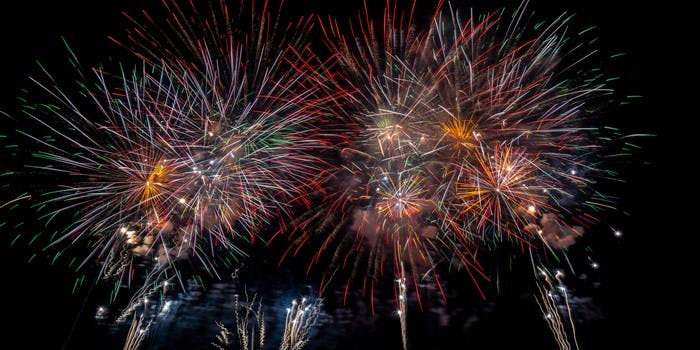 Recharge or continue the party on your Gulfstream G550
The Gulfstream G550 offers a luxurious and spacious cabin experience for a long flight. And whether you want to recharge or continue the party onboard, you can choose between our Wellness or Festive Flight package.
With the Wellness package, the private flight attendant will prepare the cabin's lighting and temperature controls for the optimum restful flight experience, with deluxe bedding in the cabin's master bedroom area and on the further flat single beds. There are designer pyjamas and slippers for each passenger; luxury skin care and masks; detox juices; and a VIP vitamin-packed catering menu.
Alternatively the Festive Flight package is for those looking to continue the celebrations at 45,000 feet, taking advantage of the aircraft's high-spec music and entertainment systems; decorations in the cabin; and decadent inflight catering options featuring caviar, cuvée champagne, and made-to-order dishes such as fresh lobster, or lamb tartare.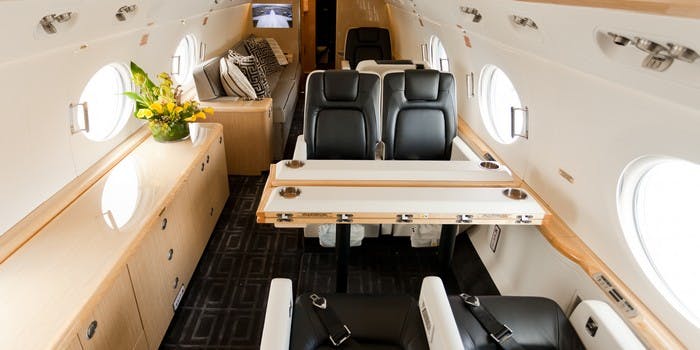 How much does it cost to fly between Sydney and Los Angeles?
Whole aircraft charter cost $255,500 Sydney – Los Angeles (one-way). Or from $31,950 per person, if a group of 8 passengers (maximum) book and travel as a group.
For advice or booking any private flight for your New Year's Eve travel, contact our expert team (24/7) on +44 (0)20 7100 6960.
Related content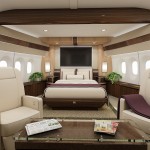 September 07, 2016
Interior options for private jets
From ultra-luxurious interiors to not-so-private bathrooms, a look at what to expect inside each private jet.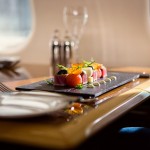 November 03, 2015
Extreme private jet catering: From chocolate grasshoppers to Arctic Circle crab
When it comes to eating and drinking onboard a private jet, the sky's the limit. Our clients can request pretty much anything they'd like to eat and we'll do our utmost to oblige. Private jet…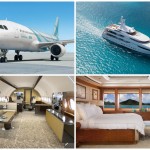 August 21, 2015
Private Jets meet their Superyacht match
Take 5 private jets and meet their superyacht counterparts, for the smoothest journey from sky to sea.  Private jets and superyachts are closely aligned. Both represent the optimal way to travel, whether it's by air…