Interior options for private jets
Ultra-luxurious private jet interiors are a source of fascination. It can feel more like stepping into an exclusive hotel suite or apartment, including master bedroom suites; multiple bathrooms with walk-in showers; and full bar and kitchen – with ovens or even a dishwasher!
VIP airliners, such as the Boeing Business Jet (a converted 747) or an Airbus ACJ, give plenty of space to play with in a highly-customised cabin. An area that can hold 600 people in airline configuration turns into something resembling an exclusive hotel suite or apartment. See more: Supersize my jet.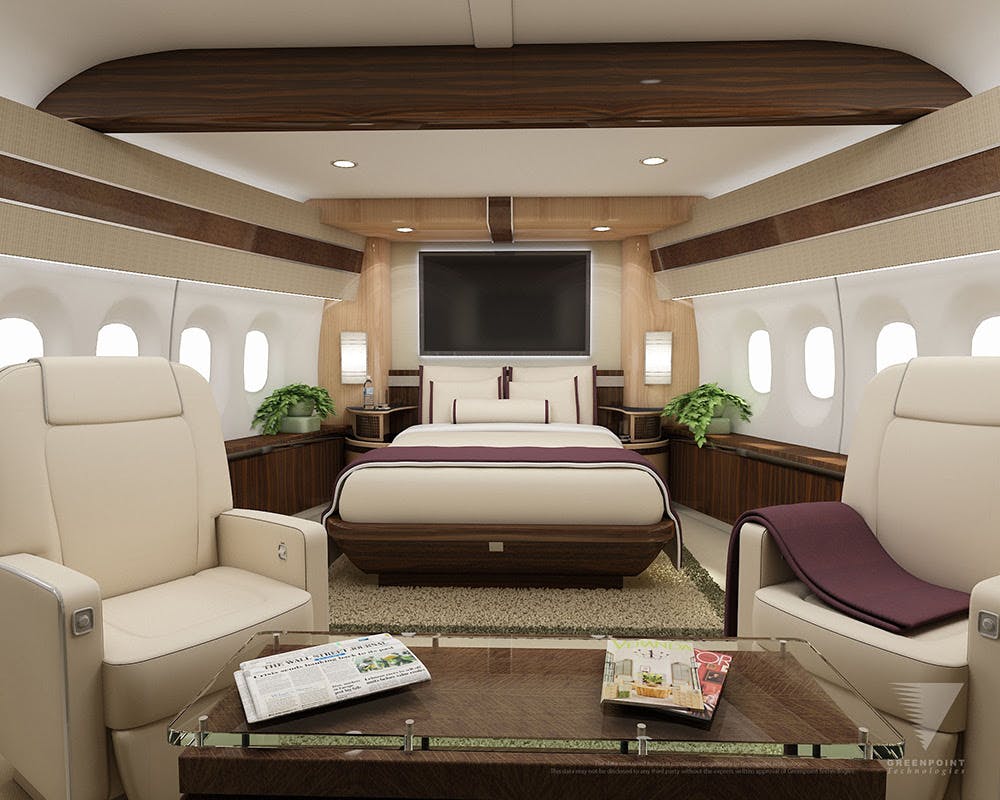 BEDROOMS & LIVING SPACE
The majority of private jets do not have a king-sized bed onboard, but they do give you much more space and privacy to sleep, compared to an airline flight.
Smaller aircraft provide a cabin space with comfortable seats that recline if you need to sleep during the short flight, with adjustable headrests and armrests, and plenty of room to fully extend your legs. The Phenom 300 is notable as a small jet with seats that convert into a fully flat position.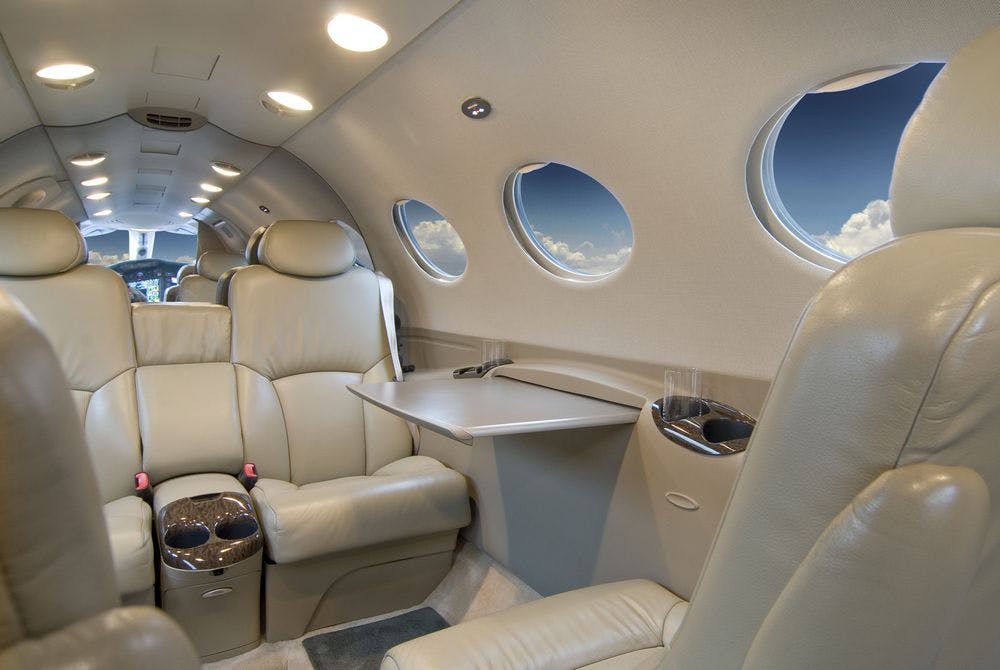 Medium jets have wide seats that recline, slide and convert to a flat position for a comfortable sleep. And many have side-facing divan seating that converts into a comfortable bed.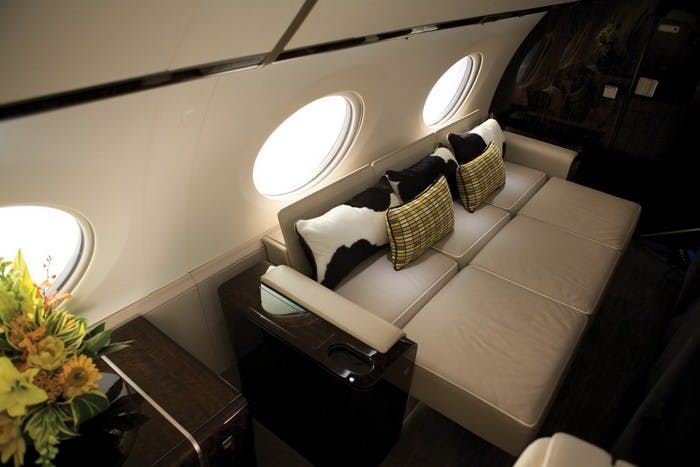 Long range jets offer enough space to convert side-facing seating into a very comfortable bed in two places in the cabin. And the other seats are fully adjustable. Some customised long-range jets are able to accommodate a separate bedroom, with a bed. And this is commonplace in VIP airliners.
For more detail on berthing and sleeping options see Which private jets have flat beds?
KITCHENS & DINING ROOMS
Premium catering is available on any size of aircraft and included in your charter price. However special catering requests are possible for all flights.
Read more: The Top 7 things eaten on a private jet.
Typically on small and medium jets and for shorter journeys, a variety of sandwiches and cold cuts and fruit are brought onboard. Champagne, wine and soft drinks are available, plus tea and coffee. Proper glassware, china and cutlery are provided.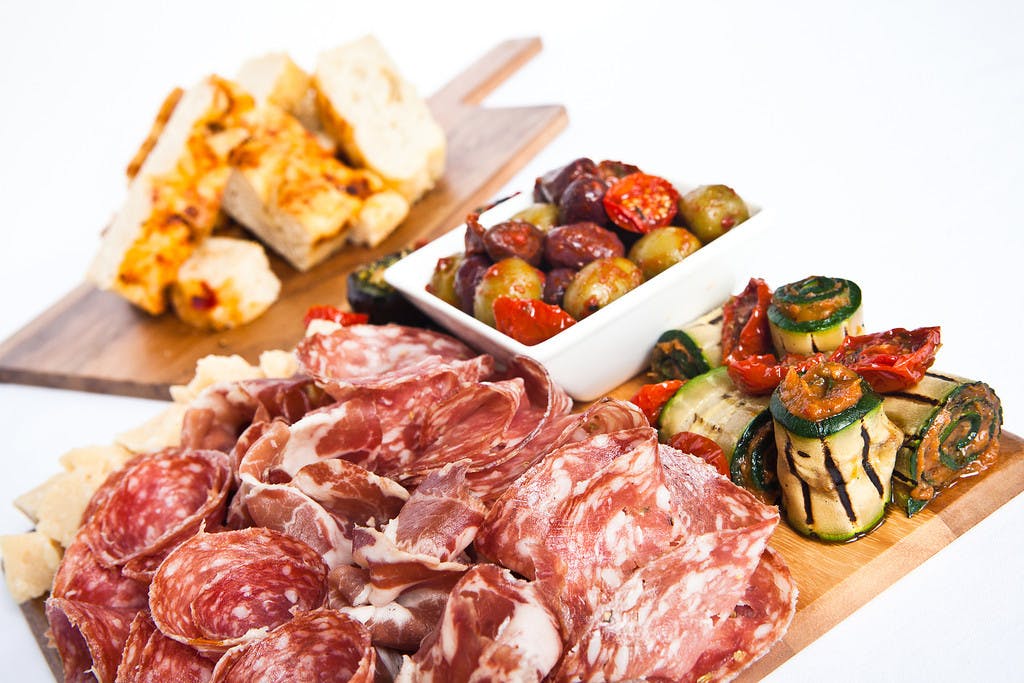 On bigger aircraft, there are kitchen facilities onboard, including fridges, ovens, microwaves and other facilities, allowing crew to prepare hot catering. Larger aircraft will usually include one or two cabin crew members, to prepare and serve food and drinks to the passengers.
VIP airliners can include large dining tables allowing passengers to enjoy a formal dinner or business lunch onboard.
Private jet catering is of a very high standard and can accommodate allergies and other dietary preferences. Some clients like to enjoy a celebration onboard, so birthday cakes and other special occasion meals can be arranged ahead of time for your flight.
RESTROOMS & BATHROOMS
Most private jets are equipped with at least one toilet, however bathroom facilities do vary according to the size of aircraft.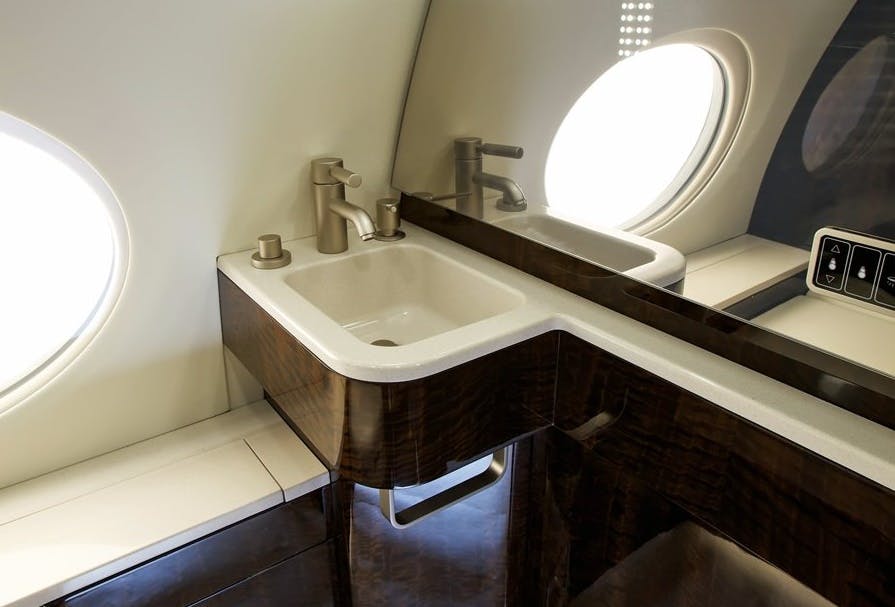 Many small jets and small propellor aircraft have a toilet, although they are most frequently used for routes of less than 2 hours – so this isn't always a priority for passengers. The most cost-effective of VLJs (Very Light Jets), the Citation Mustang, has an emergency use toilet, curtained from the main cabin. Others with a slightly larger cabin such as the Phenom 100, offer a small restroom, with toilet and basin.
Medium jets will have a more spacious and well-equipped restroom, with toilet and basin. The Citation XLS+ also has a dressing area so passengers on longer journeys can freshen up and change before landing. And bigger medium jets such as the Hawker 800 offer a larger vanity area, with seating and storage.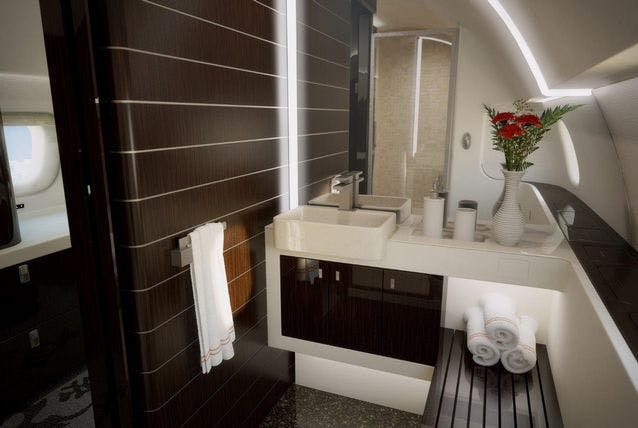 Read more: Private jet bathrooms
HOW TO CHOOSE A SPECIFIC PRIVATE JET INTERIOR
All charter aircraft in the PrivateFly network are selected according to strict criteria for safety and comfort. And we offer a huge range of interior options, on aircraft of all sizes.
If you're looking to fly on a jet with a certain type of bathroom or bed available, we can offer this service and provide options for different configurations. Our Flight Team can show you images of specific aircraft interiors, and advise you on the ideal aircraft for your flight.
Any questions on private jet interiors? Contact us or call our 24/7 Flight Team at +44 1747 642 777
Related content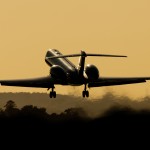 November 20, 2018
Fly 'back in time' by private jet & celebrate New Year 2019 twice
New Year's Eve is the biggest party night of the year. But with so many celebrations taking place all over the world, it can be difficult to choose how and where to spend it. But…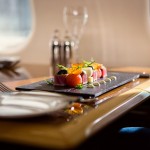 November 03, 2015
Extreme private jet catering: From chocolate grasshoppers to Arctic Circle crab
When it comes to eating and drinking onboard a private jet, the sky's the limit. Our clients can request pretty much anything they'd like to eat and we'll do our utmost to oblige. Private jet…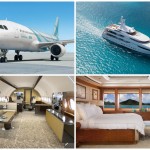 August 21, 2015
Private Jets meet their Superyacht match
Take 5 private jets and meet their superyacht counterparts, for the smoothest journey from sky to sea.  Private jets and superyachts are closely aligned. Both represent the optimal way to travel, whether it's by air…