How does the new M2 measure up against the Mustang & Phenom 100?
Cessna's new VLJ (Very Light Jet) the Citation M2 has now become available for charter in Europe. The aircraft will be based out of London Biggin Hill Airport and operated by an operator in the PrivateFly network. It is now available for charter across Europe.
The M2 was certified at the end of 2013 and is Cessna's modernised version of its CJ1 small jet. But comparisons are more likely to be made between this new contender and the established leaders of the small jet category: Cessna's highly-successful Citation Mustang and Embraer's Phenom 100.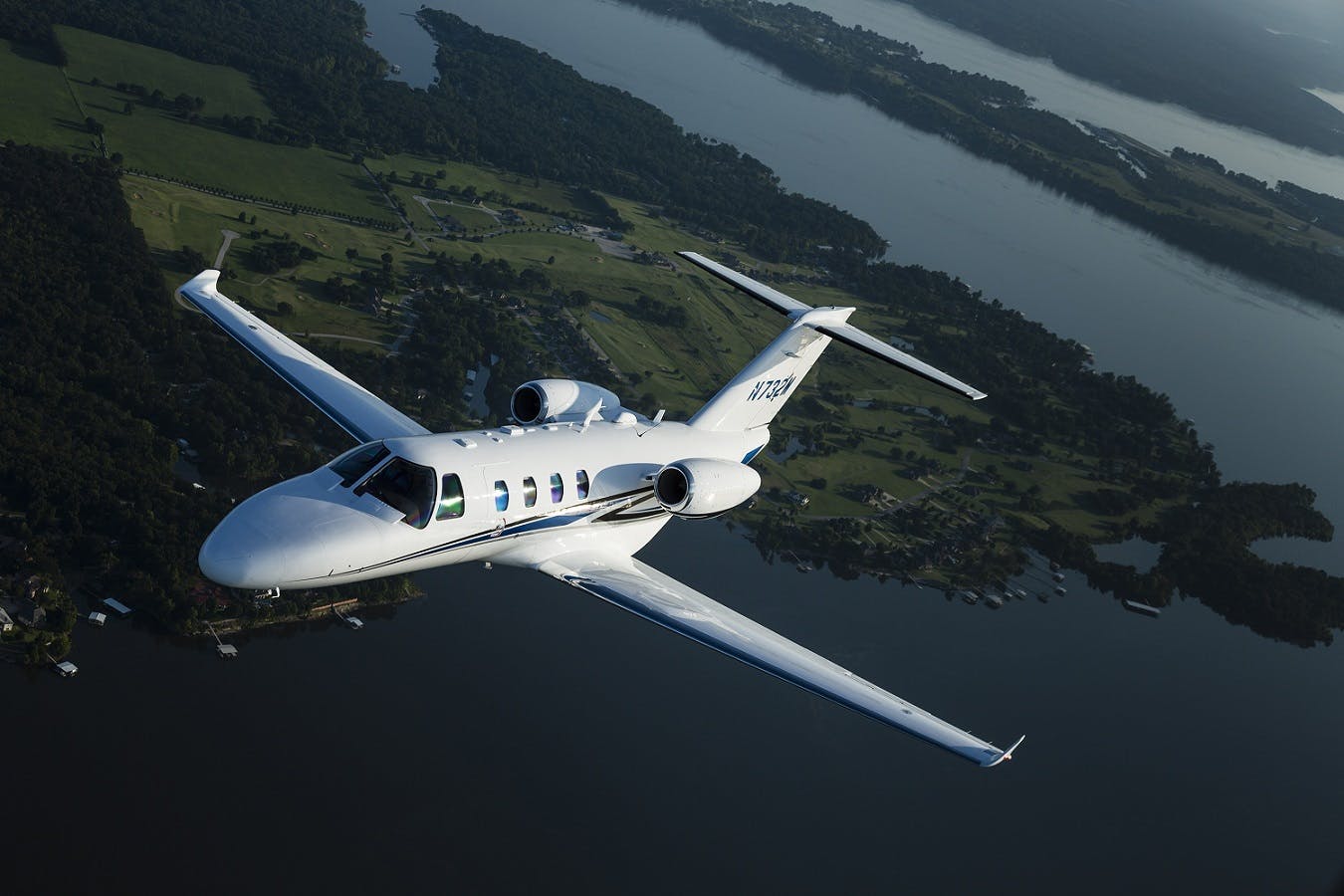 The VLJ market has weathered the storm of the economic downturn better than most other size categories and demand is continuing to grow – particularly as we enter the all-important summer season in Europe. And with HondaJet finally due to enter service later this year, the small jet market is set to see some big shake-ups over the next couple of years.
Here's how the M2 measures up against the competition:
The Citation Mustang: Cost-effective & reliable
The Mustang has the biggest share in the VLJ charter market, with over 1,500 departures for European charter flights in March.
It's a very popular aircraft with 'air taxi' style operators, who own their own fleet of aircraft (rather than managing them on behalf of other private owners) as it's efficient, reliable and cost-effective.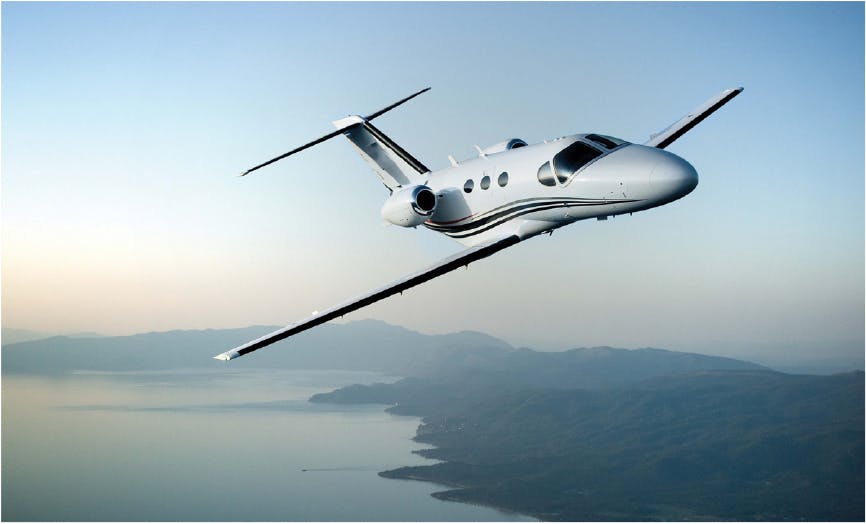 This also translates into value for the private jet customer and the Mustang usually offers the lowest, entry-level price of any private jet aircraft. It's a very popular choice with customers looking to fly 1 or 2 passengers on a flight of up to 2 hours within Europe.

Citation Mustang charter price, London – Paris (overnight return): £3,800
The Phenom 100: More space & style
While the Mustang is still ahead in volume terms, the Embraer Phenom 100 has been seeing significant growth in demand over the past year. In March it showed a 23% year-on-year increase in charter flights within Europe.
Its larger cabin size gives it additional comfort, and it offers slightly improved speed against the Mustang. And it also offers more luggage space; 4 reclining seats; and a fully-enclosed lavatory, rather than the Mustang's emergency 'potty' style facility.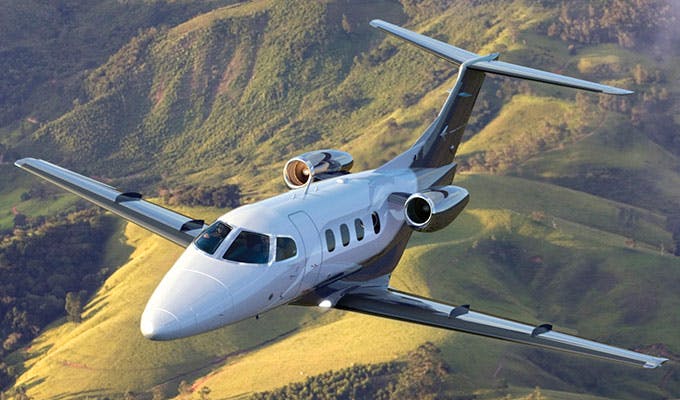 These additional features come at an extra cost, with the Phenom 100 costing 30 – 40% more than the Mustang to charter. So for some clients the Mustang will win out on a practical basis, especially when only 1 or 2 passengers are travelling on a short flight.

Phenom 100 charter price, London – Paris (overnight return): £5,300
The Citation M2: A new VLJ with greater range & speed
Cessna's new Citation M2 offers an upgrade to its Mustang, but in a newer and more contemporary package. The M2 features improved wing design, with the addition of winglets. Plus a more modern avionics package and more efficient Williams FJ44 turbofan engines.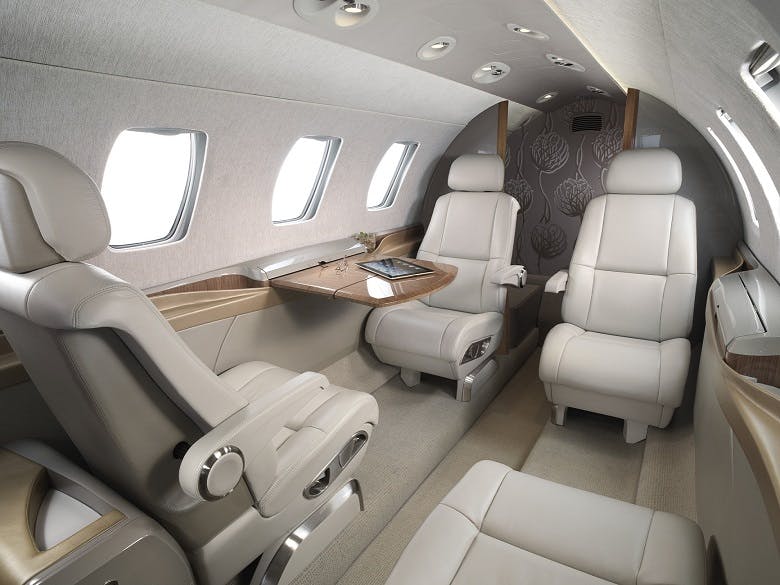 The cabin is slightly more spacious than the Mustang's (but smaller than the Phenom 100) and features sliding seats and upgraded passenger entertainment systems and lighting.
It can seat up to 7 passengers with single pilot operations (but more typically 4 – 6).
The M2's increased speed and range against the other aircraft will be a selling point for some clients – shaving precious minutes off shorter flights for those in a hurry and making it able to fly from Moscow to Nice or London to Athens nonstop.
With only one charter aircraft currently available in Europe, the charter price for the Citation M2 is currently higher than the Phenom 100. But we'd expect that to lower a little, as more aircraft enter the market.

Citation M2 charter price, London – Paris (overnight return): £6,200
| | | | |
| --- | --- | --- | --- |
| | Citation Mustang | Phenom 100 | Citation M2 |
| Seats | 4 – 6 | 4 – 6 | 5 – 7 |
| Max range | 1150 nm | 1196 nm | 1580 nm |
| Max speed | 340 kts | 390 kts | 404 kts |
| Cabin dimensions | 9′10" long, 54 in high, 55 in wide | 11ft long, 59in high, 61in wide | 11 ft long, 57 in high, 58 in wide |
| Luggage capacity | 57 cu ft | 62 cu ft | 46 cu ft |
| Lavatory | Emergency 'potty' facility | Enclosed lavatory | Enclosed lavatory |
| Take off distance | 3115 ft | 3400 ft | 3,210 ft |
| Landing distance | 2380 ft | 2700 ft | 2,590 ft |
| Purchase price | $2.9M | $3.6M | $4.4M |
Our Flight Team can advise which small jet is best for your needs. Contact us or call (24 hours) +44 1747 642 777.
Back to Archive for April 2015