How much luggage can I take on a private jet?
How much luggage you can take with you on a private jet charter flight depends on a few factors: The type of aircraft you are flying on; how many passengers are onboard; and what type and size of luggage you have.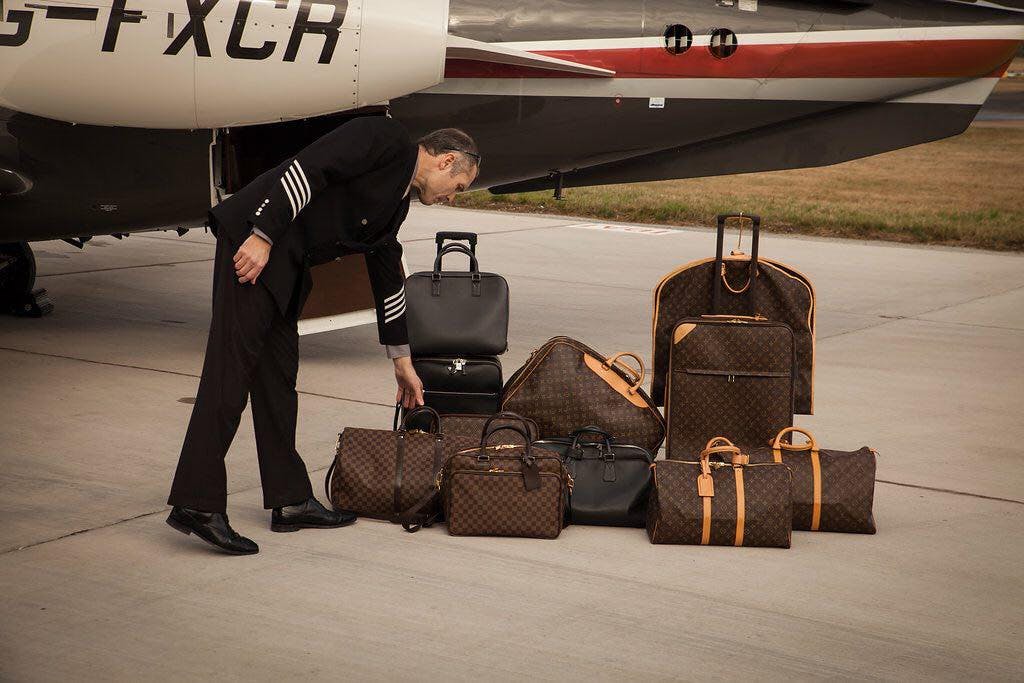 Through our Jet Card programme, or our premium charter services, PrivateFly gives you access to a large, certified network of private jets, of varying types and sizes – from light jets, through to large body long range jets or converted airliners, which have a huge luggage capacity. But even aircraft models that are comparable in size can come with differences in terms of storage space.
The luggage capacity for a private jet aircraft is given as a volume of cubic feet and as a general rule, this will equate to at least one suitcase and one carry-on item per passenger – based on the maximum number of passengers the aircraft can carry.
But many models have more space than this and, as most private jet charter flights do not contain the aircraft's maximum number of passengers, you'll usually be able to carry more – including one or two sets of golf clubs even in small jet.
Our flight team experts can give you more specific advice and help you compare the luggage facilities of different aircraft. But here's a rundown of what to expect, for different categories of aircraft.
Turboprop aircraft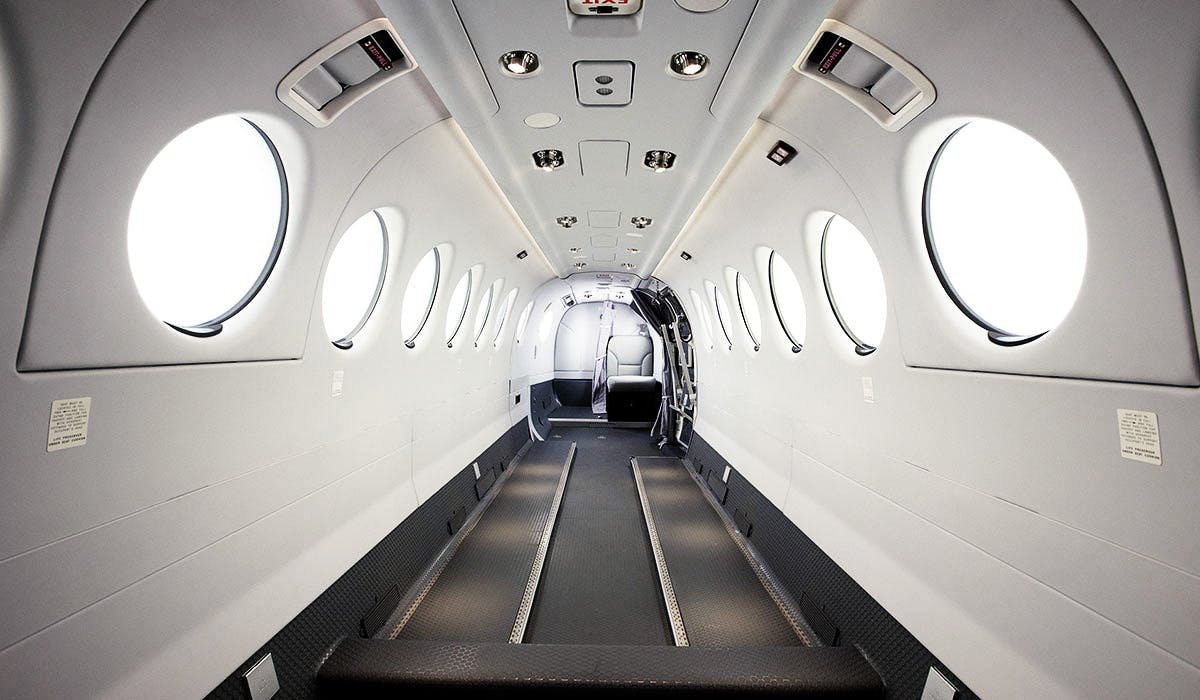 Turboprops can often be overlooked by many private aviation users, seen as slower and noisier than a jet. But sometimes they can be a good option, for example when accessing airports with shorter runways. They can also be roomier than expected - both in the cabin and in the luggage hold.
The Beechcraft King Air offers a customisable interior, and the larger 360 and 350 models typically have 8 passenger seats when used for business jet flights (as opposed to medical or cargo missions), with a generous 55 cubic feet of space in the luggage hold – space for ten or more large bags. There are also two large luggage lockers behind the engines – handy for sports equipment, such as golf bags or sets of skis.
The Pilatus PC-12 is another popular, and roomy propellor aircraft with a generous luggage capacity that is accessible inflight. It's also a great choice when travelling with oversized luggage, such as bikes or other large items, as it has a wide, rear cargo door (that was designed to facilitate cargo and humanitarian missions). Pilatus retained this popular feature when it launched the PC-24 jet aircraft.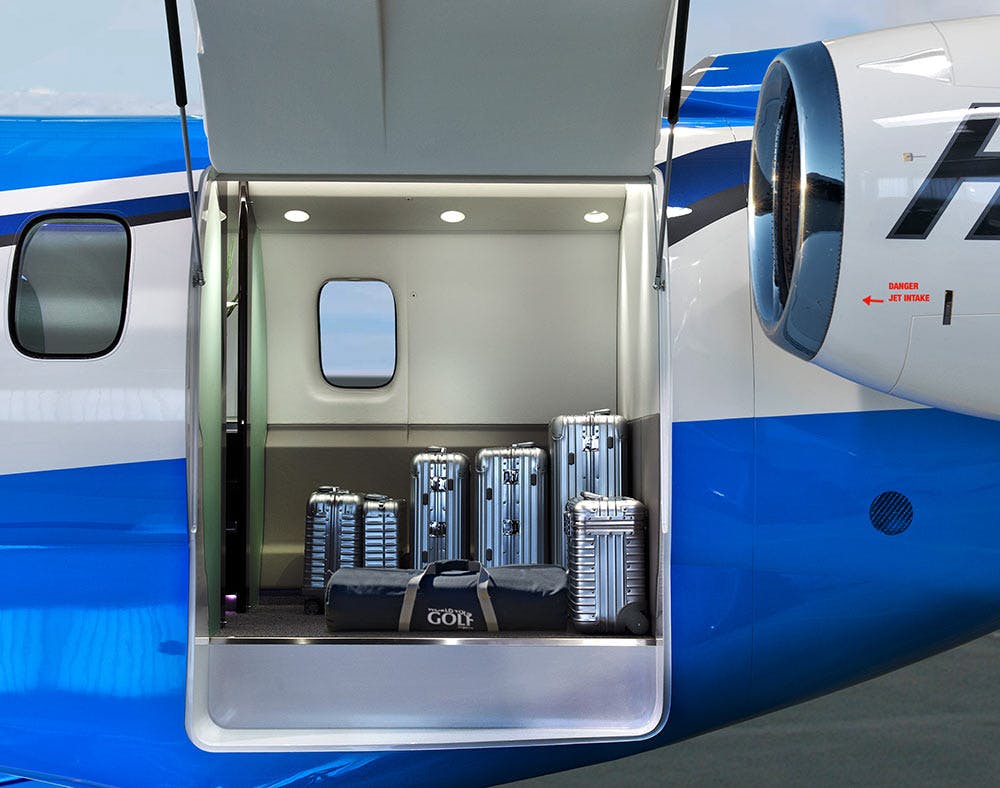 Light – medium jets
At the VLJ (Very Light Jet) end of this category, 4-seater aircraft such as the Citation Mustang and Embraer Phenom 100 are compact in size, but the luggage holds are well-designed and capable of holding bags for a small number of passengers.
The Phenom 100 in particular has a relatively roomy 53 cubic foot of external luggage capacity (versus 37 for the Mustang), holding several large bags and even skis. Both have an additional external storage area in the nose – as do a number of other light jet models such as the Citation CJ2 or CJ3 and the larger Phenom 300.
Some smaller aircraft also have converted chutes or cargo pods, so that they can more easily carry large items such as skis, hunting equipment or additional sets of golf clubs.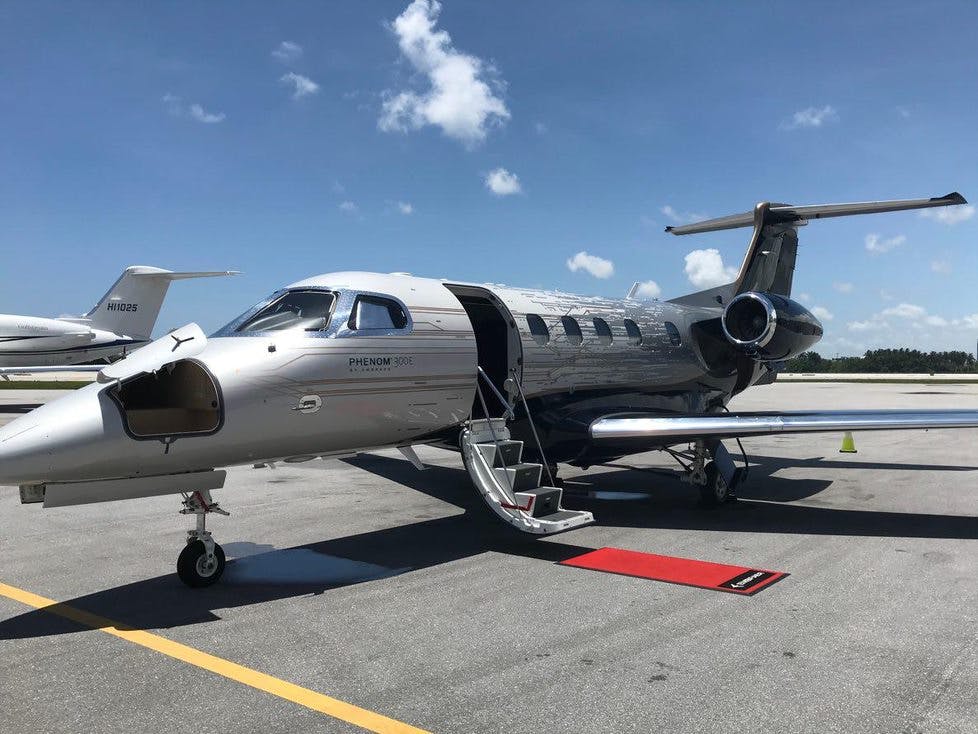 Bear in mind though that external compartments are not pressurised, so for anything that may be damaged by air pressure or freezing temperatures, there is also usually some (limited) space in cupboards inside.
It's also worth remembering that small jet luggage holds can be unusually-shaped as they are squeezed into the edges of the airframe, so softer bags are often easier to load than hard shell cases.
When you move up to medium light jet aircraft seating 6 – 8 passengers, the Citation XLS/XLS+ stands out for its generous, 90 cubic feet of baggage capacity, making it ideal for a family group travelling with a couple of bags each. The similar-sized Hawker 800 has only 50 cubic feet but this is all accessible from inside the cabin (unlike the XLS where most of the hold space is external), which can suit some travellers.
Midsize & long range
Larger aircraft that are designed for 8 – 16 passengers, come with a more generous hold capacity. So in addition to carrying bigger groups of passengers, these heavier jets can be a good choice if you're travelling with a particularly large amount of luggage.
The Citation Sovereign usually seats 8 passengers but has a surprisingly large 135 cubic feet of luggage, so this can be a good choice of aircraft for groups with unusually large luggage requirements.
Embraer's Legacy and Praetor ranges are other larger aircraft that stand out when it comes to baggage capacity.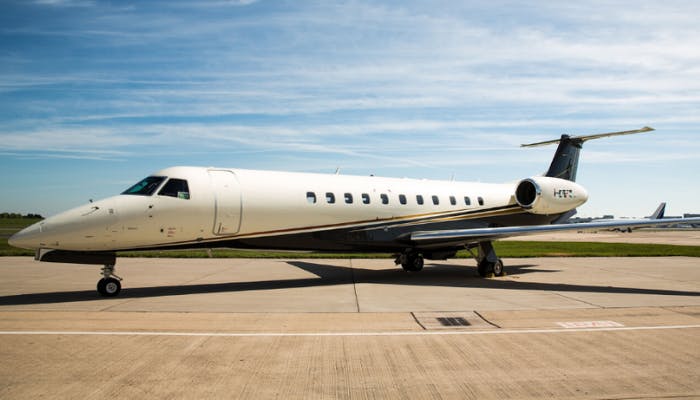 With an airframe converted from Embraer's ERJ airliner range, they have luggage storage for 30+ large bags, with seating for up to 13, so prove very popular with groups who are travelling with several large bags each, or with those travelling with music or sports equipment. The Legacy 600 is also one of only a few private jets that are able to transport coffins, another being the Challenger 850.
Ultra long range jets such as Gulfstream's G650 or Bombardier's Global Express don't add much more in total luggage capacity terms (the G650 offers 195 cubic feet) but they are exceptionally well-designed with storage in a number of places, and give full access from the cabin, which can be an attractive feature on a long flight.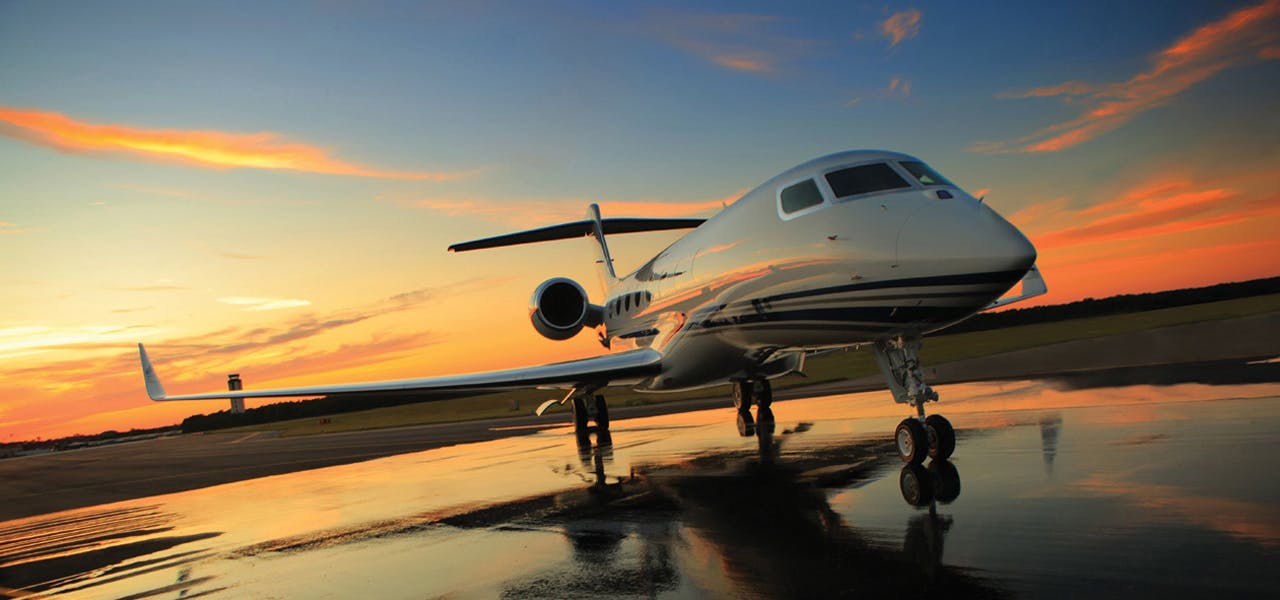 VIP converted airliners
At the very top of the private jet market are converted VIP large airliners, such as the ACJ (Airbus Corporate Jet), BBJ (Boeing Business Jet) and Embraer Lineage 1000.
In addition to their huge, multi-zone cabins, VIP airliner models offer the ability to transport huge amounts of luggage, typically 60 – 80 pieces. So they are popular with heads of state and royalty.
At PrivateFly we offer Jet Cards for different size categories of aircraft, along with our premium charter solutions. Contact our flight experts to discuss your flight requirements or call us on +44 (0)20 7100 6960.
Related content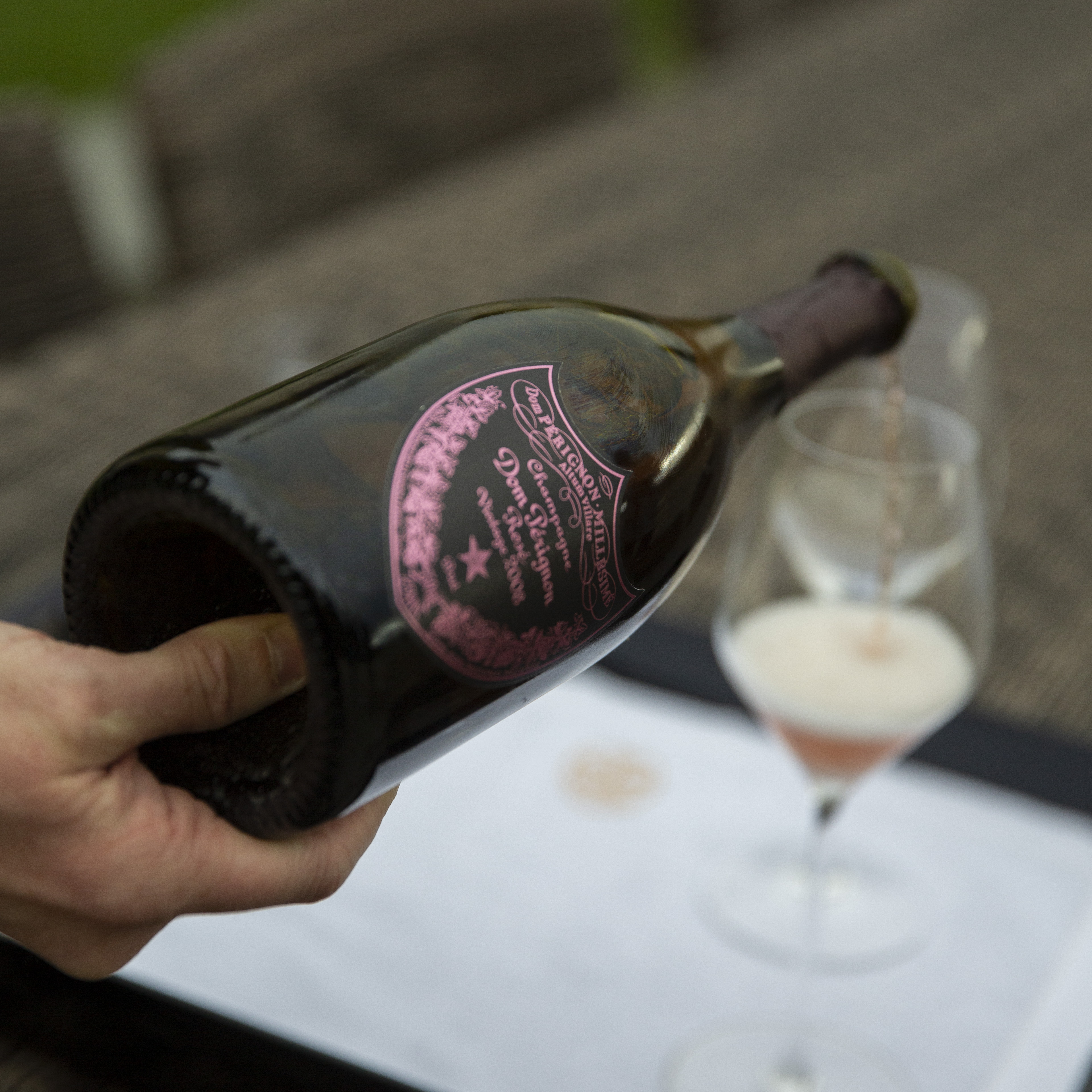 November 24, 2022
Our latest exclusive Jet Card event at Dom Pérignon Maison
Our new private event series for PrivateFly Jet Card clients continued with an invitation to visit the historic Dom Pérignon Maison in France.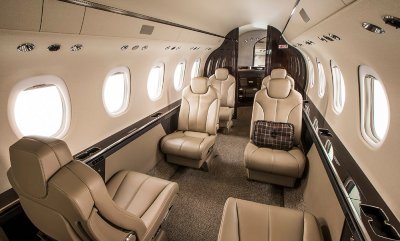 October 27, 2022
How clean is the cabin air on a private jet?
The air we breathe – particularly in an enclosed space – can make the difference between staying well or catching an infection, whether that's the coronavirus or any other airborne disease. So you'll be pleased to…

September 15, 2022
Jet Card clients enjoy exclusive golf event at Adare Manor
We were delighted to host our first annual golf event for PrivateFly Jet Card clients and their guests earlier this month, at the magnificent Adare Manor in County Limerick, Ireland.