The new supersonic private jet: Interview with Aerion's Ernie Edwards
There's no doubt that time-saving is one of the major attractions of private jet charter. While time in the air isn't much different to an airline flight, the ability to design a bespoke itinerary, use a wider range of airports, and move through the airport in minutes all means a much faster journey from A to B.
However when to comes to cutting flight times, supersonic flight is the big gamechanger – able to reduce flight times by hours on longer routes. Concorde first flew 50 years' ago this month but since it left service in 2003, supersonic flight has been confined to the military sector. Now several concepts are competing to be the first to launch in a new era of civilian supersonic aviation, with Aerion's AS2 at the forefront.
We spoke to Ernie Edwards, Aerion's Chief Commercial Officer & Executive Vice President of Sales, to hear the very latest on production of their AS2.
Our 24/7 expert team can advise and provide quotes for charter of a wider range of current business jets. Contact us or call +44 (0)20 7100 6960.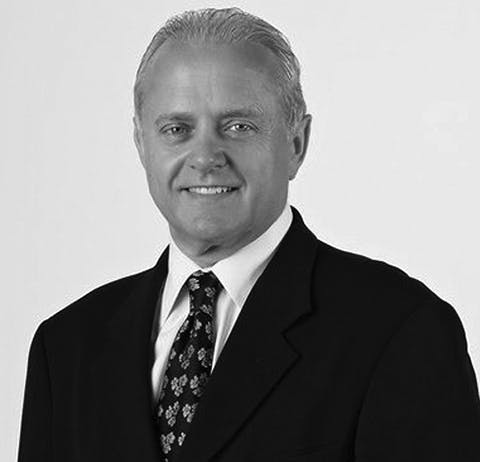 When can we expect to see service entry for the AS2 – and when will the first flight take place?
First flight of the AS2 is planned for June 2023. Certification will be in 2025, with entry into service in early 2026. Fractional ownership provider Flexjet will be receiving some of the early deliveries and will operate some of the first commercial flights.
What are the key routes the supersonic AS2 will fly?
We're expecting key routes to be from New York to London, Paris, Munich, Geneva, Moscow, Tel Aviv, Jeddah, Riyadh and UAE. And from Los Angeles to Hawaii, Sydney, Beijing, Shanghai, Hong Kong, Singapore and Tokyo. But ultimately it will be operated as any other large business jet, point-to-point, wherever the passengers need to go.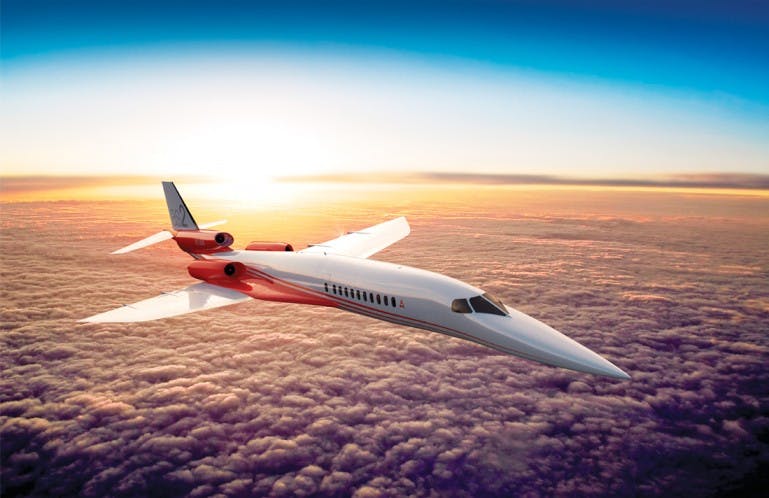 It's 50 years since Concorde's first flight. What do you think is the most significant development in supersonic technology since then?
The engine is the biggest development. The AS2 will be powered by the first new supersonic engine in more than 50 years – the quiet, powerful and efficient GE Affinity™. Aerion and General Electric are committed to meeting the latest Stage 5 noise requirements, making the AS2 a welcome neighbour wherever it lands.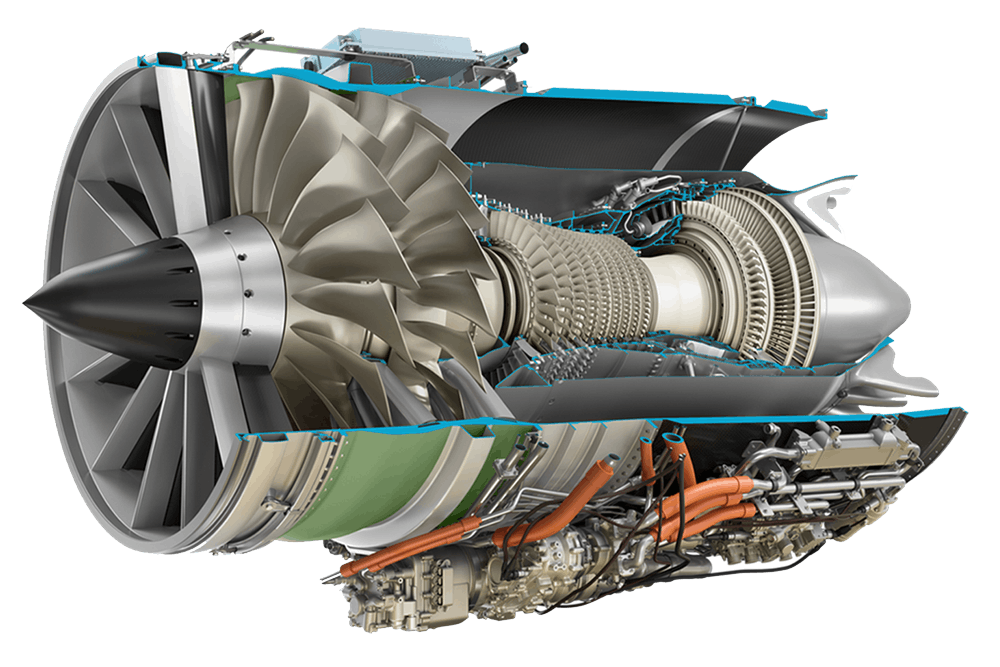 How do you get around the sonic boom restrictions and noise regulations?
The AS2 flies efficiently just under the speed of sound at Mach 0.95. It can also fly at Boomless Cruise™ speeds of up to Mach 1.2.
At speeds up to Mach 1.2, the AS2's sonic boom will dissipate well before reaching the ground. On-board systems will measure atmospheric conditions and adjust speed to prevent a boom from touching down.
With Aerion's first order from Flexjet, do you see the supersonic opportunity with business jets as opposed to airlines? What does the current order pipeline look like?
Flexjet was the launch customer for the Aerion AS2, with its order for 20 aircraft. We have not disclosed our order book. The AS2 is a business jet, which we consider a vibrant first market for supersonic capability. However we do intend to build a family of aircraft, including airliners.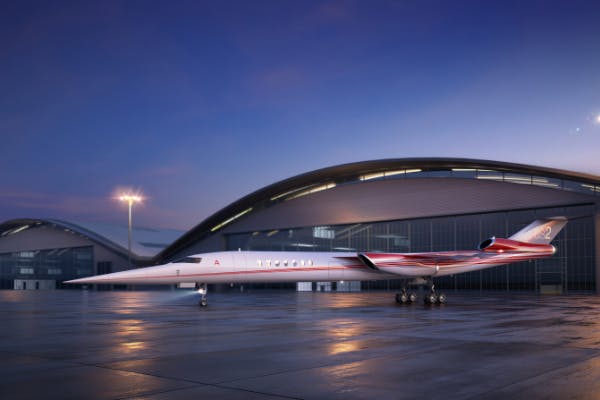 What would you say is the biggest barrier that still exists between supersonic development and commercial reality?
With our recent partnership with Boeing, and the announcement of the GE engine, all the conditions are in place to bring the AS2 to market. There are no technical barriers remaining to achieve supersonic flight of the AS2.
How do you see costs being measured and how will the hourly rate compare to business jets?
Generally-speaking operating an AS2 will be somewhat more expensive than current large cabin business jets, but will be able to fly up to 70% faster.
What about the interior – how many people can the AS2 seat? And how will the cabin experience be elevated from business jets and airliners?
The standard AS2 will be configured for 8 passengers. But customers may select a seating arrangement that could accommodate up to 11 passengers very comfortably. The AS2 offers unsurpassed speed and luxury. The experience will be beyond anything in business aviation today.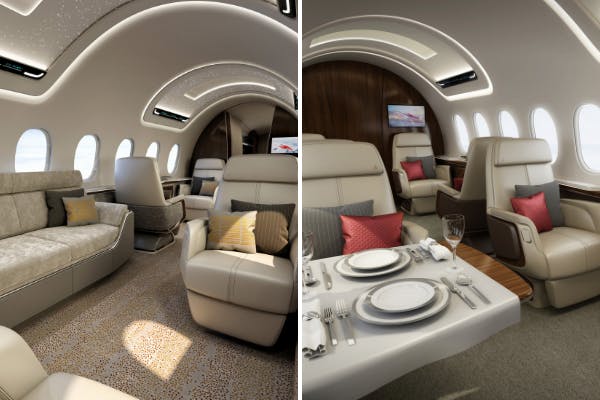 Does Wi-Fi work when travelling supersonic?
Yes. And with technical advancements we know about today, the service offering will be even quicker than current systems.
Can anything match the magic of Concorde? Are there any aspects of the Concorde experience that you are actively replicating or moving away from?
Concorde passengers recall it as rather cramped—fast class, not first class! The AS2 will offer its passengers unparalleled luxury and amenities in a wider, taller, quieter cabin, with the ability to get into and out of business aviation reliever airports large jets use today.
While the AS2 is still several years away, our 24/7 expert team can advise and provide quotes for charter of a wider range of current business jets. Contact us or call +44 (0)20 7100 6960.
Related content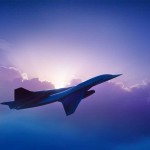 April 28, 2020
Aerion Supersonic reveals new AS2 design
Last week, Aerion Supersonic unveiled the finalised design of its AS2 supersonic private jet. The Nevada-based manufacturer, which is working in partnership with Boeing and GE Aviation, had previously released some simplified designs. But it has now provided…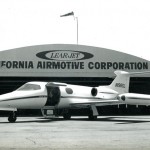 February 10, 2020
What's the future for the iconic Learjet brand?
Bombardier's business jet line-up includes the Learjet, Challenger and Global families. And while many models within each family are still active in the private jet charter market, sales of new aircraft have slowed to the…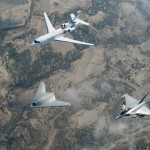 January 11, 2018
Private aviation's military connections
Private aviation and military aviation have many close ties. Not least in terms of career paths. Many military pilots tend to opt for a change once they decide to end their career in the forces. And while…