The perfect luxury match: Private jets ❤ superyachts
Valentine's Day coincides with the Miami Boat Show this weekend – one of the biggest events in the global yachting and sailing calendar. So what better time to play matchmaker, and pair up some of our most popular private jets with their perfect superyacht partner?
Private jets and superyachts have a lot in common. Each represents the optimal way to travel, whether by air or water: Luxury, privacy and the flexibility to travel on your own terms.
We regularly coordinate private jet and helicopter flights to seamlessly connect with yachts all over the world. And we also fly clients to yachting and sailing events (such as to Miami and the Dubai Boat Show, coming up next month).
We're also busy with private jet and helicopter flights for clients looking to celebrate Valentine's Day in the ultimate style (here are some of our favourite romantic flights).
But for the ultimate romantic pairing, here we've chosen five popular private jets and matched them with characteristics of some of the world's most desirable yachts, available to charter from leading international superyacht specialists at Y.CO. Whatever's top of your list in a partner – be it speed, space or luxury – we have your perfect jet and yacht combination.

SPEED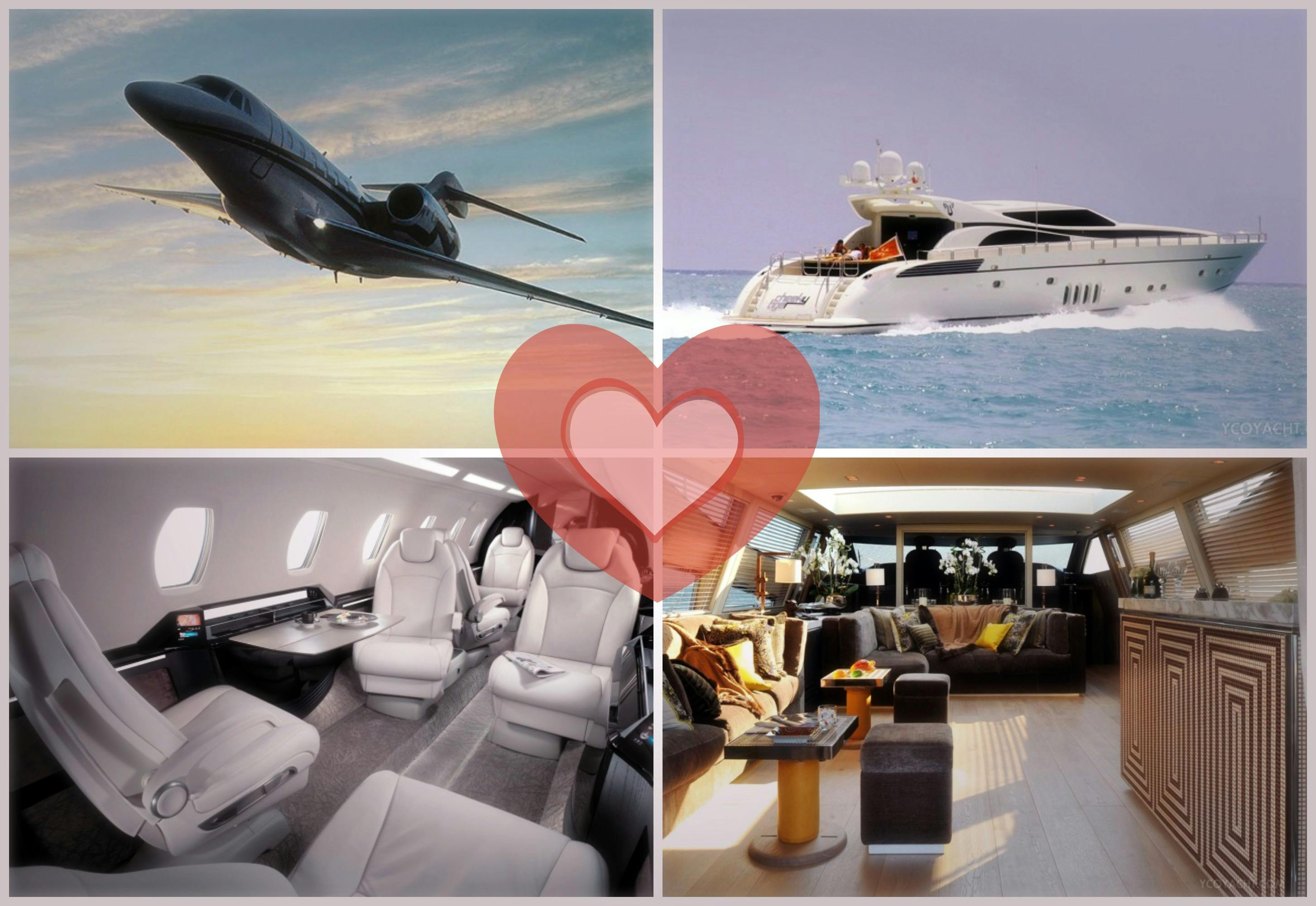 The Jet: The Citation X
The fastest private jet in the world is Cessna's midsize Citation X. Vying neck and neck with Gulfstream's G650 for the fastest accolade, Cessna has launched the latest Citation X+, with a maximum speed of Mach 0.935 (just under the speed of sound). Powered by a pair of Rolls-Royce AE3007C2 engines, the aircraft seats 12 and has a range of 3,410 nm. Read more about Mach and the fastest private jets
Charter price: from £4 500/ €5 675 EUR per hour
The Yacht: Cheeky Tiger
The Citation X of the Yacht world is Cheeky Tiger, offering unparalled speed that is perfect for sprinting around the Mediterranean at 34 knots. At 34.1 metres, this motor yacht caters for up to 10 guests with a modern, hi-tech interior.
Charter price: from €60 000 EUR per week.

LONG RANGE LUXURY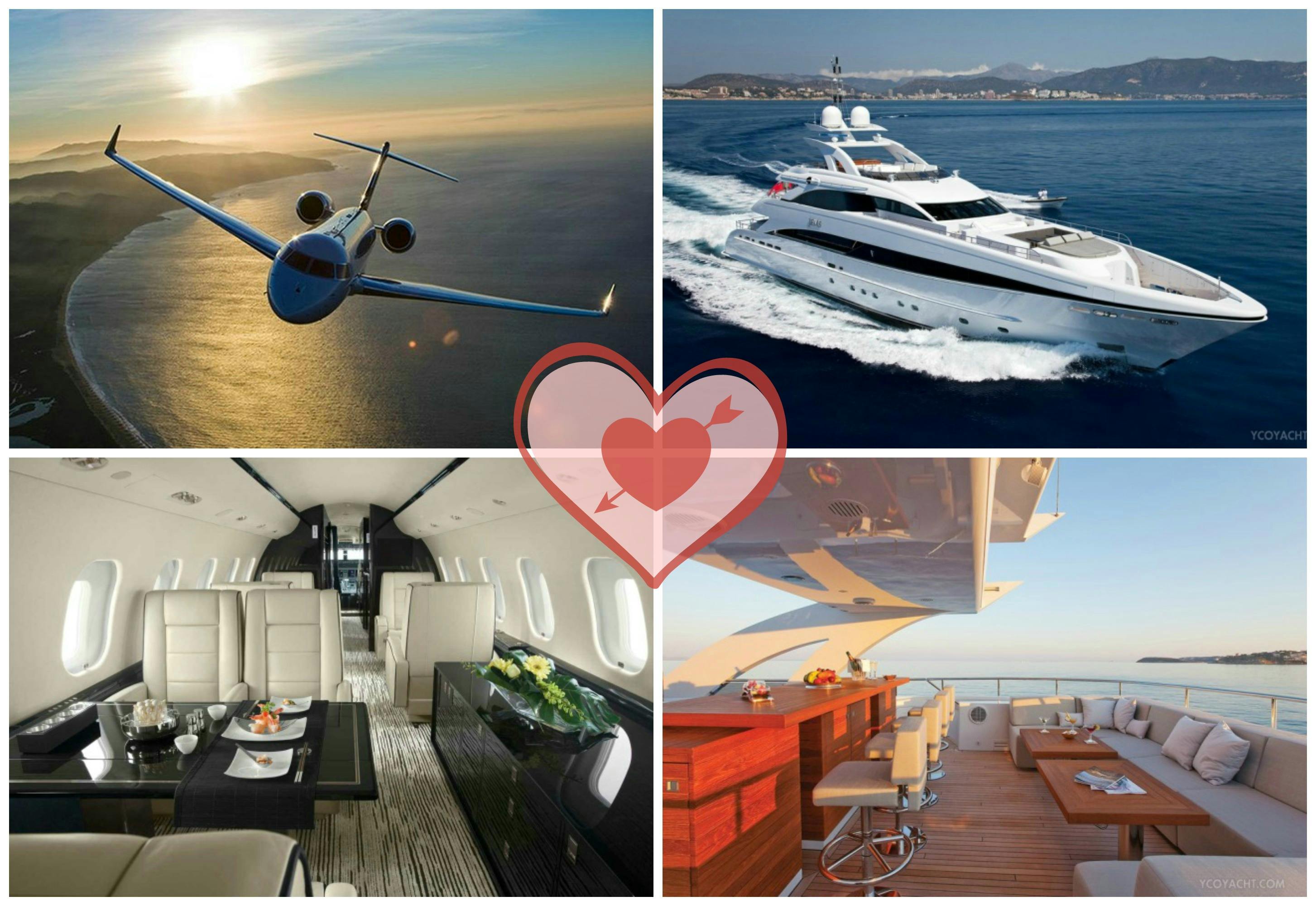 The Jet: Bombardier Global 6000
Flying further and faster than most long range private jets in the market, the Bombardier Global 6000 is a popular choice for long range business or leisure travel in the world. The aircraft has a range of over 6000 nautical miles, making it capable of flying from Los Angeles to London non-stop. The luxurious and spacious cabin seats up to 19 people, with configuration options to include a double bed. There is also a full galley for serving both hot and cold VIP catering. How private jet catering works.
Charter price: from £5 650/ €7 125 EUR per hour
The Yacht: Jems
Just like the Global 6000, Jems offers every onboard comfort finished to the sleekest design specifications. At 44 metres and hosting 10 guests, this superyacht combines agility and style with a long range that is well suited to cruising longer distances and entire coastlines.
Charter price: from €160 000 EUR per week

MOST POPULAR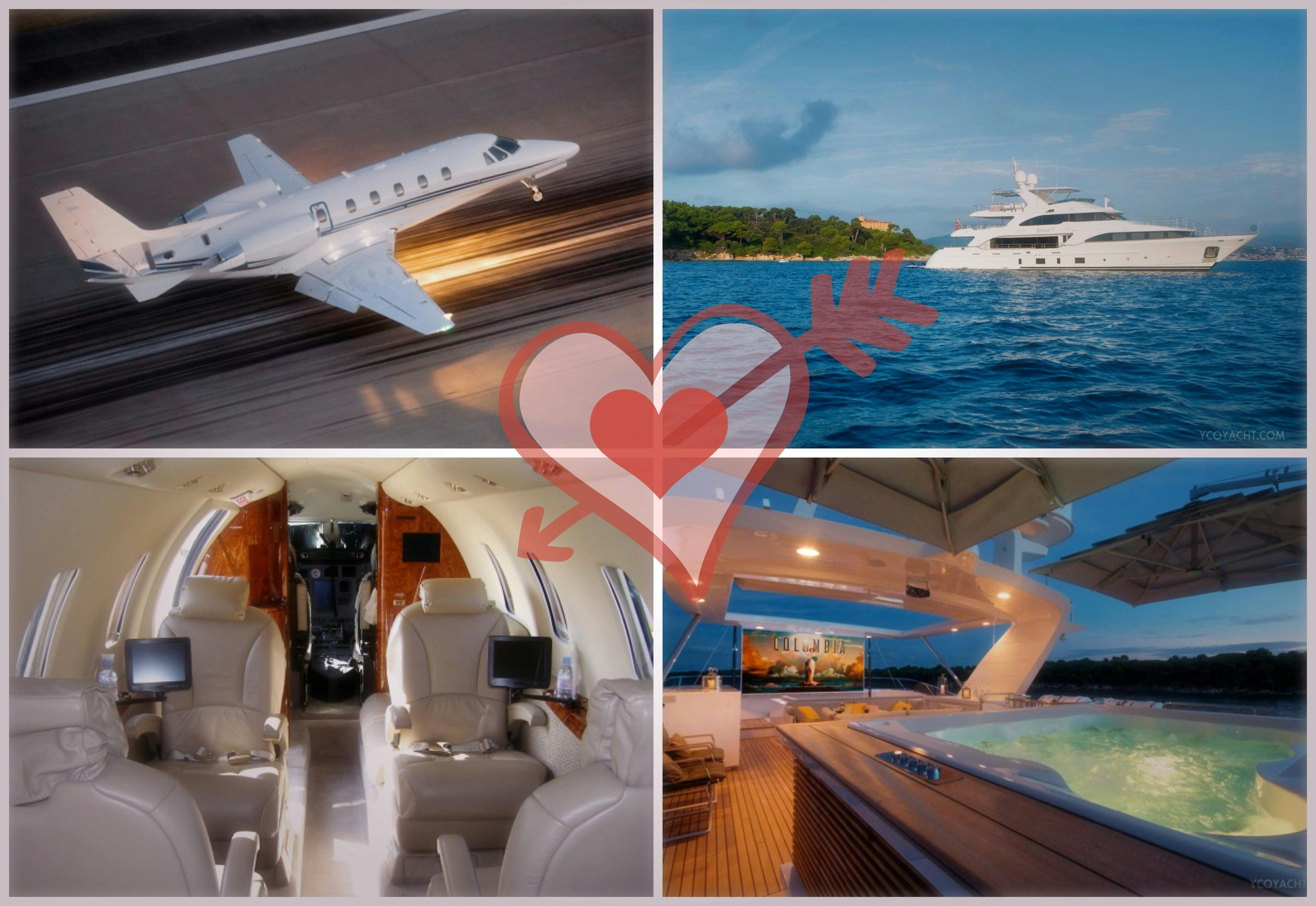 The Jet: Citation XLS
The world's bestselling private jet, Cessna's Citation XLS is a medium jet aircraft that combines speed, range, cabin space and affordability. Seating up to 8, this aircraft has a range of 1800 nautical miles and is an extremely popular choice for trips up to 3 hours. It also has enhanced take-off and landing capabilities to access many short runways such as Cannes Mandelieu airport, Lugano airport as well as flying the steep approach into London City Airport.
Charter price: from £2 500/ €3 150 EUR per hour
The Yacht: Dyna R
Superyacht Dyna R is one of the most sought-after in the charter market at 37 metres in length, for 12 guests. Built in 2013, like the Citation XL she owes her popularity to offering the perfect combination of space, style and mid-range market and is especially popular with family groups. But there is no scrimping on luxury either, with an alfresco cinema, oversized Jacuzzi and numerous sun decks and dining areas.
Charter cost: from €115 000 EUR per week

GLAMOUR & DESIRABILITY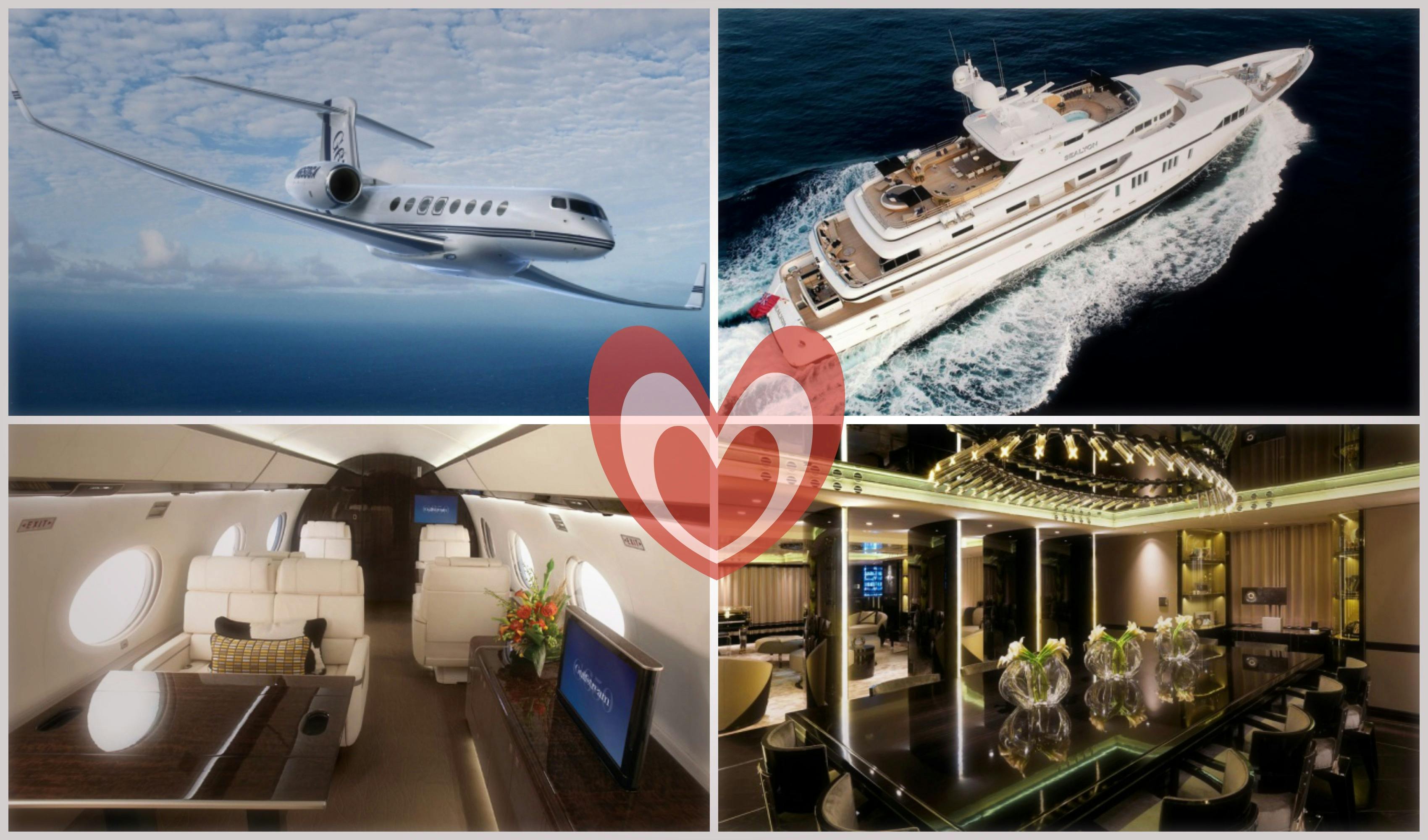 The Jet: Gulfstream G650
The Gulfstream G650 is the jet that everyone wants to fly in, with the longest owner's waiting list in the world. When you really need to make a glamorous entrance, the G650 will jet you there in style. Still in limited supply in the charter market, this only boosts its attraction, and it will become more widely available to charter as aircraft deliveries increase. With a top speed of 0.925 Mach, it's also one of the fastest private jets. The distinctive oval shaped cabin is also mirrored in the sixteen large oval windows, offering an unparalled birds-eye view. How demand outstrips supply for the G650
Charter price: from £6,000/ €7 560 EUR per hour
The Yacht: Sealyon
Matching the G650 in desirability is Sealyon – a 61.8 metre Motor Yacht, with a stunning and luxurious design by Candy & Candy. Its glamorous 1930s interiors are matched with the best nautical technology. Sealyon hosts 12 guests onboard, and includes details such as a high-tech media room, 16 crew, 6 opulent staterooms, an oversized Jacuzzi and a mist generator.
Charter price: from $300,000 USD per week

SUPERSIZE GRANDEUR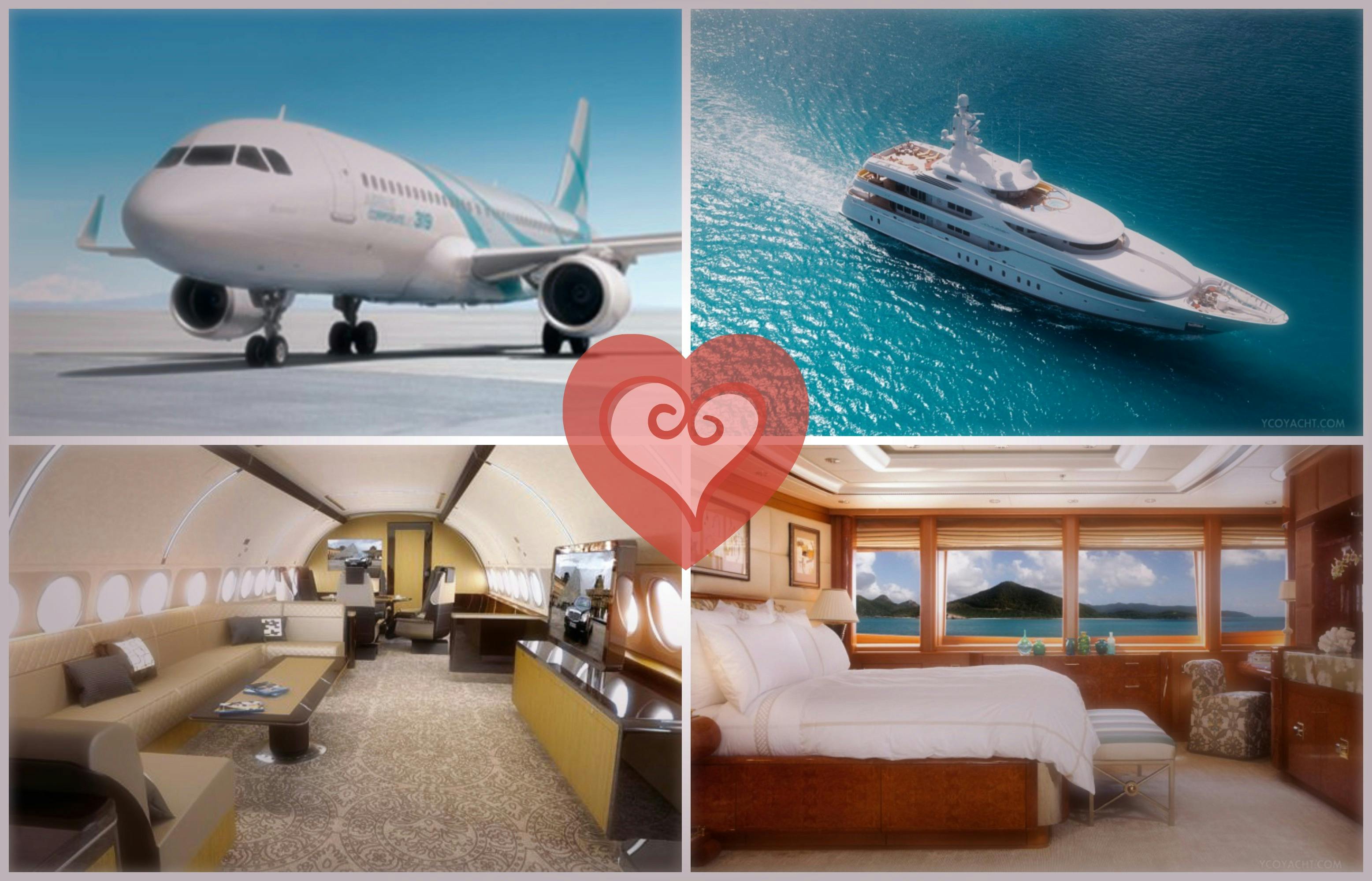 The Jet: Airbus ACJ319
The Airbus ACJ319 is a VIP conversion of the Airbus A319 airliner. For those that want more space than even a Gulfstream can allow, and are travelling with a larger entourage (up to 30), the ACJ319 has the widest and tallest cabin of any business jet in the world. Combining reliability, range, speed, and vast cabin space, the ACJ319 is favoured for charter by HNWI and families travelling together, or for VIP corporate groups or music tours. Interiors vary to include a hi-tech boardroom, luxurious lounge, fine dining room, private cinema, and VIP bedroom and bathroom options. More about supersize private jets.
Charter price: from £16 000/ € 20 170 EUR per hour
The Yacht: Oasis
For those that measure luxury afloat by the square metre, Oasis (like the ACJ319) is the ultimate way to travel. One of the most coveted superyachts available for charter anywhere in the world, Oasis is nearly 60 metres in length, with a master suite measuring 99 square metres. Chartered by the world's most discerning clientele, she has every luxury detail for 12 guests including a bar, dancefloor, Steinway baby grand piano, and an outdoor cinema.
Charter price: from $399,000 USD per week
For private jet charter pricing or advice to and from any yacht location, contact us or call the PrivateFly team on +44 (0) 1747 642 777 (24 hrs).
For yacht charter enquiries contact the team at Y.CO on + +44 (0)20 7100 6960 or visit www.y.co
Related content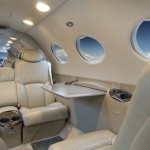 May 11, 2016
Cannes kicks off the Cote D'Azur's busy period
The annual Cannes Film Festival is Europe's biggest event for private jet travellers, and this year is set to be the biggest yet. Over the period of the 12-day event, which begins today, up to 1,500…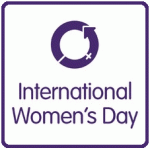 March 02, 2015
Why we're marking International Women's Day with a special offer
In support of International Women's Day, PrivateFly is offering a special discount for female private jet passengers.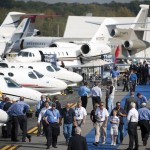 October 22, 2014
Top 5 trends from the world's biggest jet event
This week, I attended the NBAA in Orlando, Florida. As a gathering of the private jet industry, it doesn't get any bigger. It's the world's largest and most important business aviation event, bringing together over…